3 Chocolatey Treats To Make You Swoon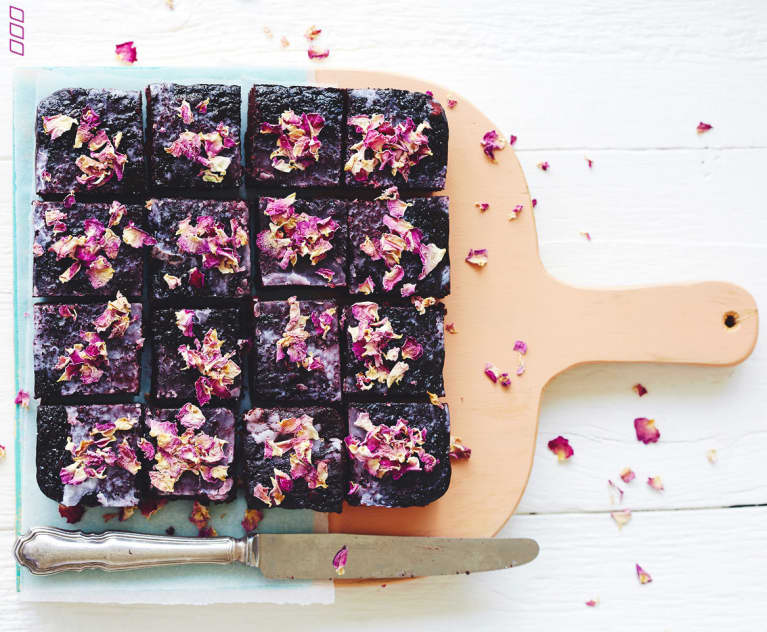 Looking for the perfect Valentine's Day treat? These delicious brownies will make your heart skip a "beet" (pun intended). This recipe is overflowing with nutrients and, more importantly, oodles of love. Make them for a dessert or a special Valentine's delivery for your special someone.
1 pound whole raw beetroots (approx. 4 large beets)
3 eggs
½ cup rapadura (or panela) sugar
2 teaspoons vanilla extract
¾ cup raw cacao
1 teaspoon gluten-free baking powder
½ cup almond meal
1½ ounces walnuts, chopped
2 fluid ounces melted coconut oil
2 tablespoons of beetroot juice (made from raw beetroots above)
a handful of fresh rose petals (pesticide-free) to garnish
Preparation
1. Preheat oven to 350°F. Bring the beetroots to a boil in a pan of salted water for 15 to 20 minutes until tender. Drain and leave beetroots to cool. Peel the outer skin of the beetroots (wear gloves to avoid stained hands).
2. Chop into cubs and blitz in a food processor to a paste. Squeeze the paste through a sieve and collect 2 tablespoons beetroot juice to set aside for the icing (you may have to add 1 tablespoon of water to do this). Keep the paste in a bowl.
3. With an electric beater, beat the eggs, rapadura sugar and vanilla extract in a mixing bowl until light and fluffy. Fold into the beetroot mixture. Fold in the cacao, baking powder, almond meal, and walnuts.
4. Pour into 8-by-8-inch baking pans and bake for 25 minutes. The brownies should still be slightly gooey in the middle. Allow to cool.
5. Make the icing. Mix the melted coconut oil and beetroot juice together. Roughly drizzle onto the brownies. Sprinkle with rose petals.
Pistachio and Chocolate-Dipped Strawberries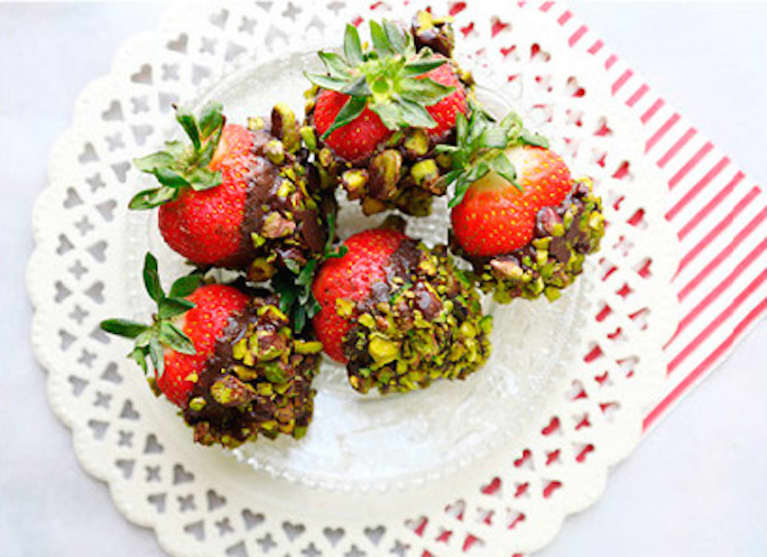 Nothing is more simple and delicious than strawberries dipped in chocolate. I mean, c'mon, it's one of the most classic combos in dessert history, right?
I love this idea for the day of LOVE, but to add the extra nourishing factor, we stepped it up and rolled the dark chocolate in pistachios, which are jam packed with potassium, a mineral essential for a healthy nervous system and muscles.
Plus, they are a good source of vitamin B6, which can lift your mood and fortify your immune system. Guilt-free and good for us … now that's what we like to hear!
Ingredients
70%-plus dark chocolate
7 ounces pistachios, shelled and finely chopped
1 to 2 pints of strawberries (big fat juicy ones)
Preparation
1. You will need three bowls (one for the chocolate, one for the berries and one for nuts)
2. Melt chocolate in a large skillet with water and heat to just below simmering
3. Place the chocolate in a heatproof bowl, such as stainless steel, and place the bowl in the water. Gently and continually stir the chocolate while keeping the water below simmering.
4. Line a tray with baking paper.
5. Dip strawberries into chocolate, then dip into pistachios and place on tray.
6. Pop tray in the fridge for 40 minutes to cool. Enjoy!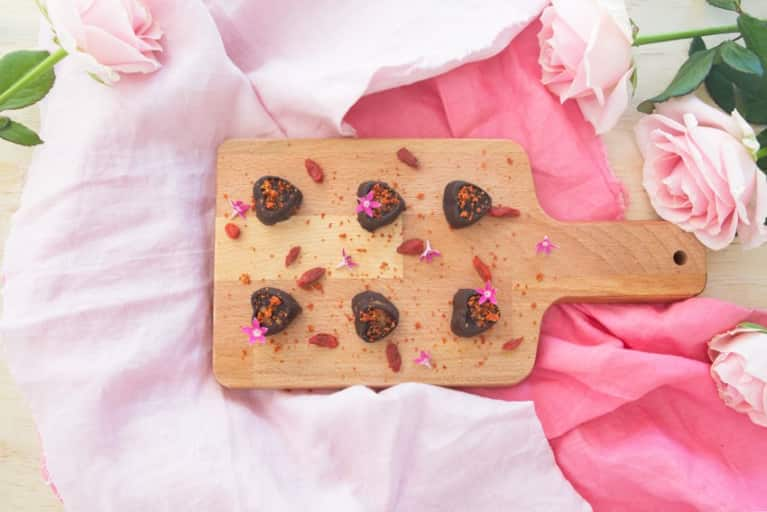 Sure, chocolate in moderation is fine, but I prefer to nourish my body with the good stuff by keeping things au naturel.
Enjoy these super-healthy DIY chocolate treats that taste great and make perfect V-Day gifts!
Ingredients
1 cup cacao powder
2-3 tablespoons raw honey
1 cup finely chopped cacao butter
Ingredients for the filling
2 cups desiccated coconut
1 tablespoon raw honey
2 tablespoons vanilla paste
½ cup coconut oil
Preparation
1. Melt the cacao butter in a heatproof bowl over a pot of slowly simmering water. When almost completely melted, turn off the heat.
2. Allow to cool for a few minutes, then stir in the cacao powder and honey.
3. Brush a layer of chocolate mixture into a mold, then pop it in the fridge to set while you make the filling.
4. In a food processor, blend all filling ingredients until they form a chunky paste.
5. Fill each individual mold with half a teaspoon of filling and press gently into mold.
6. Brush remaining chocolate into mold to fill, then leave to set in the fridge.
7. Once set, remove chocolates from mold and enjoy!