Everyone's A Little Bit Insecure... And Other Things I Learned Teaching Yoga Around The World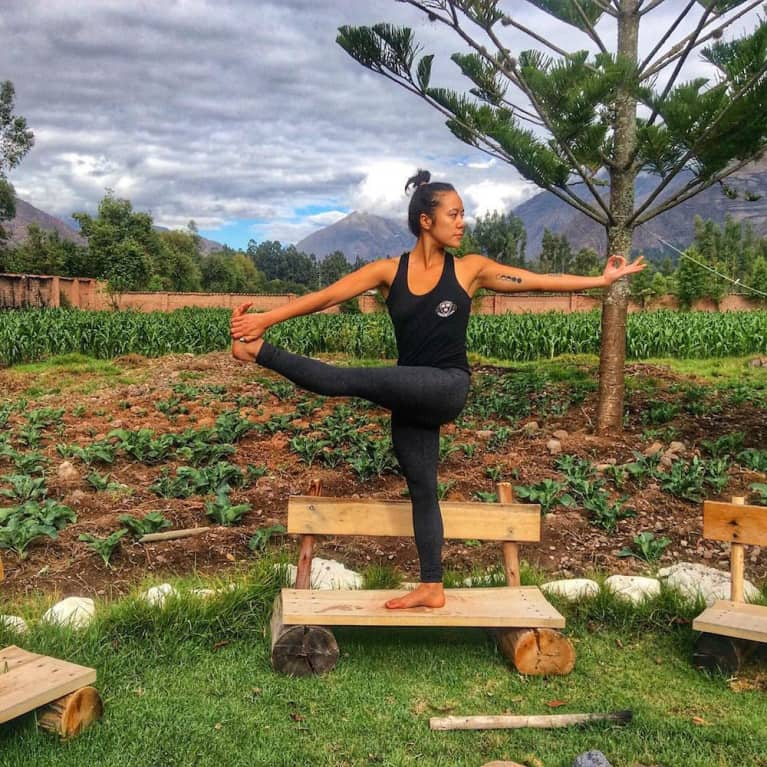 For the past year and a half I've been on the road. At the end of 2013, I left the States and explored Australia, Asia, and South America, teaching and doing lots of yoga along the way. It's been my dream to travel around the world since I was a little girl, and becoming a yoga instructor was, in a way, my ticket to make that a reality.
The majority of the trip has been wildly fun, but there have been many not-so-glamorous moments, too — getting stranded in airports, surviving on very little money, and getting violently sick after accidentally drinking a tall glass of the wrong kind of tap water.
Overall, though, I couldn't be more grateful for all the experiences I've had. Most importantly, I've learned more about yoga than I ever could have learned in a classroom. Coming from a pretty traditional yoga background, I had a solid set of beliefs about what the practice was, and how it was done. I could write and talk for hours about my wild yoga ride around the world, and how much it changed my life. But for now, here are six major things I learned from my whirlwind travels:
1. We could all use some more fun in our practice.
It's easy for us to get caught up in our asanas, chasing good alignment and mental stillness, and there's nothing wrong with that. But from the time I spent with all kinds of students and teachers, I've noticed that we gain a lot from a little more humor in our classes.
Just by cracking a few jokes here and there, or even reminding each other not to take it all so seriously, we let the light in a little more, allowing us to break through some barriers that we didn't even know were holding us back.
2. Language is just one of many ways to communicate.
As yoga teachers, most of what others remember us by is not our words as much as how we made them feel.
People can feel when you're invested in them.
I've taught at quite a few studios where the majority of the people there didn't speak much English, and I only spoke a very small bit of their native language. You'd think it would be nearly impossible to interact in a real way, but it became apparent to me pretty quickly that what I offer with my energy and my attitude goes a long way. People can feel when you're invested in them. At the end of the day, our words have no consequence unless we have the spirit to back it up.
3. We still need to diversify our yoga community.
It's still a tough subject to speak about, but it's the most important one. Yoga remains a form of healing that is primarily made available to people of privilege. This rings true not just in the United States; I've seen it in developing and developed countries alike. Far too often do single, hardworking mothers; individuals with disabilities; and plus-size people (just to name a few) get left out of the yoga world, whether it's because they can't afford a membership or they simply don't feel like they belong.
This isn't a call to point fingers but rather a call to be more inclusive, in whatever way we can. For example, maybe we can invest our time and energy into creating space for those who need the practice but haven't been fortunate enough to be included.
4. Everyone has the same insecurities.
All of us, no matter our gender, sexuality, ability, or size, wrestle with the same self-doubts. We worry about what we look like in our yoga clothes. We worry about how pretty our postures are. We worry about being accepted by others. These insecurities might visit us briefly, or they may settle in for a long time. They inevitably creep in at some point, though, and we're all just doing our best to negotiate them. On the surface it seems like an unfortunate fact, but it's actually one that comforts me — it reminds me that deep down we're all the same.
We all need to hear that we're doing a great job. We deserve the motivation!
5. Yoga is a fluid concept.
The practice is approached differently everywhere, depending on the culture and context in which it's set. What might be an acceptable way to teach in Thailand is not okay in New York, for instance. It's important to be aware of your surroundings and to adapt accordingly.
6. We can never give too many affirmations.
We all need to hear that we're doing a great job. We deserve the motivation! I don't only mean instructors should be encouraging the practitioners. Give a compliment to your fellow yogis as well. Tell them they're looking healthy and vibrant, and their smile is infectious. Praise how far they've come in their headstand work. I've seen these little affirmations go such a long way in many different places; the simplest positive exchanges can strengthen communities and inspire individuals to keep their yoga practice long after the class is over.
Related reads: