Kimbal Musk On Making A Difference, Living A Life You Love, And #Wellth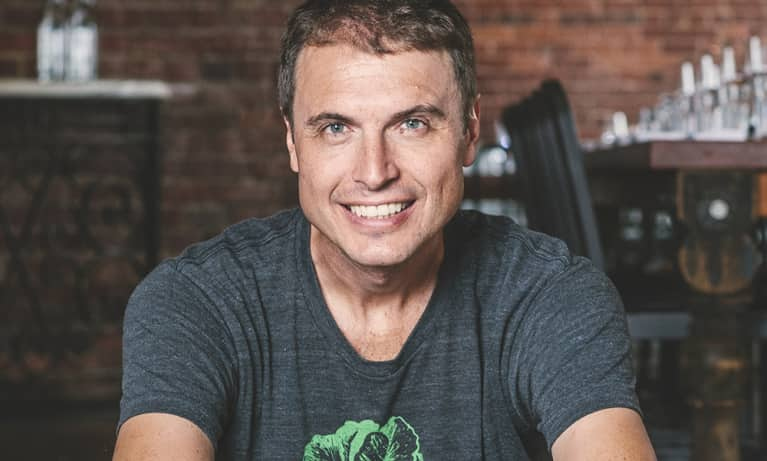 Our editors have independently chosen the products listed on this page. If you purchase something mentioned in this article, we may
earn a small commission
.
I've spent the past year thinking a lot about "wellth" — the idea that success is found in a lifestyle devoted to mental, physical, and emotional health. (I even wrote a book about it.) In this new series, we're celebrating visionaries who embody what it means to be wellthy.
Kimbal Musk is the co-founder of The Kitchen, which is far and away my absolute favorite farm-to-table restaurant in America. What's even cooler about The Kitchen is The Kitchen Community, a nonprofit that builds Learning Gardens in schools, teaching kids about the power of plants and improving their vegetable intake. And while he's not running his restaurant empire or inspiring kids to eat veggies, Kimbal serves on the board of Tesla Motors, SpaceX, and Chipotle Mexican Grill.
mbg: Why is The Kitchen Community so important to you?
KM: I want to ensure that the next generation of kids knows what real food is.
You broke your neck in a snowboarding accident and could've died. How did that change your perspective on life?
It was one of the best things that ever happened to me. It provided clarity that life is short and there's one chance to make a difference and focus on what I love: food.
Favorite way to break a sweat?
Hike, read, meditate, run.
What's your favorite way/place to escape to get some nature?
I live in Boulder so that's an easy one!
What does wellth mean to you?
Wellth is defined by the deep relationships I have with people around me and the freedom to live my purpose.
Any advice for someone who's looking to follow their passion?
No matter what you're paid, your life will adapt to spending what you earn. So in the end it's not about money at all, it is only about following your passion. There is almost no passion that cannot pay the bills needed. And when you follow your passion, you'll be much more connected to others and happier. You'll have all the true wealth you can handle.
Selfish question: when are you going to bring The Kitchen to Brooklyn?
No current plans, but I do love Brooklyn!