Learn To Recognize (and Silence!) Your Inner Critic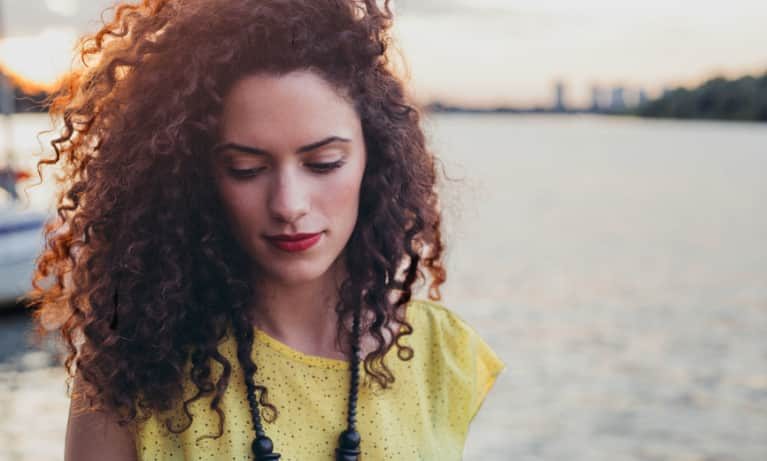 When it comes to finding "your voice, your mission, your message," Tara Mohr is the expert. She's a women's leadership expert and speaker who gives women the tools they need to be the change they wish to see. One of the greatest obstacles women face on this journey? Their own inner critic. Luckily, Mohr's new book, Playing Big, offers tips on how to recognize, deal with, and eventually overcome that voice in your head to become the woman, leader, and generally amazing person you're meant to be.
When I talk about the inner critic or the voice of "not-me," I'm speaking about the voice in our heads characterized by the 11 qualities below. You probably won't notice all 11 qualities in everything your voice of self-doubt says, but you'll usually notice at least a few of these qualities when it speaks:
1. It's harsh, rude, and mean.
When you hear a voice in your head saying harsh things to you that you would never intend to say to a person you love, you're hearing the inner critic.
The inner critic is a black-and-white thinker. You are awesome or you are pathetic. You are gorgeous or ugly. You are a fabulous friend or a horrible one. Your dreams are possible or they aren't. When the inner critic speaks, there's usually no room for gray.
3. It's ostensibly the "voice of reason."
This voice argues for what seems to be in your best interests, what is realistic and effective. For example, "If you go forward with the book, you'll ruin your reputation. Your work isn't ready for that level of scrutiny. Better to hold off for a while." Or "You are much better off studying someone else's theories and approach to this kind of consulting work before you pitch potential clients. People definitely won't take you seriously unless you are steeped in a method that's already well-known."
4. It's the voice of "you aren't ready yet."
For women in particular, this voice often manifests as "You aren't ready yet." "You need another degree." "You need more time to prepare." "You need more experience."
5. It's the voice of "You aren't good at math/negotiating/technical stuff."
For many women, the voice of self-doubt shows up most strongly around those skills and activities that are associated with masculinity in our culture and, unconsciously, often in our own minds. This includes quantitative skills, negotiation, technical tasks, financial matters, and — unfortunately — sometimes leadership more broadly.
6. It's the voice of body perfectionism.
Another common expression of this voice is self-critical thoughts around body, weight, appearance or aging. "You aren't attractive anymore." "Oh my god, look at your upper arms." "You look fat in this." "You need to lose ten pounds, by yesterday."
7. It sounds like a tape.
8. It sounds like a broken record.
The inner critic will come up with new lines from time to time, but it also tends to rehash a few core narratives that it has been repeating to you for decades.
9. It is irrational but persistent.
Often we know that what the fearful voice in our heads says is irrational, yet it still has power over us.
10. It goes for the one-two punch.
The one-two punch goes like this. Let's say first, the inner critic starts mumbling to you about how everyone else in the room has it more together than you do. Then the critic follows up with "Get a grip; get some perspective." Or "What is wrong with you? Other people are confident and relaxed … just look over there, at Susan ..." In other words, the critic first attacks you with critical thoughts and then shames you for having those thoughts. That is its one-two punch.
--
The inner critic may take inspiration from critical people in your life.
You may hear echoes of a critical parent, a sibling, or boss in your inner critic's voice. Or you may hear echoes of the ethos of or major cultural forces such as your religion, company, or country. Our outer critics come to exist inside our own heads.
Often women say to me, "But there are things I'm truly not qualified for, or not good at. How do I know if I'm hearing my inner critic talking or I'm just being realistic?"
That's a really important question, because of course, there are things we aren't ready for, and weaknesses in our skills. In addition to using the list of the 11 qualities of the inner critic's voice above, here's how you can tell the difference between the irrational inner critic and solid realistic thinking.
Inner Critic
Realistic Thinking
Makes definite pronouncements about the situation
Asks curious questions about the situation
Has no interest in actual evidence
Interested in gathering evidence to inform conclusions
Thinks and speaks in black-and-white terms
Is able to deal with complexity and gray areas
Asks binary yes/no questions ("Is it possible? Yes or no? Am I qualified? Yes or No?)
Asks helpful, open-ended questions ("How might it be possible? What part of this looks possible?)
Is repetitive
Is forward-moving
Focuses on problems/lacking areas
Seeks solutions
Speaks in an anxious tone
Speaks in a calmer tone
Speaks from a fundamental stance of self-critique
Speaks from a fundamental stance of self-support
The realistic thinker in us is forward-moving. She seeks solutions. The critic will spin and spin, ruminating on the risks and worst-case scenarios. The critic often speaks in an anxious, emotionally charged tone. The realistic thinker sounds grounded, clear-eyed, calm.
Many of us hold the belief that "realistic thinking" is skeptical if not pessimistic, but, in fact, realistic thinking is inquisitive, exploratory, and highly creative.
Reprinted by arrangement with Avery, a member of Penguin Group (USA) LLC, A Penguin Random House Company. Copyright © Tara Mohr, 2014.