A Spicy Vegetable + Tofu Stir-Fry (It's Way Better Than Takeout)
Our editors have independently chosen the products listed on this page. If you purchase something mentioned in this article, we may
earn a small commission
.
Tofu has such a neutral flavor, it needs a little pepping up to be interesting, but with some Teriyaki Sauce it's a snap.
Make double or triple the amount of Teriyaki Sauce if you like, as it will keep for months in a jar in the fridge.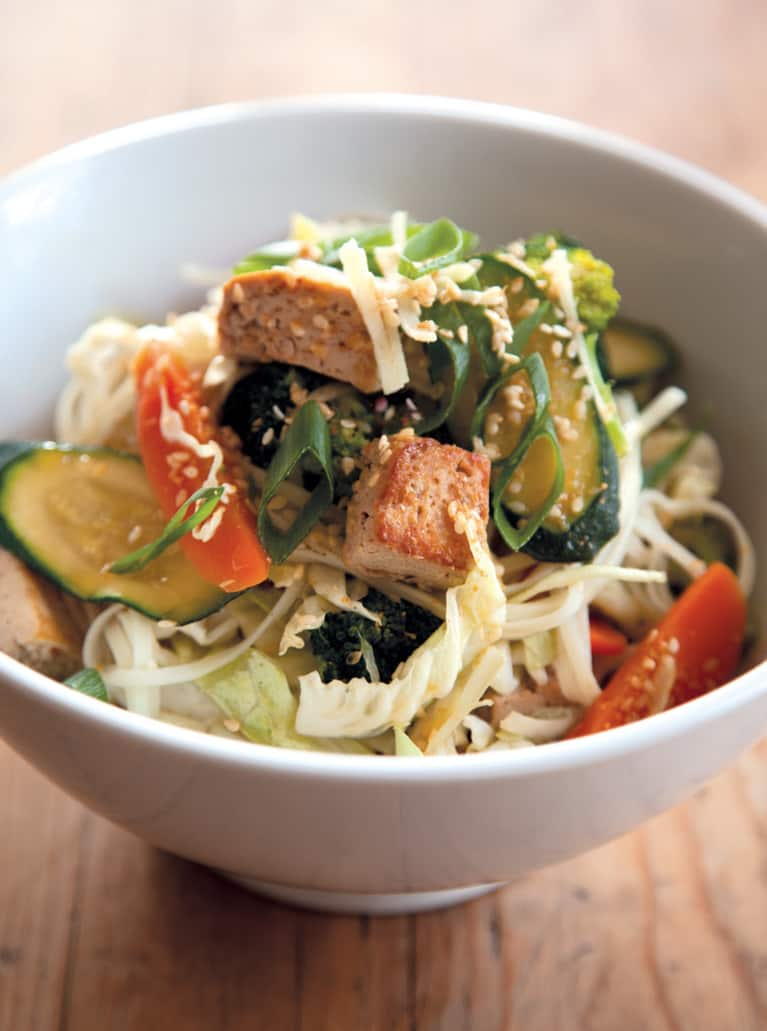 Vegetable + Tofu Stir-Fry
Serves 2-3 as a main
Ingredients
8 ounces firm tofu
1 large carrot, angle sliced
1 small head broccoli, cut into thin florets
2 small zucchini or 8 spears asparagus, angle sliced
1 tablespoon neutral oil
1 teaspoon cornstarch
1 tablespoon peanut butter (optional)
6½ ounces noodles, cooked according to package instructions
2 cups mung bean sprouts or finely shredded cabbage
5 ounces sugar snap peas, halved on the diagonal (optional)
¼ cup soy sauce
¼ cup sake or sherry
2 teaspoons finely grated fresh ginger
2 tablespoons sugar
½ teaspoon sesame oil
½ green onion, thinly sliced
1 tablespoon shredded fresh ginger
2 tablespoons sesame seeds, toasted
1 teaspoon sesame oil
Preparation
1. To make the Teriyaki Sauce, place all ingredients in a pot. Bring to a boil then lower heat and simmer gently for 10 minutes until slightly reduced.
2. Cut tofu into ¾-inch cubes and mix with half the Teriyaki Sauce. Set aside to marinate while preparing vegetables.
3. Place carrot, broccoli, and zucchini or asparagus in a pot with ½ cup water. Cover and cook until just tender (about 3 minutes). Drain, refresh under cold water, and drain again.
4. Drain tofu from Teriyaki Sauce, reserving sauce to add at the end. Heat oil in a large frying pan and stir-fry the tofu over medium-high heat until golden brown (about 3 minutes). Remove tofu from pan and set aside.
5. Stir cornstarch and peanut butter, if using, into the remaining Teriyaki Sauce. Add drained vegetables to pan with cooked noodles, beansprouts or cabbage, and sugar snap peas, if using. Add the Teriyaki Sauce and cornstarch mixture and stir-fry until beansprouts or cabbage are wilted (2-3 minutes).
6. Return tofu to pan; sprinkle with green onion, ginger, and sesame seeds; drizzle with sesame oil and reserved Teriyaki Sauce used to marinate the tofu; and serve immediately.
These recipes are from Annabel's TV series Annabel Langbein The Free Range Cook: Simple Pleasures, screening now on PBS. The accompanying book, containing all the recipes from the series, is available on Amazon.