I'm A Working Mom. Here's How I Fit Wellness Back Into My Life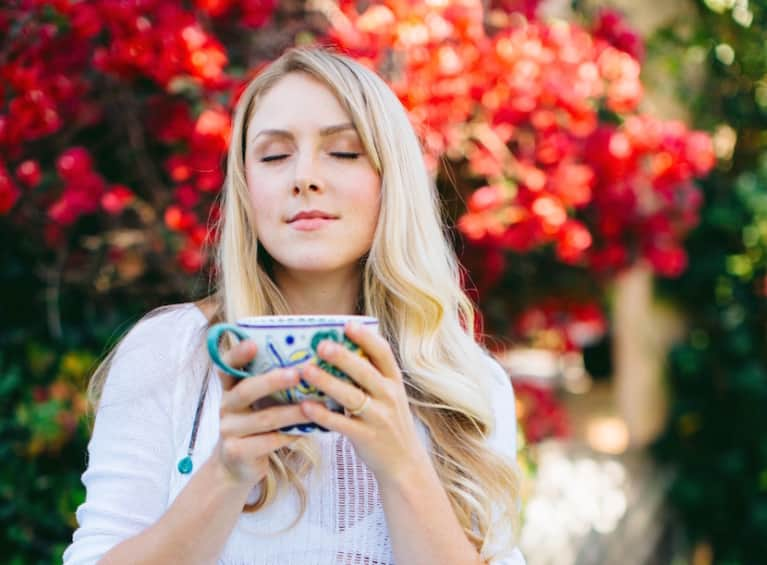 Lately, I've read a lot of articles about the beautiful daily routines that help people stay healthy, grounded, and connected to their spirit. I really admire the lovely ways these woman and men are caring for themselves. I, too, used to have a dedicated routine much like these, and I loved it.
Then a little miracle happened: my son was born.
Poof! There went my personal time. My husband was working overtime, I was opening my own business, and between shuffling to playgroups, dealing with common colds, cleaning up, and making schedules ... by the end of the night all I could do was fall into bed.
Where had my mineral bath gone? Where was my meditation time? Where was my dewy skin that I had taken for granted? Where was date night? Where was my gym time? I felt like everything that once held me together so well had vanished into thin air. It was just work, baby, and powering though.
I quickly realized that I needed to set a routine that would benefit my whole family. Children thrive with routine, and frankly, so do we adults. I decided to take all our needs into consideration and craft a healthy routine that would feed our minds, bodies, and spirits. I knew it needed to be realistic and it needed to work for everyone, including my 2-year-old son.
I'm sharing the tips that helped me get back into my self-care routine and involve my family in hopes that you'll be inspired to take care of yourself, too. After all, you're the glue that holds the family together.
Wake up one hour before the rest of the house. This is the perfect time to fit in some meditation, breathing, reading, tea making, workouts, or any other kind of self-care that's really meaningful to you. This one hour will change your life.
Don't prioritize the mess. This was a big one for me: I let go of home perfection. I now take care of emotional needs first, and then I attend to the blocks and books on the floor.
Make a simple breakfast for the whole family. I choose something I know my son will like so there isn't a long battle of getting him to eat. For example, we do lots of smoothies and warm sprouted grains with healthy fats.
Prep the car and lunches the night before. This simple step makes the morning much easier and less stressful.
Get productive! I set time constraints for myself. I know my best window for productivity is between 8 a.m. and 12:30 p.m., so I do my best to make that time sacred to my work and passion. I also start each workday with a short list of my to-do's in order of urgency.
Have a healthy snack. I make sure to have a healthy snack available so I don't crash later and turn to something that isn't nourishing my body. My favorites are sprouted almonds, nori, organic berries, and grapefruits. If I have a little time, I'll often blend up a whole young coconut and the water!
Skip the coffee, and opt for water or green juice instead. This was another big one for me. Once I got off coffee, I noticed my energy became much more stable. If you need caffeine, I recommend trying matcha green tea or yerba mate for a change.
Take a five-minute break to breathe. Just a few deep breaths can change your whole day. I like to step outside into the sun or into a quiet place away from my workstation. I close my eyes and take three deep, connected breaths, in through the nose and out though the mouth. If I have a little more time, I'll repeat this. It's energizing, connecting, and a great form of stress release.
Exercise during lunch. I have about an hour for my lunch break, and I use 30 minutes of that for the gym. I use the minimum effective dose: a quick HIIT workout to get my heart beating. Even a brisk walk will help.
Plan the evening ahead of time. I find that when I start thinking about my family and what we're going to do that evening, when we get to it, it goes so much more smoothly! I like to plan out our meal for the night, check in with my husband to see when he'll get home, and communicate anything with him that may have happened during the day that will affect the evening. This prepares both of us and makes the evening time less stressful.
Cook together as a family. I always get my son involved in cooking. He loves to help, and it keeps me from skipping dinner or going out. We have a cutting board and a butter knife we give him to cut up vegetables. He also helps marinate kale and loves to knead bread or stir batters. We also set him up to do the dishes! We make a lot of soups, broths, grain-free baked goods, salads, steamed veggies, and wild fish. We like to keep it simple but really well-sourced.
Practice self-care during bath time. While my son is being a fish, I take time to give myself a little face mask and do some skin brushing.
Put the little one to bed early. I get my son down by 8 p.m., which leaves me at least an hour to spend with my husband, catch up on my favorite book, and do a little stretching, a short meditation, or a journal entry.
Overall, I've found that what works best for me is including my family in my self-care routine. I make tea with my son, skin brush with him, do yoga poses with him, and prepare healthy meals with him. After all, I want to teach him to care for himself in a loving way — and him seeing me do this is the best lesson.
Related reads: