Piers Morgan Called Susan Sarandon's Cleavage "Tacky." Is It Sexism Or Does He Have A Point?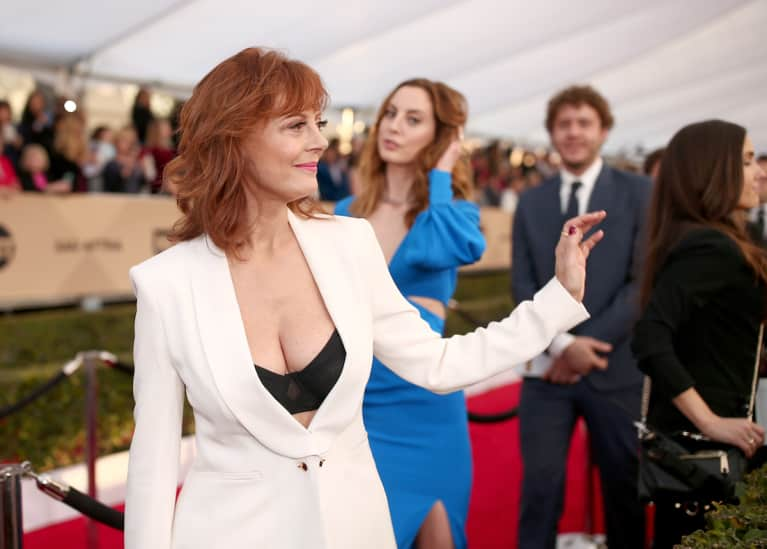 February 5, 2016 — 21:38 PM
Susan Sarandon presented the yearly In Memoriam tribute at last Sunday's 22nd annual SAG Awards ceremony. The segment was created to celebrate the lives and work of the brilliant creative minds we lost in the preceding year.
Getting a lot more airtime than the tribute this year (or the whole ceremony, for that matter) is Susan Sarandon's cleavage — and Piers Morgan's response to it.
Morgan, citing the gravity of her role as Memoriam host, tweeted that the outfit was "tacky" to his nearly five million followers.
Despite a tidal wave of backlash from the Twitter community decrying him as sexist and ageist, he stuck to his metaphorical guns.
"Would Susan Sarandon wear this to a funeral? No. It was thus horribly inappropriate for an In Memoriam tribute."
Sarandon, classy broad that she is (hey, we never said we weren't biased), tweeted a clever — and timely — response in the form of a #tbt still from The Rocky Horror Picture Show. (It's worth noting that this has been her only participation in the maelstrom. Otherwise, she's kept herself entirely above the fray. She's letting Morgan hash things out with his haters solo, instead of adding fuel to the fire.)
Morgan, trolling for buzz by any means necessary, replied with this #tbt gem:
While neither of them is backing down, and the Internet seems to be heavily weighted towards #TeamSarandon, I don't think this a cut-and-dried case of ageism or sexism.
Yes, Morgan's statement galvanized a shared sense of injustice on behalf of women who have been mistreated or marginalized — he probably did it intentionally. No, that doesn't mean any criticism of a woman over a certain age is ageist or sexist, regardless of its mouthpiece. Righteous indignation has a way of obscuring objectivity.
Since the beginning of #cleavagegate (which has gone on for nearly a week now), people have tried to bait Morgan into a conversation about gender equality or age discrimination. But it was never about that.
Throughout the debacle, Piers has been inundated with cleavage photos from indignant followers and feminists. Instead of undermining his point, though, they're giving him ammunition to defend it.
What should we actually be talking about? The talented artists who went home with statues, and the ones we laid to rest. A tribute to a life — any life — matters so much more than what someone is wearing when they make it. Instead of focusing on the deserving honorees, like David Bowie and Alan Rickman, we've turned our collective attention to an argument that seems to have everything to do with personal bias, and very little to do with reality.
It doesn't get much tackier than that.