3 Things You Should Know About NYC Food Today
mbg Contributor
By Leah Vanderveldt
mbg Contributor
Leah Vanderveldt is an author living in Brooklyn, New York. She received her bachelor's in communications and media from Fordham University, and is certified in culinary nutrition from the Natural Gourmet Institute. She is the author of two cookbooks: The New Nourishing and The New Porridge.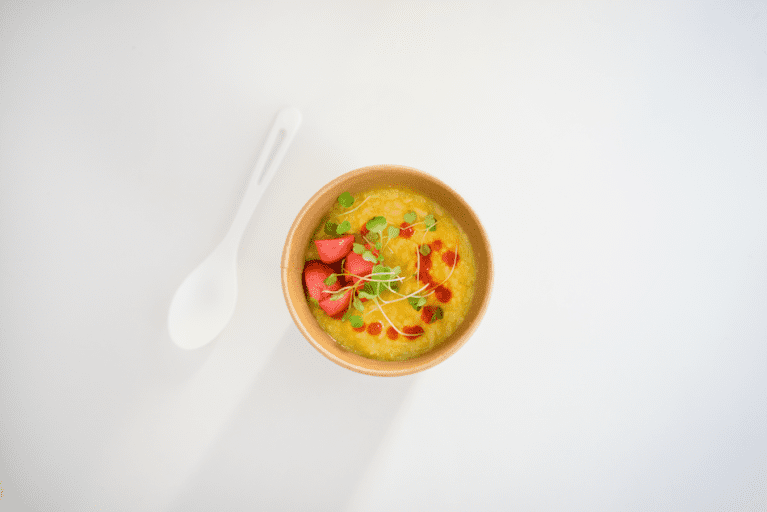 1. Healthy Indian-inspired restaurant, Inday, is serving up karma in a cup.
Starting Monday (February 8th), Inday will be serving Karma Cups. For every cup of kitchari (a warming lentil and rice soup) sold, they'll donate one to feed the hungry at The Bowery Mission. It's a good cause for a local charity, so if you're in the area, definitely get your soup on. (Inday)
2. New juice bar with a traditional Chinese medicine edge.
Wicked Juice And Kitchen is scheduled to open in Tribeca next week with over 70 organic juices on offer, along with what co-owner Brian Schoenberger is calling "healing waters", which are waters infused with herbs revered in TCM for their cleansing properties. (DNA Info)
3. April Bloomfield and Ken Friedman's new restaurant opens next week and the veggie burger looks badass.
Salvation Burger is the chef and cookbook author's foray into "American fast food", but way better. Everything is made in-house including hot dogs, jalapeño poppers, and an extremely enticing beet and lentil burger. (Grub Street)