4 Mantras I Follow To Stay Healthy + Fit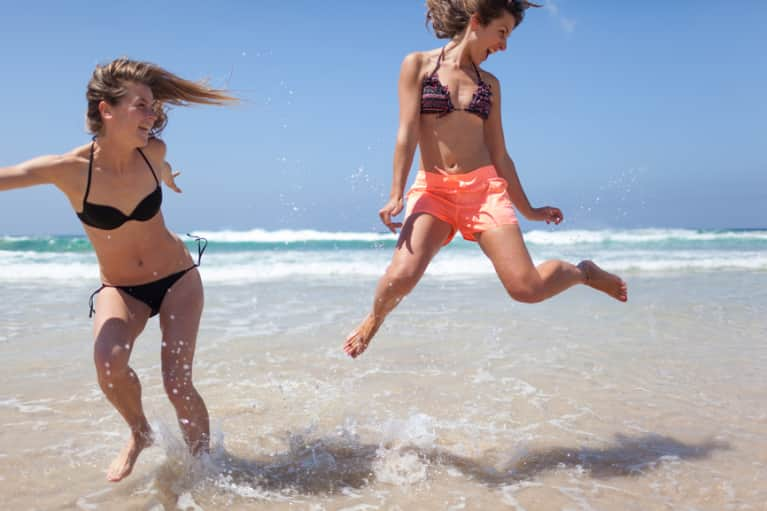 I'm not a complicated person, and I don't lead a complicated life. I eat simple-to-prepare, wholesome foods and work out whenever I can squeeze it in between my personal training clients. That means my food takes very little time to cook, and my workouts pack a punch inside a small, easy-to-complete time period.
Here are four tips to help you simplify your approach to a healthy lifestyle. I use these mantras every day to help me stay on track.
I'm talking about steps. Those easy things where you put one foot in front of the other. Getting 10,000 steps each day is a deceivingly simple way to get you in shape! Take the time in front of your computer or TV as breaks from movement. DO NOT approach walking, jogging, and working out as things you do in between sitting down! When you act like a healthy, active person you will see great results!
2. Don't eat starchy foods in the evening.
Food fuels your body whether you decide to think like that or not. What you put in creates the energy you need to live your life. Carbs are fun, delicious, and completely necessary to function and be happy every day. They provide you with some of the quickest ways to get energy but also can overload your digestive system if you consume too much.
For dinner, cut the starchy versions (like pasta) because you don't need energy to sleep, and your body won't need to store that excess energy as fat because you didn't eat it!
3. Work out in bursts of energy.
Nearly everyone is looking for that shorter workout. This is where interval training comes in — by alternating the intensity during your workout you can elevate your heart rate while you feel your muscles burn quicker.
My approach to fitness focuses on Tabata workouts (20 seconds of effort followed by 10 seconds of rest) for this reason.
4. Prepare your food early to last all week.
Prep day is crucial in my house because of how busy we get. Some nights I only have one hour from arriving home to heading out to soccer, and having my whole family sit down together matters a lot to me.
It would be too easy to just heat up a frozen pizza for my boys or grab takeout on my way home. So I make healthy as easy as possible with "Monday prep day." I cook chicken for salads; cut up spinach and romaine (no iceberg!), roasted beets, sprouts, and almonds; dice veggies; and cut fruit. Without prep day I would be in serious trouble.
Straightforward and simple advice to live a healthy lifestyle that lasts forever. It's no-nonsense and at times can be hard, but feeling like the strongest, healthiest version of yourself is worth it.
Related reads:
For more fitness and lifestyle advice, check out my new book, The 4X4 Diet.