3 Ways A Ballet Workout Will Improve Your Sex Life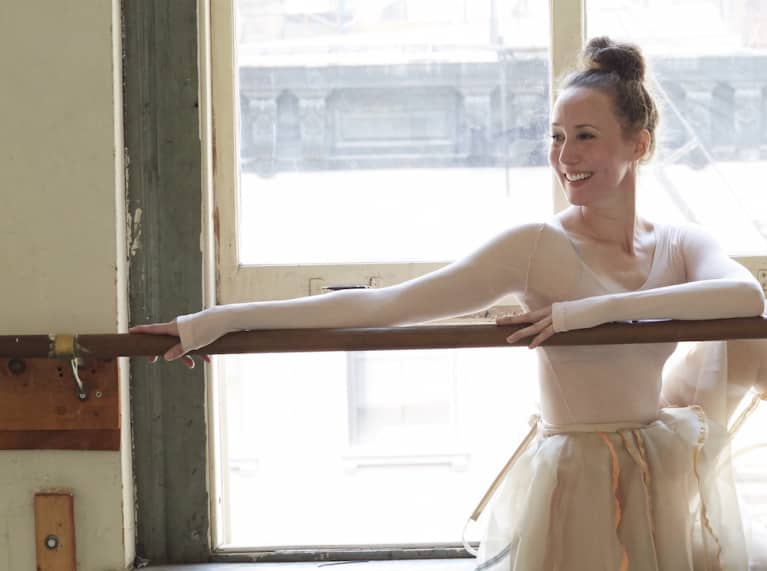 We all know ballet creates a gorgeously toned body, but did you know ballet training also offers amazing intimate advantages? Here's the skinny on the sexy side effects of doing ballet:
All of ballet technique is built around developing supple strength and control. Each exercise uses extension and movement to open up and strengthen the entire body. Ballet is especially wonderful for bringing flexibility to the shoulders, back, hips, and legs. And who doesn't imagine the naughty possibilities of doing the splits? Developing flexibility with the strength to use it can lead to more limber lovemaking that will keep you comfortable and game for trying some more of the Kama Sutra.
It's not something we ballerinas talk about much, but the experience is rather common. Note that what I'm about to say comes after enduring the trauma of vaginal delivery, episiotomy, and the mortification of postpartum stress incontinence. I was glad that after a few weeks back in the ballet studio I had stopped leaking!
An added bonus and much to my delight, it's still possible to feel "like a virgin" to your partner, even post-baby! In a subsequent informal survey of my ballerina friends, I discovered I was not alone.
Ballet tones everything, including your intimate insides. The special advantage comes from working the legs in "turn out" with the thighs, knees, and toes opening away from one another. When done properly, turn-out engages all the smaller muscles around the inner thighs, lower pelvis, and buttocks. Good ballet technique pulls up and tones the entire pelvic floor as you move, which is just a more clinical way of saying you'll maintain a youthful, snug v-jay by doing ballet! Such intimate toning can enhance sexual sensation and pleasure for both you and your partner. And it's also great for restoring your body (and confidence!) after childbirth.
The nuances of the ballet technique command complete physical and mental attention, leaving zero head space for thinking about anything else.
Focusing on the details of how you move in the ballet studio develops a powerful mind-body connection that follows you out into day-to-day life and right into the bedroom. In fact, the ultra-present "now" factor of doing ballet is a lot like the immediacy of sex. In both the studio and the bedroom, it's best when you are fully present to the moment and your own bodily sensations.
Ballet works the body in a detailed and immersive way that connects you more deeply with your own physical experience. And getting to know and appreciate your own body is not just super-sexy — such connectivity also promotes sexual self-awareness that offers greater potential for maximum pleasure.
The next time you are looking to enhance your love life, you might want to consider ballet training. It will not only keep you fit, but the flexibility, tone, and connectivity you cultivate from doing ballet can also translate into coital confidence and self-awareness that leave you poised for pleasure!
Related reads: