What A Culinary Nutritionist Eats In A Typical Day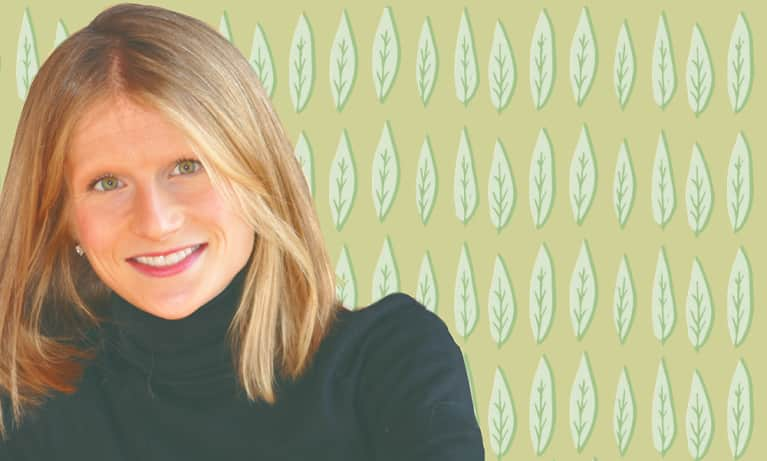 Amie Valpone is a culinary nutritionist, cookbook author, and the blogger behind The Healthy Apple. After 10 years of suffering from digestive issues and chronic pain, she turned to food to help heal her. Below, she shares with us what she eats in a typical day.
I usually wake up at 8:45. Many of you probably think this is late to wake up, but my body is still healing from 10 years of chronic illness so I need my sleep and I often still sleep 12 hours a night.
I used to be a morning person and pop out of bed at 6 a.m. and head to the gym, but those days are long gone. I've learned how to love my new lifestyle.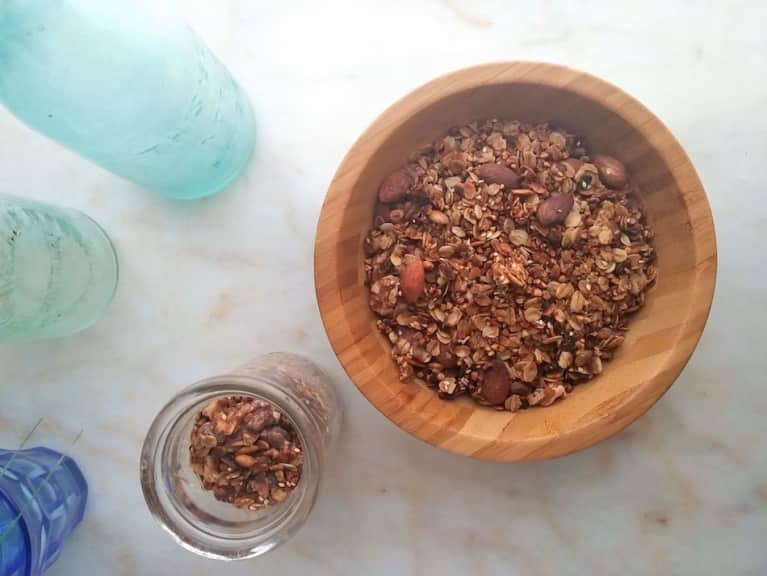 Buckwheat Granola, which I made last night. It's super easy and tastes amazing. I just started eating buckwheat (yes it's gluten-free) as of last month because before that I wasn't able to digest it well. But now that I'm healing my gut, I'm able to add in gluten-free whole grains, and buckwheat is on the top of my list.
Baking buckwheat with raw nuts and seeds is delicious and super easy for a quick breakfast. I drizzle this with 1 tablespoon organic coconut oil and add unsweetened almond milk to make it a "cereal" and eat it with a spoon. Yum!
At 9:30 a.m. is meditation, quiet time. I take about 15 to 30 minutes to meditate every morning and focus on clearing my thoughts for the day. It took me years to learn how to meditate and sit still with myself since I was typically very high energy, but now I crave meditation every single morning and can't turn on my computer without it.
At 10 a.m., I turn on my computer and read emails, write articles, and take a few conference calls.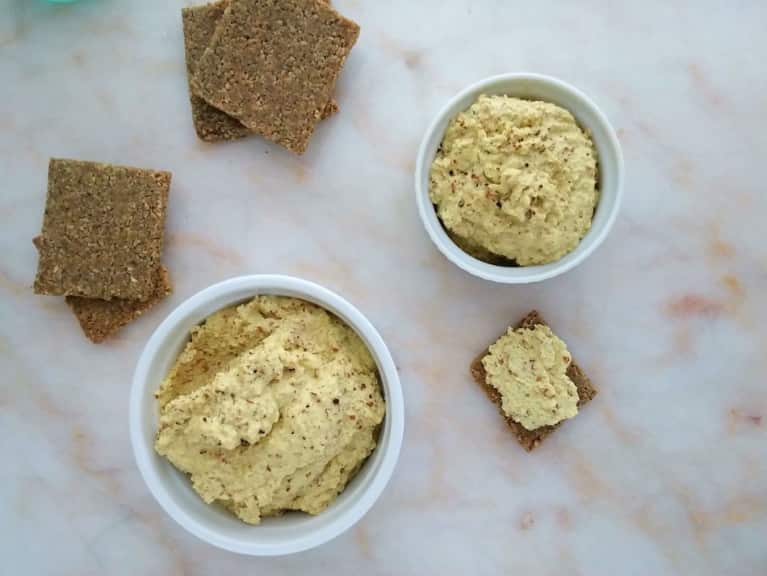 Cashew Almond Nut Cheese with my Grain-Free Crackers — both of these recipes are in my new cookbook, Eating Clean: The 21-Day Plan to Detox, Fight Inflammation, and Reset Your Body and I'm in LOVE with my Grain-Free Crackers.
There are about 5 grain-free cracker recipes in my cookbook and more coming in a few weeks on my website TheHealthyApple.com, so stay tuned for those.
I learned how to make nut cheese about four years ago; I started tossing almonds, cashews, and macadamia nuts in a food processor and making incredible tasting spreads, dips, and "cheeses" free of dairy and soy yet so delicious! I could eat the entire bowl of this with a spoon — I put it on everything throughout my day!
These crackers are great for traveling, too; I often bring them with me when I'm running errands or out for the day at meetings in case I get hungry and need a little nibble.
11:30 a.m.: Recipe testing time. I'm testing recipes for my website as well as for a few magazines (and mbg) that I write for. My kitchen looks a mess — which is why there is no picture here!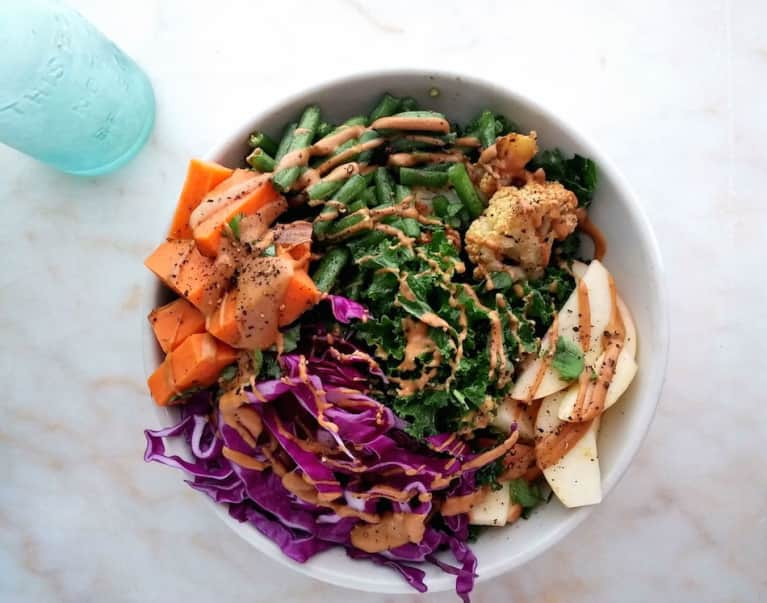 Happy Belly Buddha Bowl. Lunch is my biggest meal of the day. I tossed together leftover roasted cauliflower and roasted sweet potato from last night's dinner along with purple cabbage and a Fuji apple with steamed green beans and massaged kale with avocado oil, sea salt, and freshly ground pepper.
I'm a bit obsessed with creamy almond butter because I just started to be able to digest/tolerate nuts as of last year, so now I'm putting warm almond butter on everything I eat.
2 p.m.: Living in the West Village in Manhattan is super convenient because many of my celebrity clients live in my neighborhood or close by in Tribeca, so I pop into their homes; whip them up a healthy dinner, snacks for their week, and healthy desserts (like my Raw Grain-Free Brownies); then I make their fridge look beautiful and stock it with bright-colored fruits, veggies, and lots of healthy fats like raw nuts, seeds, and avocados!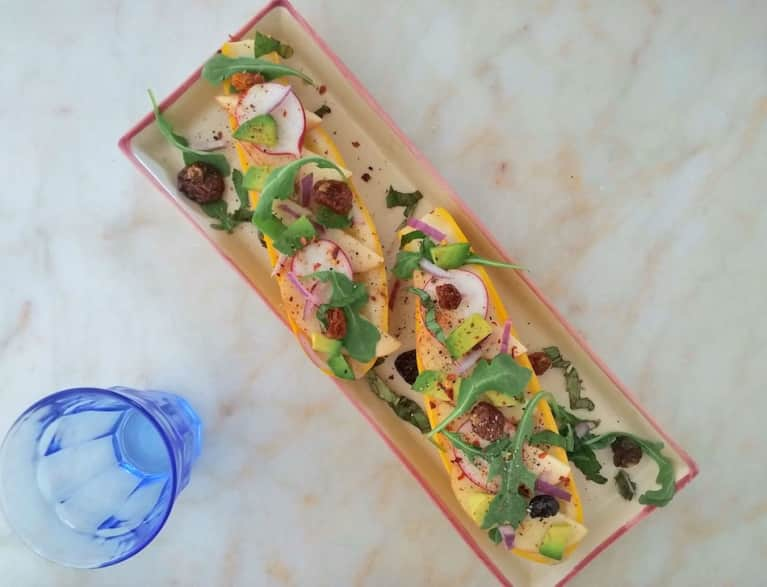 Mini Appetizer Squash Boats. When I'm working, I need to eat every few hours to keep my blood sugar stable and many of my clients with PCOS and other blood sugar imbalances need a snack every few hours with healthy fats, protein, and fiber.
Here I sliced a raw squash in half lengthwise and drizzled it with avocado oil, sea salt, and pepper. I topped it with red onions, fresh basil, radishes, arugula, golden berries, and avocado. It's the perfect snack to hold me over until dinner, and it takes only a few minutes to make.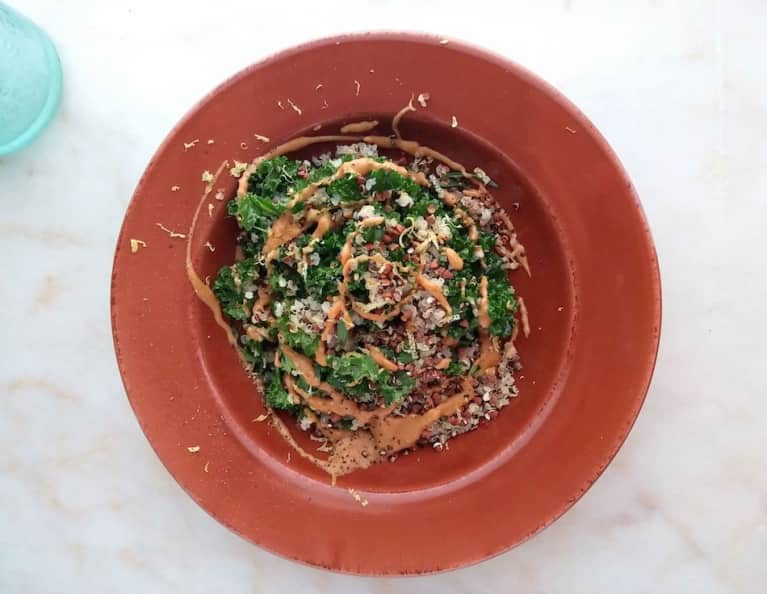 Back at home, I'm making a kale salad with almond butter. Almond butter has become my go-to dressing and I'm eating it here again for the second time today because it's so good when served warm, drizzled over salad.
I'm serving it with a bed of massaged kale (with olive oil), some lentils, and a few spoonfuls of red quinoa. I finished this dish off with fresh lemon juice, lemon zest, sea salt, and pepper. A touch of crushed red pepper hits the spot for a garnish here!