The Founder Of Elana's Pantry On Healing, Gluten-Free Treats, And #Wellth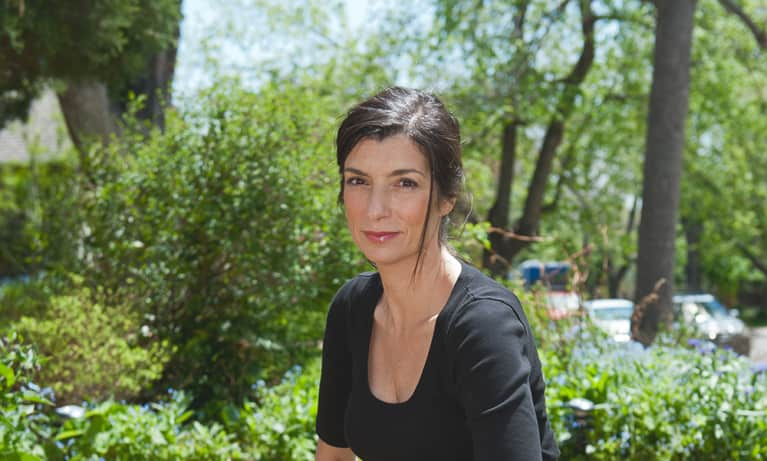 Our editors have independently chosen the products listed on this page. If you purchase something mentioned in this article, we may
earn a small commission
.
I've spent the past year thinking a lot about "wellth" — the idea that success is found in a lifestyle devoted to mental, physical, and emotional health. (I even wrote a book about it.) In this new series, we're celebrating visionaries who embody what it means to be wellthy.
When you think of mouthwatering grain-free recipes, the first name that comes to mind is Elana Amsterdam, the genius cook behind the amazing Elana's Pantry.
mbg: Favorite way to break a sweat?
EA: Sitting in an infrared sauna.
So, you love celery root … please tell us more!
I use it as a low-carb healthy substitute in place of potatoes. Mashed celery root, celery root latkes, celery root fries — you get the idea!
Where do you go when you need some nature?
I head out the door and walk five minutes until I arrive at the trailhead of Mount Sanitas, where I embark upon an absolutely stunning hike. I also love walking along Boulder Creek, listening to the sound of the water passing over the rocks, and getting a big dose of negative ions from all of that moving water.
What's the biggest life lesson you've learned about the healing process?
To quote Martin Buber, "Every journey has a secret destination of which the traveler is unaware." That's the greatest lesson I've gathered from my own healing process.
I do yoga in our basement or read the Sunday New York Times Magazine in the bathtub.
What does "wellth" mean to you?
Living as well as we can with as little clutter as possible.
Every time I purchase something new, I give away something old, whether it's a piece of clothing or a piece of furniture. I don't ever want our possessions to become something that create disarray, overload, or chaos in our life.
When our home is sparsely filled and well-organized I find the time and space to be totally present in the moment without distraction, or alternatively to choose to let my mind wander and dream big.
Any advice for someone looking to build a life they love and follow their passion?
Take pride in whatever you do, and practice doing it well. Whether it's washing the dishes or writing a book. Practicing excellence creates the habit of excellence.
What's your favorite gluten-free treat from your best-selling cookbook, "Paleo Cooking from Elana's Pantry"?
Upside-Down Apple Tartlets
Serves 8
Ingredients for the crust
2 cups blanched almond flour
½ teaspoon Celtic sea salt
¼ cup coconut oil, at room temperature
¼ teaspoon vanilla stevia
Ingredients for the filling
6 large apples, peeled, cored, and sliced , and cut into ¼-inch slices
1 cup apple juice
1 tablespoon freshly squeezed lemon juice
2 tablespoons arrowroot powder
1 tablespoon ground cinnamon
Preparation
1. Preheat oven to 350° and place eight 1-cup wide mouth Mason jars on a large baking sheet.
2. To make the crust, pulse together almond flour and salt in a food processor. Add coconut oil and stevia and pulse until the mixture forms a ball.
3. Transfer dough to a piece of parchment paper and place in freezer for 20 minutes.
4. To make filling, toss apples, apple juice, lemon juice, arrowroot powder, and cinnamon in a large bowl to combine. Transfer apples to Mason jars so that each one is overfull.
5. Divide remaining juice from the bottom of the bowl between the jars.
6. Remove dough from freezer, place between 2 pieces of parchment paper generously dusted with almond flour.
7. Roll out the dough ¼-inch thick and remove top sheet of parchment.
8. Use top of a wide-mouth Mason jar to cut out 8 circles of dough. Place one on top of each apple-filled Mason jar.
9. Bake for 40 to 50 minutes, until the juices are bubbling and the crust is golden brown.
10. Serve the tartlets hot out of the oven with coconut whipped cream.