Pro-Surfer Malia Manuel On Her Favorite Self-Care Tricks And #Wellth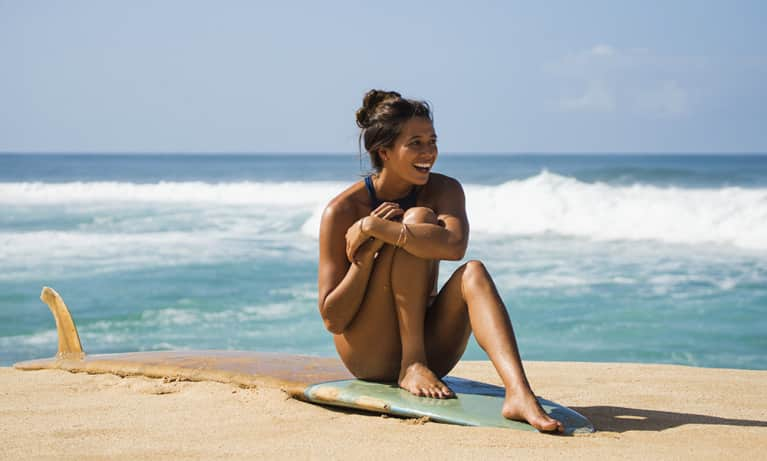 February 15, 2016 — 10:11 AM
I've spent the past year thinking a lot about "wellth" — the idea that success is found in a lifestyle devoted to mental, physical, and emotional health. (I even wrote a book about it.) In this new series, we're celebrating visionaries who embody what it means to be wellthy.
Malia Manuel has been surfing since she was a baby, and at age 14 was the youngest surfer (male or female) to win the US Open of Surfing. Today, at age 22, Malia is one of the leading female professional surfers in the world, ranked as high as 5th in the world by the Association of Surfing Professionals. She's also a runner, yogi, and totally living the mindbodygreen lifestyle!
mbg: What do you love about surfing?
MM: I love the freedom and fun it brings. Surfing is my escape to happiness. I can surf when I'm not in the best mood and it will bring the most joy out of me.
Favorite healthy place to eat?
I love eating at Green Leaf. Their Antioxidant Salad is the best, filled with goodies.
What's your favorite way to escape to get some nature?
I love to hike — my friends are so adventurous so it's fun to make a day out of it with them. It really humbles me to be in the mountains and swimming under waterfalls.
Favorite holistic treatment?
I'm obsessed with essential oils! I'm the one who always smells like oil blends on the airplane.
Surfing requires mental toughness. How do you train mentally to compete?
Music has helped a lot. Something about the rhythmic beats of songs can trigger my competitive toughness. I do love meditating when I find the time — one of my resolutions is to meditate more.
What does wellth mean to you?
I think of creating the opportunity to find simplicity and clarity when it comes to taking care of yourself.
Any advice for someone who's looking to build a life that they love and follow their passion?
Stay focused and write down goals! Be obsessed with your passion.
This interview has been edited and condensed.