6 Self-Care Tips I Used To Feel Healthy & Beautiful As A New Mom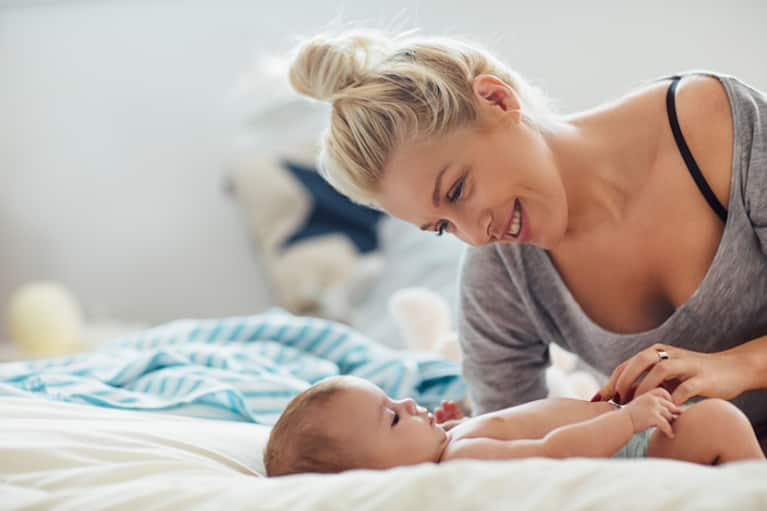 As I was busy managing a career and a food blog, my pregnancy slowed me down a lot. But I adored being pregnant. I nourished my growing belly with the best food, excited at the thought of cuddling our first baby. Learning as much as I could, I prepared for a natural labor and delivery with my midwives.
Fast-forward to nine months, and, after working hard through a 40-hour labor, I ultimately birthed my son with help from an obstetrician and a cesarean section. Instead of being saddened by this, I viewed it as a lesson and thought about what I could learn from it.
My first few months at home with my son can be described as the most exhausting but also the most wonderful time of my life. I found that the following six pieces of advice helped me not only recover quickly but also feel beautiful, and still like myself, as I took on the new title of Mama:
1. Do a "lying-in" period.
This was the biggest game-changer for me. "Lying in" refers to a designated resting period for mom and baby to recover and bond. It's a lost art and I believe more women should try it.
For almost three weeks, my son and I spent as much time as we could, wearing as little as possible, in bed together. My mom and mother-in-law took turns living with us to help cook and clean. I nursed him as much as he wanted and used this quiet, peaceful time to meditate, recharge, and be in awe.
He is a thriving, social baby today and I believe this lying-in period helped him feel safe, loved, and secure from the start.
2. Schedule self-care appointments.
Book an appointment for a haircut, pedicure, facial, or massage for four weeks after your estimated due date. If you don't schedule it, it won't happen. You'll be able to leave your baby with your partner or mom, sister, or mother-in-law for two hours, I promise.
When you're waddling around the house in your pajamas at 2 a.m. (or 2 p.m.!) or rushing to get out the door, a fresh haircut will help you feel spectacular. I didn't color my hair during my pregnancy, and I thought of my salon appointment as a reward for that sacrifice.
I continue to make one appointment every other month or so. It's great self-care and allows my son to get used to his mama being away for small chunks of time.
3. Forget dieting and be gentle with yourself.
This is especially true if you're breastfeeding. It's not the time to cut calories when you're building your milk supply. Enjoy what you eat because it is nourishing both of you!
I didn't start to count carbs or push myself hard at the gym until my son was 6 months old and well into enjoying purees. I gave birth in June and the occasional ice cream cone, cold glass of white wine, or burger (the iron!) tasted so good that summer.
I did continue taking a high-quality prenatal multivitamin and made sure to eat a balanced diet the rest of the time, especially focusing on greens and protein.
Hydrating is key to nursing and recovering all the fluids you lost during labor. Before you give birth, buy yourself the biggest water glass you can find (think giant Slurpee). Then keep it full of water and near you night and day.
My go-to water included ice and lemon, lime, or berries. I think my husband thought refilling it was his full-time job at some points.
5. Move in any way that makes you happy.
Embrace everything from kitchen dance parties (babies love music) to horsing around at the park and meeting a neighbor for a weekly evening walk. All this keeps you moving, boosts your mood, and helps your recovery.
Since I was exhausted and tired after a long labor and surprise cesarean, the one thing I did every night before bed was nourish my belly with a vitamin E–rich cream and invest in a good-quality eye cream.
No matter how tired I was at bedtime, I followed this quick skin care routine, and today my skin thanks me. I thought of this routine before bed as a tiny sliver of "me time" after an exhausting day caring for an infant.
Related reads: