10 Ways Not To Turn Your Kid Into A Spoiled Brat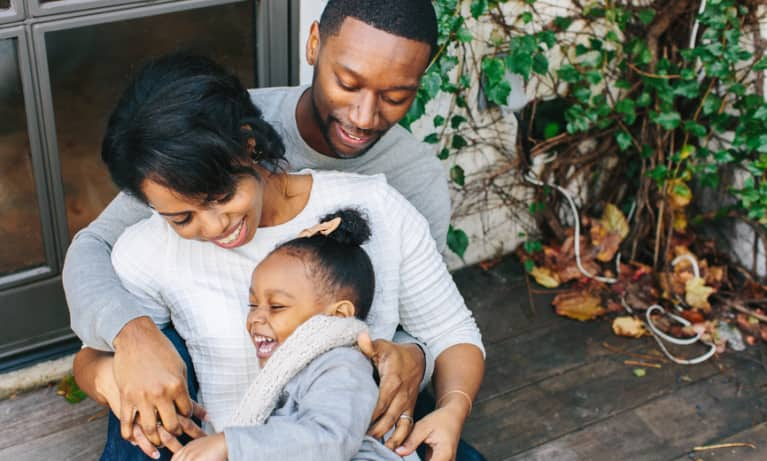 Parents, one day you'll want to go out to a grown-up restaurant with your adult child and enjoy the dinner conversation. You won't want to correct his manners, you won't want to help him order off the menu, and you won't want to sit there wishing you were somewhere else.
When the childhood dust has settled, you'll have a new adult relationship in your life. So how do you make sure that you'll look forward to the time you spend together — and more importantly, ensure that other people enjoy time spent with your child as well?
Make a rule that you'll only rescue your kids once they've made an effort.
I can tell you, as both a neuroscientist and a parent of four, that it's important — and possible — to craft a childhood that provides healthy models for interacting with the world. It's just a matter of setting these 10 intentions:
1. Don't let them always win.
Nobody likes to lose. But winning all the time is a completely unrealistic way to have children experience the world. So make sure your children experience both winning and losing when you play together.
When you tag them, you tag them. That's the way life is: sometimes you win and sometime you lose.
Life contains inevitable conflict. And one of the marks of a well-balanced person is the ability to handle that conflict in a way that doesn't cause a major life interruption.
We can't expect our children to emerge from their home cocoon and automatically navigate complex social situations. Unfortunately, our children often aren't getting the conflict resolution tools that they need in our schools. As parents, we can help by talking through everyday situations together with our kids: ask them what the bully is thinking, question the decisions the TV sitcom star makes, and make them aware of how it feels to be left out.
Don't let kids talk whenever they want to. If you're in the middle of a conversation, they'll need to wait for a stopping point.
Sure, their opinions are worthwhile — but everyone else's opinion is important too. This will diminish their perceptions of self-importance while still allowing for a healthy sense of self-worth.
It's not your job as a parent to entertain your children. In fact, it's no one's job to entertain your children.
Finding things to engage with in the world around you is a life skill but can take practice for some people. Having "nothing to do" allows for reflection time, and being bored can lead to more creative thought processes.
5. Don't fix it for them.
Sometimes competent kids act helpless. If you don't step in to help, they are forced to try it themselves — whether it's zipping up their coats, cleaning up their rooms, or talking to a classmate who is upset. Make a rule that you'll only rescue them once they make an effort.
6. Expose them to different ways of thinking.
Spoiled rotten kids often only know one valid way of doing things: their way. Show your children how to find value in multiple ways of doing things, whether that's generating creative solutions to problems or exposing them to different societal and cultural traditions.
7. Help them find value in others.
If you disparage the terse barista behind the coffee counter, your children will focus on her shortcomings. If you try to explain her rudeness, your children will instead focus on the possible reasons that people act the way they do.
Emphasizing how we are similar, instead of pinpointing the more obvious differences, will boost your children's understanding of others, improve their conflict-resolution skills, and make space for kindness in difficult situations.
8. Teach them to share the load.
Children shouldn't be the center of family life, but they shouldn't be treated as second-class citizens, either. Kids should participate in the care of the household. They don't necessarily need specific chores or schedules, but sometime this is a good way of getting started.
Finding ways to help that aren't mandated is a more real-life way of teaching household responsibility and perhaps more rewarding. Always point out helping opportunities to your kids. They're never too young to learn that shared responsibility applies to them, too.
9. Show them what service feels like.
Kids who give to others learn that giving is rewarding, especially if children get to see their gift making a difference. Service learning is popular in education not only to support learning course content but also because it provides giant opportunities for personal growth.
Pick up trash on the beach, even if it's not your trash. Help the homeless you see in your own community. Donate old toys and clothes. You don't need to find a formal volunteer organization to provide a service to our world. Part of the lesson is that anyone can make a difference at any time.
10. Don't be the exception to the rule.
If you want children who respect other people, you have to respect others. Don't push your way through the airport and tuck your family into the front of the line. The rules apply to you, too. Your kids are watching you. Always.
The truth of the matter is that if you don't want spoiled kids, you can't act like a spoiled adult. Your children will value the things you value, whether it's getting an "A" on their math quiz or offering a hand to a friend who has taken a spill on the playground.
Spend some time to get it right, now. Your future self, and your children's future selves, will thank you.
Related reads: