What My Mindfulness Practice Looks Like: Best-Selling Author Lodro Rinzler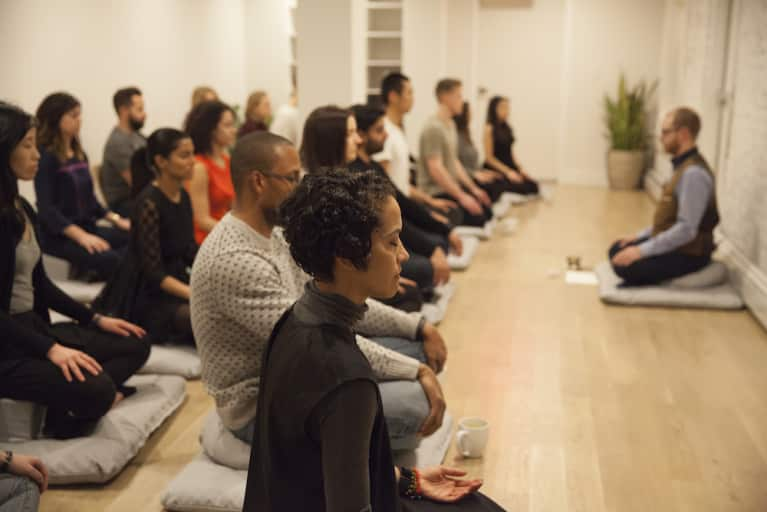 Lodro Rinzler is a best-selling author (The Buddha Walks Into a Bar) and founder of New York City's first drop-in meditation studio, MNDFL, located in Greenwich Village. In a city where most of the inhabitants are go-go-go, MNDFL offers space to breathe and meditate in a group or private setting. Lodro is referred to as the chief spiritual officer — which makes him the perfect person to offer tips for beginner meditators.
I meditate at home, at MNDFL, and even sometimes on the subway. I've been practicing meditation since I was 6 years old, so while I don't recommend the latter for someone who is just starting, it's become easier over time for me to meditate wherever I end up.
Often in the mornings, although I teach meditation every day at different times, so I meditate with groups throughout the day. Sometimes when I am locked away working for hours at a time alone, I will set a timer on my phone to go off every 60 minutes so I stop what I am doing, connect to my body, raise my gaze, and feel the natural cycle of my breath. Then, after a minute or so, I return to my work, setting the timer again for the next hour. Doing so helps to reconnect to practice throughout the day.
What type of meditation do you practice?
I was born and raised in the Shambhala Buddhist tradition and have been doing a number of practices over the course of the last few decades. My main practice is known as Werma, which is a Tibetan Buddhist sadhana practice. But the foundation for all of my practices is shamatha, or calm-abiding meditation, which is sometimes known as mindfulness meditation. That is the primary thing I teach to new meditators — simply becoming familiar with the breath as a way to become familiar with all of who you are, including your basic goodness.
A meditation cushion and sometimes a mala. I'm a simple man.
To remain as present and kind as possible in order to be of benefit to all beings I encounter. To develop further confidence in my innate wakefulness. To recognize that underneath the layers of neurosis that we all carry, we are all already enlightened.
Advice for first-time meditators?
Study with a trained, certified meditation teacher. Apps are absolutely wonderful, but at some point you will have questions about what you are experiencing in your meditation practice and you can't google the answers; you need a live human to talk to. By trained and certified I mean someone who comes from an authentic wisdom tradition that spans hundreds, if not thousands, of years. Don't study with someone who makes up meditation techniques because it works for them; study with someone who is authorized to offer time-tested practices.
Related reads: