12 Sports Nutrition Tips That Anyone Can Benefit From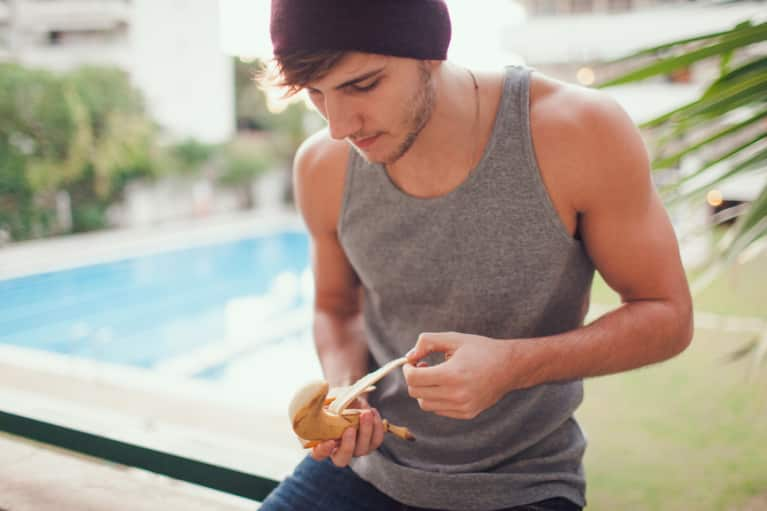 The new year brings out the inner athlete in all of us. The average couch potato decides to get moving, the weekend warrior steps it up a notch, and the competitive athlete gets a little more competitive.
No matter which camp you fall into, your efforts can fall flat when not supported by a sound approach to sports nutrition. What you eat, or don't eat, can make or break your new fitness habits. Here is how to ensure success:
1. Don't let pain get you down.
Face it, when you step it up a notch, it's bound to hurt. There are a few simple nutrition strategies that can reduce muscle soreness and speed up recovery after a tough workout.
My absolute favorite is tart cherry juice. Tart cherry juice reduces inflammation associate with delayed onset muscle soreness (DOMS). Add 4 ounces to your bedtime routine because it also raises melatonin levels, a hormone that supports sleep.
2. Support muscle growth.
The stronger you are, the easier it is to keep going. Adding a high-quality protein source post-workout can help to accelerate the repair of damaged tissue that goes along with pushing it.
Think nuts, seeds, and salmon here. The amount of protein you need depends on the type of exercise you are doing. Endurance athletes should toss in a generous portion of carbs, too.
3. Don't eat more than you burn.
Okay, we all know how frustrating it can be to launch into exercise only to jump on the scale and see the number going up. Don't let the false confidence of your newly found workout routine masquerade as permission to eat more.
If you're exercising for less than 75 minutes, there is a good chance you don't really need to eat any more than you normally would.
4. Support your immune system.
Exercise can be a stress on the body, particularly if you haven't been active in a while. Keep your immune system healthy by adding probiotic-rich foods.
The best source of immune-boosting foods are fermented foods like kimchi, kombucha, kefir, and unsweetened Greek yogurt.
Put fuel into your body when your body needs it most. If you're working out first thing in the morning ... eat a bigger dinner the night before and follow the workout with a decent-sized breakfast.
If your workout is mid-afternoon, eat a well-balanced lunch and then a good recovery dinner. Stop eating an hour before your workout for digestion. Ideally the big meals would be three hours before and within the first three hours after a workout.
Functional foods are foods that support and encourage athleticism. Some of my favorites are eggs, cinnamon, and turmeric.
Eggs are an excellent protein source to speed muscle repair, cinnamon helps to balance blood sugar levels, and turmeric is rich in anti-inflammatory properties.
Dehydration is a buzzkill and will make any of us feel fatigued. The best way to assess your hydration needs is to calculate your sweat rate. Be mindful that exercising in cold weather depletes your body of fluid and electrolytes as much as exercising in warm weather does.
There's a lot of hype around sports nutrition products, but real food can go just as far in supporting sports performance, if not further, then engineered foods.
Try swapping a protein powder for a nut butter in a smoothie, or make your own sports drink.
9. Follow the 80/20 rule.
Many times, best intentions fall short because they are too difficult to live with.
In your quest to claim a healthy and active life, you still need to be a human. The 80/20 approach to eating means that there's room for some fun and pleasure in eating. This sense of balance might just mean that your resolve is something you can actually live with long-term.
10. Crowd out the unwanted.
Stop focusing on what you won't eat and start focusing on what you will eat.
Deprivation, which typically turns to longing, is a thing of the past. There are plenty of good-for-you foods that taste amazing. When you focus more on those, you really don't miss the not-so-good-for-you things.
Bring on the avocados, salsa, hummus, olive oil, and a little dark chocolate, please.
11. Eat to support your own unique self.
Trying to follow the latest nutrition fad is often a recipe for disaster. Each person is different, especially when you consider genetics, lifestyle, activity, and food preferences.
Make it a plan to eat mostly whole foods with a focus on deeply pigmented plant foods, clean protein, and healthy fats, and you should be good to go the extra mile.
Recovery after exercise is the key to success. The most optimal window of recovery is within the first 15 to 30 minutes after exercise.
What you need depends on the type and duration of exercise, but properly timed nutrition post-exercise can ensure that you're primed and ready to go tomorrow.
If your fitness goals aren't supported by what you're eating, it's not likely to be sustainable. By following a few basic sports nutrition tips, you can make lifestyle changes that last.