3 Soups To Get You Through The Rest of Winter
February 17, 2016 — 10:11 AM
Cookbook author, Paleo food blogger, and former roller-derby rock star Melissa Joulwan began her Paleo path in 2009. Since then she's created delicious, accessible Paleo recipes that celebrate good food. Today she shares three warming soups with us.
Persian-Spiced Winter Vegetable Soup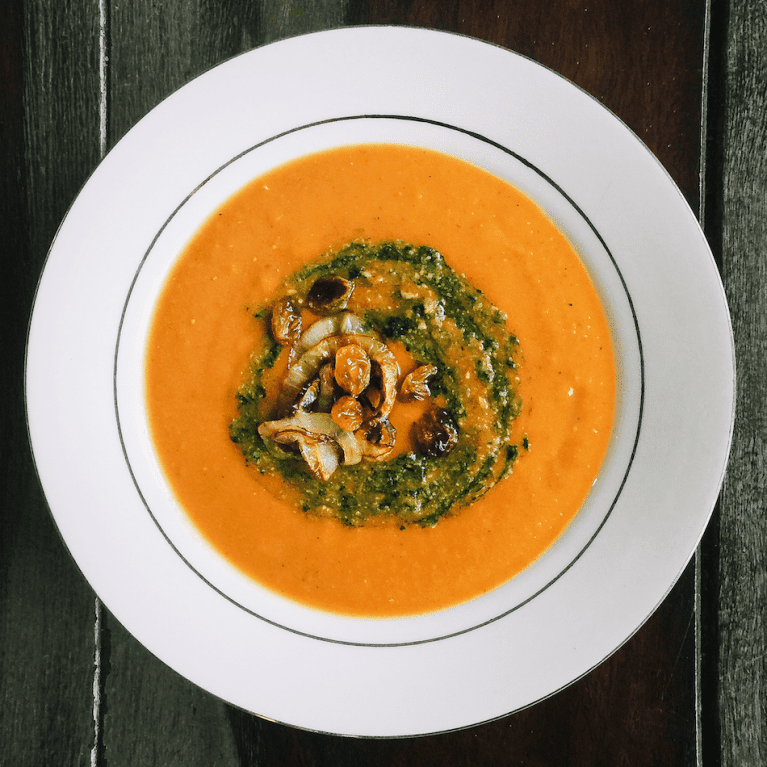 Serves 10 to 12
Ingredients
2 tablespoons ghee or other cooking fat
2 pounds butternut squash, peeled, seeded, chopped into 1-inch cubes
2 medium onions, coarsely diced
3 garlic cloves, minced
1 pound potatoes, peeled and cut into 1-inch chunks
4 teaspoons ground cumin
2 teaspoons ground paprika
½ to 2 teaspoons Aleppo pepper (or crushed red-pepper flakes), depending on how spicy you like your life
1 teaspoon ground cinnamon
1 tablespoon salt
1 teaspoon ground black pepper
1 x 6-ounce can tomato paste
6 cups broth (any flavor)
¼ cup extra-virgin olive oil
1 cup fresh parsley leaves
1 small clove garlic
2 tablespoons shelled pistachios
½ teaspoon lemon juice
⅛ teaspoon salt
⅛ teaspoon ground black pepper
Preparation
1. Heat a large soup pot over medium heat. Add fat and allow it to melt, then toss in the butternut squash, onions, garlic, and potatoes. Stir to coat the veggies with the fat, and cook, without browning, until the vegetables are beginning to soften and look golden, about 20 to 30 minutes. You don't want anything to get brown, so keep an eye on the heat. This is not one of my "crank it up and let it go" recipes. This smells wonderful, so enjoy!
2. Add the cumin, paprika, Aleppo pepper, cinnamon, salt, and black pepper to the pot. Stir to combine. Add the tomato paste and cook, stirring occasionally, about 10 minutes.
3. Add the broth to the pot and stir to combine, scraping up any brown bits stuck to the bottom of the pot. Simmer, covered, until squash is tender when poked with a fork, about 20 to 30 minutes.
4. While the soup is cooking, prepare the pistachio-parsley pesto. Purée all the ingredients — with a blender, food processor, or stick blender — until very smooth. Set aside. (See below for additional, delicious garnishes.)
5. When the soup is done, purée it carefully with a stick blender, blender, or food processor; work in batches, if necessary. When it's smooth, taste and adjust seasonings. You can add water or broth, ¼ cup at a time, if it's too thick. Serve in a pretty bowl and top with your favorite garnishes.
Cinnamon Beef Stew with Orange Gremolata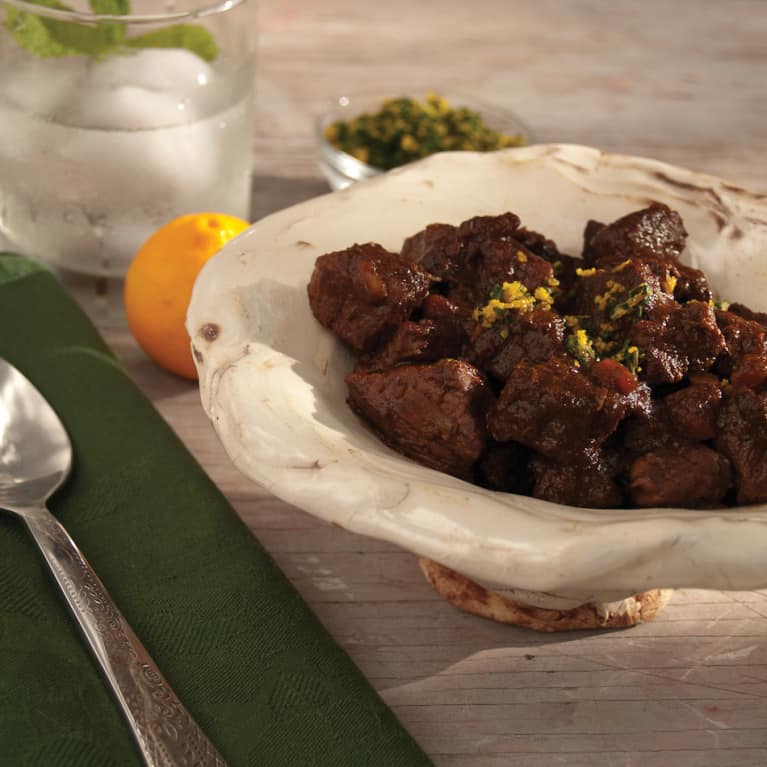 Stews are lovely because while they simmer I forget that I'm the one who made them. When it's time to sit down and eat, I feel as though someone else cooked for me. What a treat!
In this flavorful stew, the cinnamon and herbs create a mellow, earthy gravy that's a foil for the bright, tart taste of the orange gremolata on top. It's sophisticated comfort food.
Serves 6 to 10
Ingredients for the stew
2-3 pounds beef stew meat, cut into 1-inch cubes
salt and ground black pepper
3 tablespoons coconut oil
1 medium carrot, peeled and finely chopped (about ¼ cup)
1 medium onion, diced (about 1 cup)
1 medium celery stalk, finely chopped (about ¼ cup)
2 cloves garlic, minced (about 2 teaspoons)
2 tablespoons tomato paste
½ cup beef broth
2 tablespoons balsamic vinegar
3-5 cups water
2 teaspoons salt
1 teaspoon ground black pepper
2 bay leaves
1 sprig fresh rosemary (or ½ teaspoon dried)
1 sprig fresh thyme (or ½ teaspoon dried)
1 sprig fresh sage (or ½ teaspoon dried)
2 cinnamon sticks
garnish: extra-virgin olive oil (optional)
Ingredients for gremolata
½ cup fresh parsley leaves, finely minced (about 2 tablespoons)
zest from 1 orange (about 2 tablespoons)
leaves from 1 sprig fresh thyme (½ teaspoon dried)
2 cloves garlic, minced (about 2 teaspoons)
Preparation
1. Sprinkle the beef generously with salt and pepper. In a large pot or Dutch oven, heat the coconut oil over medium-high heat, then add the meat in batches and sear on all sides. It's important that you don't crowd the pan. The meat needs air around it to achieve a crisp brown crust. With tongs or a slotted spoon, remove the browned pieces to a bowl to catch their juice. Repeat with the remaining cubes.
2. In the same pot, sauté the chopped carrot, onion, celery, and garlic for about 2 minutes, stirring with a wooden spoon. Add the tomato paste and stir for about 1 minute.
3. Deglaze the pan, which is just a cook's way to say: Add the broth and vinegar, then stir with passion, scraping up all the wonderful brown bits at the bottom of the pan. Keep stirring until the mixture starts to thicken.
4. Put the meat and its drippings back into the pot. Add 3 cups water, 2 teaspoons salt, a healthy dose of pepper, the bay leaves, rosemary, thyme, sage, and cinnamon sticks.
5. Bring to a boil, then reduce the heat and simmer with the pot only partially covered for about 90 minutes. This is not a soupy stew, but if the stew starts to dry out, add more water, about ½ cup at a time. Simmer until the meat is fall-apart tender and the liquid in the pan has been reduced to gravy-like consistency.
6. During the last 15 minutes of stew cooking time, make the gremolata. In a small bowl, mix the parsley, orange zest, thyme, garlic, and rose water.
7. Remove the cinnamon sticks and herb stems from the stew pot. Ladle the stew into deep bowls and top with a few pinches of orange gremolata. Bonus points if you also add a light drizzle of olive oil.
Silky Gingered Zucchini Soup
Serves 4 to 6
The ginger and garlic in this recipe give it a little bit of zing, and you'll be shocked — shocked! — at how creamy this soup is, without the benefit of dairy or coconut milk.
I'm halfway obsessed with eating soup for breakfast, and this is one of my favorites. It's an easy way to make sure I get a dose of veggies in the morning, and because a bowl of this soup is warm and cozy, it fills in for tea or coffee but I can eat it. Bonus!
Ingredients
1 tablespoon coconut oil
½ medium onion, chopped
4 large cloves garlic, peeled
1 teaspoon salt
1 teaspoon powdered ginger
1 teaspoon ground coriander
½ teaspoon ground black pepper
4 medium zucchini, about 2 pounds, chopped
4 cups high-quality chicken broth
Preparation
1. Heat coconut oil in a large soup pot on medium heat, 2 minutes. Add onions, then smash garlic cloves with the flat side of a knife or the bottom of a glass, and add to pan. Stir often and cook until the onions and garlic are soft and golden but not browned, about 7 minutes. Add salt, ginger, and black pepper; stir to combine.
2. Toss the zucchini into the pot. Stir to coat the zucchini with fat, then cook until it is beginning to soften, about 5 minutes.
3. Add the broth, bring to a boil, cover, and reduce heat to simmer. Let the zucchini cook 45 to 60 minutes until it's very soft.
4. VERY carefully, purée the zucchini and broth in a blender or food processor, or with an immersion blender. If you're using a blender, work in batches, filling the canister only halfway and holding a towel over the lid while you purée. Eat immediately, or store in a covered container in the fridge.
This was partially excerpted from my cookbook, Well Fed.