I Was 16 When I Was Told I'd Never Have Kids. Here's How I Learned To Accept My Infertility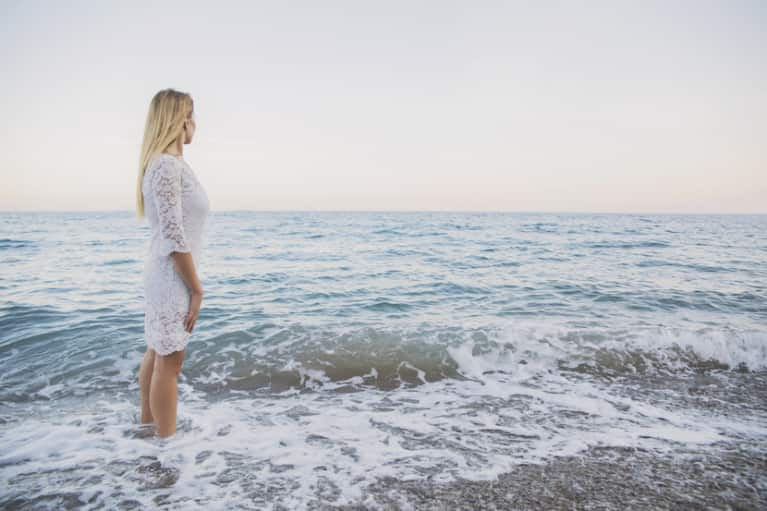 In our new Realtalk series, we're sharing personal stories about fertility and family planning. We hope they offer support and inspire honest conversation about an incredibly tough topic.
When I was just 16 years old, I was told I'd never be able to have children.
It was a horribly awkward day when my mom dragged me to the pediatrician to report that I still hadn't had my first period. The visit ended with a referral to a specialist at one of the best hospitals nearby. From there, I was subjected to numerous invasive tests as the doctor searched for a diagnosis. Each test created more and more anxiety in me. I was eventually prescribed Valium just so I could get through the appointments.
When you're 16, no adult wants to talk to you about sex, never mind talk about infertility and your future plans for children.
Eventually there was nothing left to test — and yet there were still no answers. The only thing the doctor seemed certain of was that I would not be having kids. As a typical teenager who longed to fit in, it felt like I had been handed a life sentence of rejection and isolation.
My mom refused to accept that there was no explanation and continued to seek help. But it was surprising how many doctors turned us away. They said to come back when I was married and ready to have children. I don't think they quite knew what to do with a teenager and her mom asking questions about having children.
I'm not alone in my struggles: the CDC reports that 12 percent of women ages 15 to 44 in the United States have difficulty getting pregnant or carrying a pregnancy to term. Unfortunately, though, there is no statistic that focuses just on teenagers to validate the incredible loneliness I felt.
I was mortified at the thought of trying to open up about this with friends. When you're 16, no adult wants to talk to you about sex (I heard "the talk" from a class at the library), never mind talk to you about infertility and your future plans for children. There was certainly no husband or boyfriend to hold my hand and face this challenge with me.
Finally Finding Answers to My Infertility
I wish I could say that throughout the next 10 years I was an optimistic ray of sunshine facing adversity with a contagious grin and the courage of a hundred heroes.
But the truth is not a day went by that I didn't end up in tears. Every day I mourned the loss of all the children that I'd never have. Every day I felt the shame of feeling like an absolute and complete mistake for not being able to do the one thing that society, and biology, seems to say is the most important thing a woman can do.
When I was 26, I finally received my official diagnosis: an ultrasound had revealed that I had premature ovaries, meaning they never fully developed.
I was traveling for work when the doctor called with the results of the test. I don't remember much of the call itself, but I'll never forget the feeling of heavy devastation afterward.
As I hung up the phone, time stood still, my fate once again sealed. Sometime later, my senses adjusted to the world around me and I returned to the conference room. Life needed to go on. So I threw myself into my career, went back to school for my MBA, and successfully transitioned from a career in public accounting to strategic marketing. The tears eventually stopped.
My romantic life was a disaster since I had no idea how or when to bring up the topic of my infertility. Talking about it on the first date in a confident take-me-for-who-I-am manner seemed like an automatic deal-breaker, and waiting to bring it up would result in a lot of unnecessary emotional investment. It's no wonder that I wound up choosing noncommittal guys with whom this topic would never have the chance to be discussed.
At the same time, my friends were getting married and having children of their own. I constantly wrestled with my feelings of being happy for their beautiful growing families while feeling mostly judged and slightly defensive for my lack of the same.
Why I'm Finally Sharing My Story
Author Brené Brown said, "Shame needs three things to grow exponentially in our lives: secrecy, silence and judgment." Up until a few months ago, the only person who knew my story was my mom. I've been terrified to open up to even my closest friends, fearing vulnerability, judgment, and even more isolation. I had done such a great job at becoming Career Heidi that no one really even asked me if I wanted a family.
I can see that infertility controlled much of my life. I let myself be a victim. I thought all of this was happening to me because I was broken, unworthy of love, and deserved to be punished. I hadn't let anyone get close. I didn't just put up a wall, but there was a giant fortress behind the wall and I was weighed down by shame in the dungeon below.
I was recently on a retreat in Bali when I had my a-ha moment. One of the coaches suggested the key to my journey was in self-love and acceptance, but I thought I needed answers or a plan. Did I even want kids? Was I okay not having kids? Should I devote my life to a charity for underprivileged children? I felt guilty just thinking of making one choice, like I was letting down all of life's possibilities. I kept coming back to self-love and each time I felt lighter and freer like I am ready to float away, possibly even out of that dungeon.
With the focus on self-love it's so much easier to say goodbye to shame. I feel the strength and hope in sharing my story. I am willing to be vulnerable and feel the feelings so I can find and speak my truth.
I will forgive myself for not being a perfectly poised optimist during this journey. I'm ready to embrace a wildly imperfect life that doesn't define or restrict me and instead is filled with excitement and joy! I am ready to leave my dungeon, and the fortress, and the wall, and be seen for all that I am.