This Form Of Exercise Might Help You Beat Depression
mbg Contributor
By Cyrena Lee
mbg Contributor
Cyrena Lee is a freelance writer based in NYC and Taipei. She has a degree in Anthropology from Barnard College.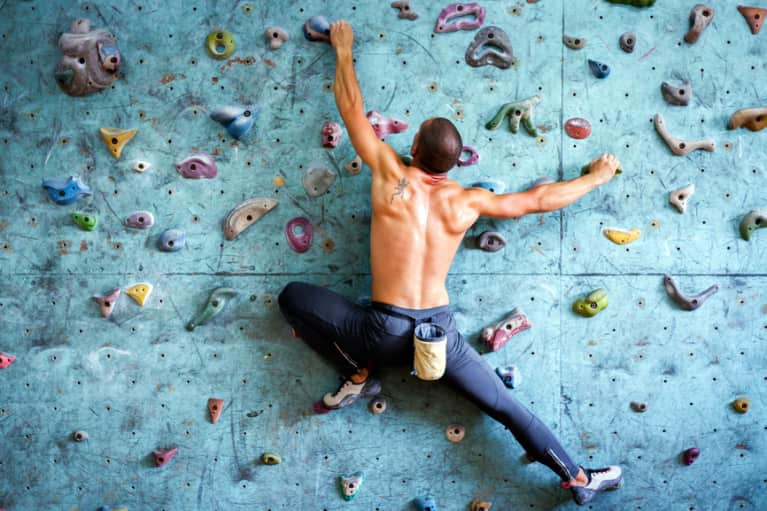 Everyone knows that exercise is good for uplifting your mood, but a recent study found that bouldering could be a treatment for depression. Unlike roped climbing, bouldering consists of solving "problems" on shorter walls with a group of people. Here are three reasons why bouldering is beneficial to anyone who is feeling a bit blue.
1. Bouldering provides a physical challenge for your body.
Bouldering gets you moving in an organic way and offers a full-body workout (hello, core). For those who don't like traditional exercise such as timed increments on a treadmill, bouldering is great because it's reminiscent of playing on a playground. You simply have to climb from point A to B, and anyone can start attempting the easiest routes.
It's been described to me countless times by many different people as a moving meditation, because you can't focus on much else while climbing.
And by anyone I really mean anyone. From amputees to the visually impaired to those with neurological issues, climbing is the perfect sport because it is adaptable and individual to the body. One friend of mine, who has cerebral palsy, started climbing with zero grip strength in her right hand. Her doctor advised her against climbing, but she did it anyway and now she can grip with both hands.
2. Bouldering stimulates the mind.
What sets bouldering apart from other sports is the mental aspect — it requires a significant amount of focus, concentration, and coordination. It's been described to me countless times by many different people as a "moving meditation," because when you're climbing a wall, you can't really focus on much else. It gives people a fun avenue to really tune into themselves and to be present.
One military vet friend who was having trouble making the transition from a regimented environment to civilian life found solace on the walls, with the concentrated focus and the friendships that were built in a climbing facility.
3. Bouldering fosters a strong sense of community.
The most unique aspect of bouldering is the social aspect. While you're on your own in the movement, you are constantly surrounded by others who are encouraging you to reach your goal. Bouldering fosters a strong sense of community and is similar to group therapy in that participants are encouraged to cheer each other on and help to solve problems on the wall.
Another friend of mine was recovering from a drug addiction and spoke about how helpful it was to be surrounded by climbers since they "tend to be healthy, they are active, and they want to achieve something." Inserting yourself into a community of people who are goal-oriented is extremely helpful for setting the scene to create your own goals.
Positive social interaction is invaluable, and due to the inherent nature of bouldering, it provides plenty. Bouldering simultaneously allows you to break barriers physically and mentally, which can really transform how a person views themselves. It opens up a world of possibility, so the next time you're feeling a little blue, give bouldering a shot.