A DIY French Green Clay Mask That Will Refresh Your Skin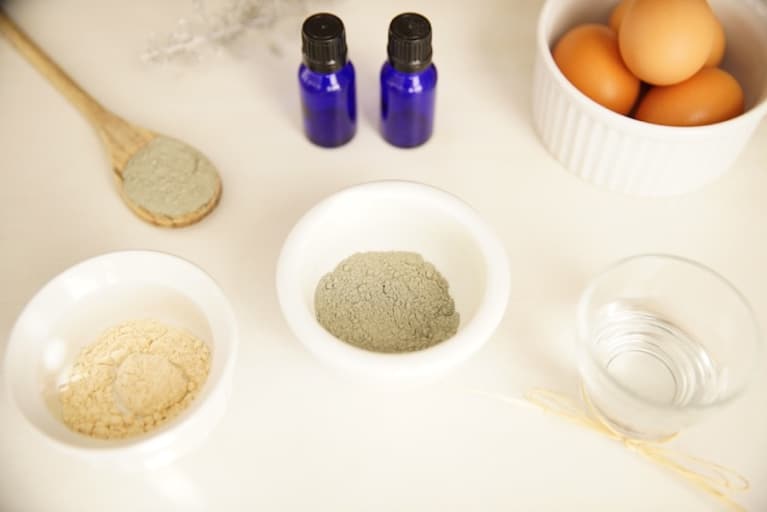 I'm a professional insomniac. Despite having tried nearly everything to fix my sleep woes, I continue to toss and turn most nights. It's an unfortunate symptom of a chronic illness, so it's not likely to change anytime soon.
As expected, the lack of sleep takes a toll on my skin, so to combat my perpetual shortage of shut-eye, I'm eternally obsessed with finding a green beauty routine that keeps my skin looking as healthy as possible.
In the wee hours of a recent snooze-free morning, I lay in bed thinking of a way I could achieve great-looking skin even as my precious sleep eluded me. Enter thoughts of French green clay.
This mineral-rich mud forms a perfect base for a DIY mask that both exfoliates and revitalizes, and a protein-packed egg yolk provides an easily absorbable combination of nutrients to restore tired skin.
The day after my all-night bout of insomnia, a friend asked me why my skin looked so good and whether I had changed my beauty routine. I just smiled at her and said, "It's thanks to insomnia!"
French Green Clay Mask To Revive & Refresh Your Skin
This clay mask takes about five minutes to prepare and contains a handful of get-your-skin-glowing ingredients. Best of all, these items are easily found online and at your local health or grocery stores, making it a cinch to look like you got a full night's sleep (even if you didn't).
Ingredients
1 tablespoon French green clay (available from a health food store or online)
1 teaspoon coconut flour (you can also use oat flour, almond flour, corn flour, etc.)
1 organic egg yolk
3 teaspoons filtered water, spring water, or aloe vera juice
2 drops geranium essential oil (optional, for normal skin)
2 drops lavender essential oil (optional, for acne-prone and sensitive skin)
2 drop chamomile essential oil (optional, for dry skin)
1 teaspoon avocado, jojoba, sunflower, or olive oil (optional, for dry skin)
Preparation
Combine the first four ingredients in a bowl. If you have dry skin, add your oil of choice (avocado, jojoba, sunflower, or olive oil). Next, gently mix in the two drops of your preferred essential oil.
Please note that you can still use this mask even if you don't add any oil or essential oil — a mask using only the base will still slough off dead skin and leave your complexion refreshed.
Now you're ready to apply the mask!
Cleanse your face with warm water to open your pores and remove makeup. Gently pat your face with a towel until there's just a little moisture left on your skin.
Use your fingers to apply a thick layer of the clay paste to your face, avoiding the eyes, eyebrows, and lips. Let the mask sit for 15 minutes or until dry. Then carefully wipe the mask off with a wet, warm washcloth.
Follow up with your favorite toner, moisturizer, or facial oil. Ta-da! Gorgeous skin.
Use once or twice a week for best results.