What I Eat in A Day: Miranda Hammer Of Crunchy Radish
I am currently enrolled in the Chef's Training Program at the Natural Gourmet Institute for Health and Culinary Arts, a whole-food, health-supportive culinary school in New York City. Meal prep and a handy rice cooker are my saviors for staying healthy and keeping meals simple and accessible during the week.
To make sure I have adequate time for my site, connecting with clients, and responding to emails, I wake up at 6 a.m.
One of the first things I do is throw together my breakfast in my rice cooker. I do various combinations of steel-cut or rolled oats, millet, amaranth, or quinoa with spices, dried fruit, and maple syrup for a warm and hearty porridge.
While my oats cook, my husband and I go on a long walk or run with our Jack Russell terrier, Henry, and grab some coffee as our fuel. When we return, breakfast is ready to go!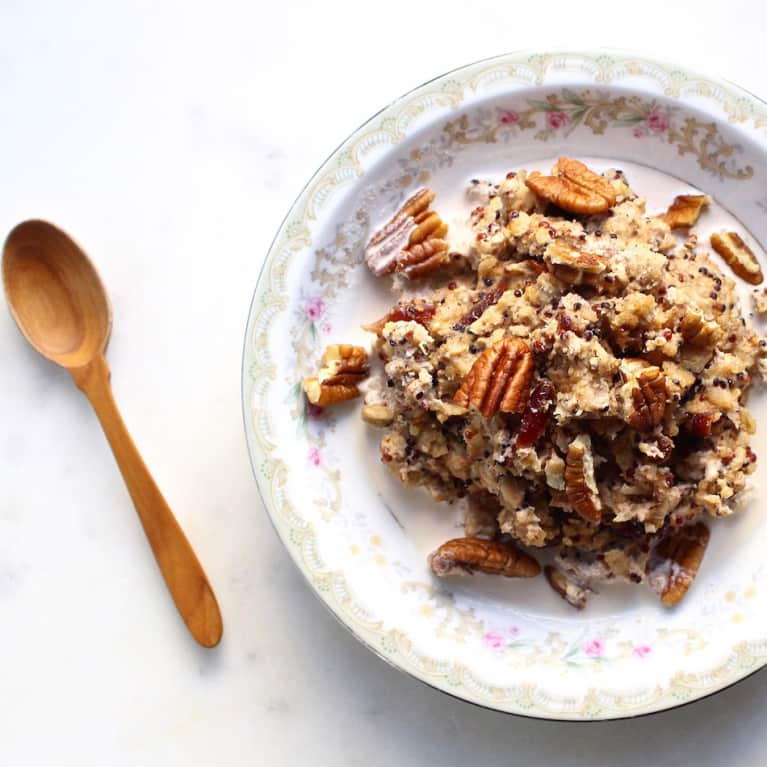 Breakfast is my favorite meal of the day. Today is a blend of quinoa, extra-thick rolled oats, maple syrup, apple-juice-sweetened dried cranberries, cinnamon, nutmeg, vanilla bean powder, and a pinch of vanilla bean sea salt. I finish my porridge with some cashew milk, chia seeds, and raw walnuts.
Eating a balanced breakfasts boosts your metabolism, improves focus, prevents overeating at lunch and dinner, and helps to promote a healthy weight. Fiber, protein, and a little healthy fat is the perfect combo to sustain me until my midmorning snack.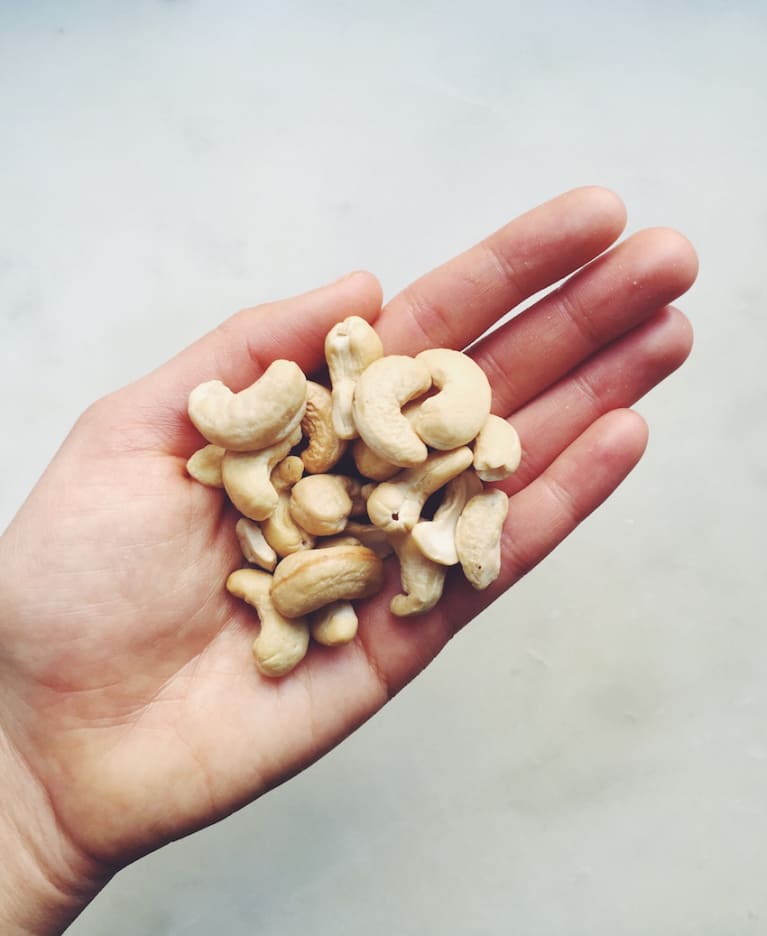 I usually carry a small bag of raw, unsalted cashews as my midmorning pick me up. A handful is the ideal portion to take me though to my next meal.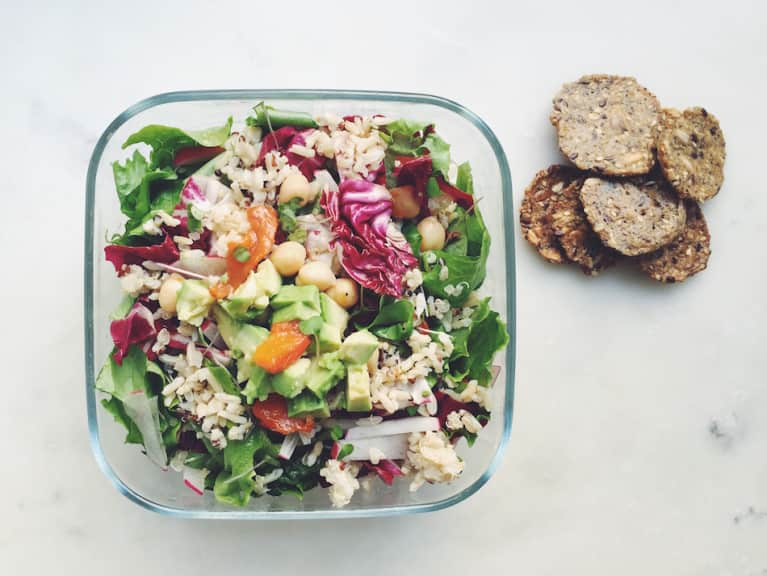 If I am in lectures during the morning (and not enjoying the fruits of my labor at culinary school), I pack a salad filled with protein, greens, and a little complex carbs.
This is a blend of radicchio, leafy greens, chickpeas, roasted bell pepper, red onion, and a little rainbow quinoa. I put my dressing, which is a simple blend of lemon juice, apple cider vinegar, and olive oil, at the bottom of the container, and shake when ready to eat.
I also bring along a few super-seed Mary's Gone Crackers. I carry a reusable water bottle and continually refill it throughout the day. I aim to fill it up at least three times a day.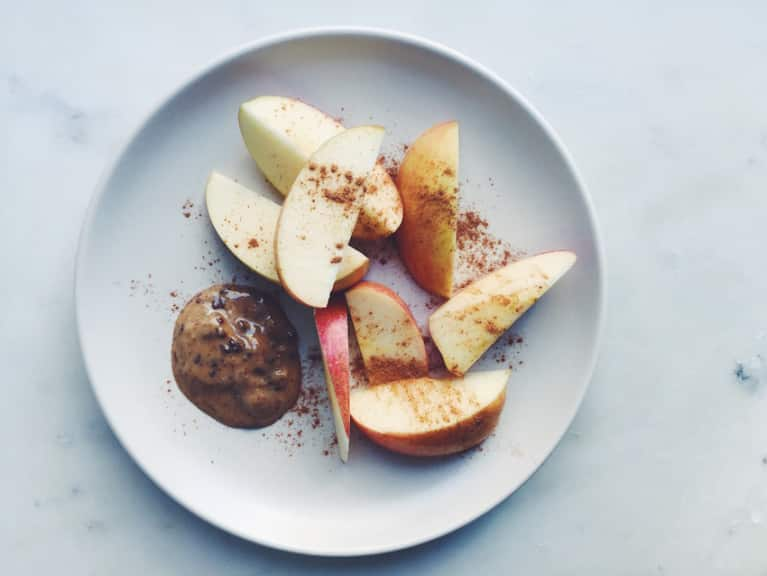 After class, I head to Refine Method for a HIIT workout and have a snack of an apple with nut butter and cinnamon as my fuel.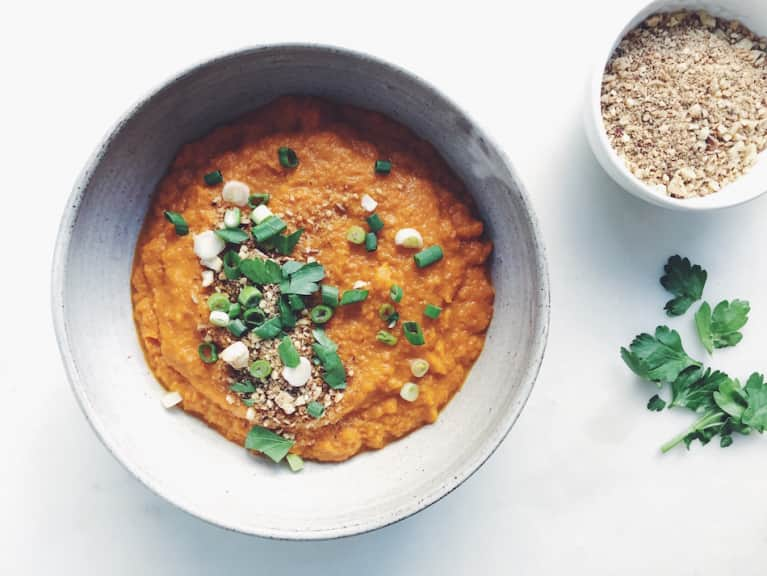 I always try to keep dinner simple and unfussy. I'm usually hungry when I arrive home, and I know if I don't have a quick and easy meal ready to go, I end up snacking away.
On Sunday, I batch cook vegetables and usually make a soup, chili, or a stew.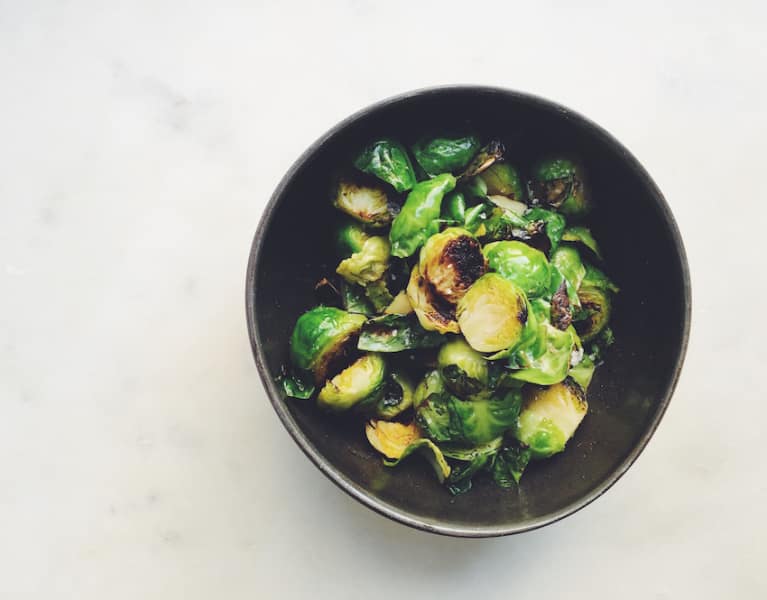 Tonight was roasted carrot ginger miso soup (get the recipe here) topped with dukkah. I also have roasted Brussels sprouts on the side.
I look at every meal as an opportunity to fuel myself with high-quality nutrient-dense foods. I primarily follow a vegan diet, and therefore, making sure I have adequate plant-based protein is essential.
Nuts, seeds, legumes, and whole grains are my key sources of protein. I steer clear of processed powders or fake meats. In the winter, I also try to increase my intake of foods with ginger and vitamin C to boost my immune system. This soup is the perfect and filling combo of nutrients and flavor.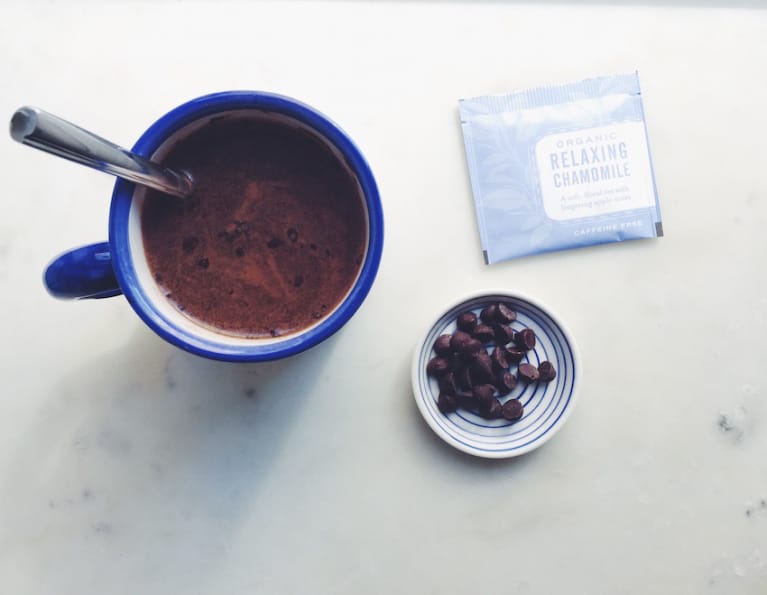 After more emails and working on my site, I wind down with a cup of chamomile tea mixed with Moon Juice beauty dust and a few dark chocolate chips.