How To Tap Into Your Creativity (Even If You Think You Don't Have Any)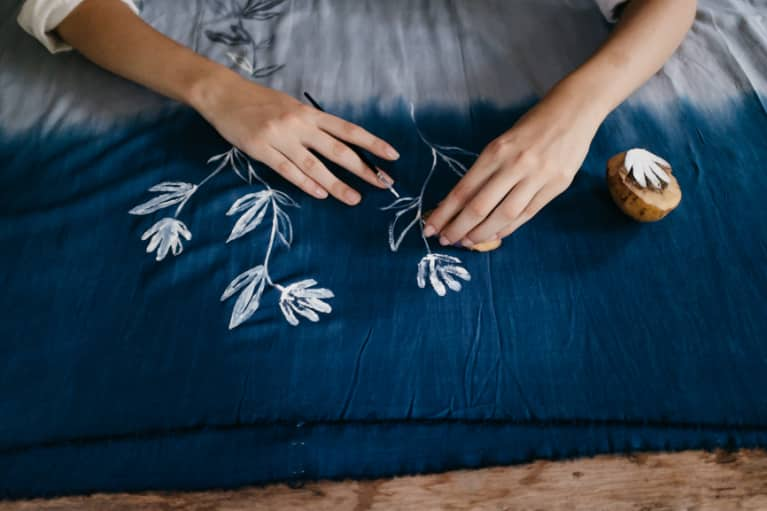 I may have been 14 years old when it happened, but the embarrassment and shame haven't quite left my body. Although it was more than a decade and a half ago, I can still remember the experience as though it happened yesterday.
It was the moment when I started to believe that I was "wrong" for being me and that being a "creative" was off the table.
It was the day I was told in so few words that I was a terrible writer.
As my eighth grade English teacher read off the results, I realized I was the only kid in my class who had failed the writing portion of my state's standardized testing. This one test, that at the time only counted for one small percentage of one grade, sent me down a path of stifled creativity.
What's the next thing you'd set out to do if fear of failure and imperfection weren't holding you back?
That day, a storm of failure and guilt washed over me — and it stayed there for a while. Although I wasn't even sure whether I wanted to follow a creative path at the time, this experience eventually held me back from taking a step in that direction.
Even when I began writing on my personal blog three years ago, I still thought most of what I wrote was terrible. I even would have my mom check the grammar and spelling of every piece for the first year and a half. True story.
Three years later, after being published in some well-respected media outlets, having my words read by hundreds of thousands of people, and talking about the topics I write about with clients from all over the world, I've realized that creativity is a skill that you can actually build over time. Here are five ways to practice flexing your creative muscles.
Next time you pick up a pencil, buy some arts and crafts materials, or turn on that camera, use them and see what happens.
1. Start with a sh*tty first draft (SFD).
I always want to knock something out of the park right away, but I also know that you've got to start somewhere. That somewhere is what I like to call my "sh*tty first draft." When we give ourselves the green light to just get started, our creative juices tend to flow a bit more smoothly. So grab that pen or paintbrush and get working. When I'm working on my SFD, I remind myself that nobody is going to see this and the goal is to just create something tangible to build upon. I also don't do any edits or read-overs until it's finished.
2. Choose good over perfect.
Gen. George Patton, the late, great U.S. Army general during WWII said it best: "A good plan, violently executed now, is better than a perfect plan next week." We all seem to have excuses about why we're not ready or how the timing could be better. My invitation to you is to choose good over perfect. So, what's your good plan? What's the next thing you'd set out to do if fear of failure and imperfection weren't holding you back?
One common creative block for many people is the concern that their messages won't be welcomed by others. Maybe they feel like their stories are too dark or their words won't resonate with anybody. When this block arises, remember that there are no mistakes in nature. Your dreams are meant to be realized — that's why you have them.
4. Just do it (for yourself).
If there's something that you want to create, create it for yourself. That's not to say you can't share it with others. But when we truly do things for ourselves, we manage to loosen up the reins and give up more of our heart in the process. Always complete creative projects for yourself first and then, if you feel inspired to share them afterward, close your eyes and let the world experience your brilliant piece of work.
Really small. If you want to write a book, start with a chapter, page, paragraph, or single word. Choose to write one word a day for the rest of your life and watch the magic that shows up for you. If you want to learn to play the piano, set a timer for 60 seconds a day to channel your inner Beethoven. Intensity isn't the end goal — consistency is. Small is where the creative lies.
Related reads: