5 Soul-Satisfying Workouts To Clear Your Mind & Strengthen Your Body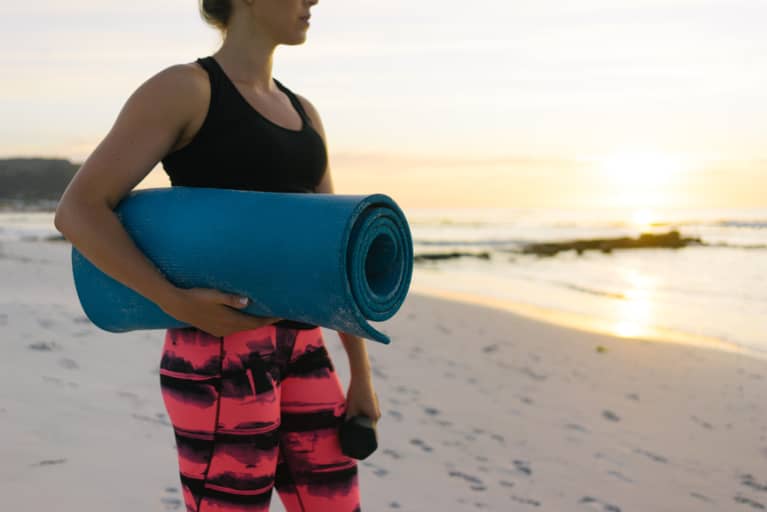 Workouts don't just push your body and endurance — they also help stretch, flex, and tone up your soul.
My soul has abs of steel, built from challenges, growth, inspiration, and life perspiration. That higher voice that speaks up during my final seconds of fitness fatigue and whispers, "you got this" is my inner sweat guru.
Get more connected with that wise guide inside using these soul-pleasing workouts. Because exercise and enlightenment go hand in hand.
Ditch the treadmill, cross trainer, and even your sun salutations and give Kundalini a try. Known as a spiritual yoga, Kundalini uses mudras, chanting, and breathing exercises to help you recharge, reconnect, and realign your energy. It's a gentler practice for the body but a more confronting one for the mind.
Kundalini mixes movement, mantra, and meditation to take your spiritual and holistic health to a new level. Some train for running marathons — this workout will prepare you for a meditation marathon.
High-intensity interval training (HIIT)
When we challenge our soul's strength, we help it learn and grow. High-intensity interval training will have you summoning your super-soul powers to get that extra tuck jump, lunge, jumping jack, or burpee across the line. It typically combines short bursts of ultra-challenging tabata circuits with functional body-strength exercises for a workout that will get your heart chakra pumping. It's the type of conditioning that you think will never end but leaves you feeling amazing once it does.
One HIIT workout that I love is the GRIT™ class Les Mills offers. It's a 30-minute group fitness routine that will literally have you gritting your teeth. Offered at a variety of gyms across the globe, this is a workout to add to your soul's bucket list.
Exercise and enlightenment go hand in hand.
Why not take your soul for a spin? Cycle classes are a great way to get your heart pumping while pedaling away any stress and toxins from your day. The total-body burn will challenge your legs, butt, core, and arms as you power up the steepest of make-believe mountains and speed down the wildest of imaginary hills. You'll need some serious positive self-talk and determination to power through it.
Try out SoulCycle if you're looking for an extra dose of motivation on the bike. In case the name didn't give it away, this is a cycle workout served with a side of soul. SoulCycle's boutique studios across the U.S. are full of incredible vibes, music, and enthusiastic instructors who will inspire you to put the pedal to the metal.
There's a diverse mix of barre workouts hitting the workout scene at the moment — most of which are a fusion of ballet, yoga, and Pilates that use ballet barres to help you balance through a series of postures, poses, and holds. Think back to any ballet class you've seen or experienced over the years and the soothing pattern of 1 and 2, and 1 and 2, and…
The class is loaded with repetitive reps sure to get your muscles and mind screaming, and it's a great option for the more disciplined soul sweaters.
Fun fact: Dancing fixes pretty much everything. Countless studies point to the health and happiness benefits of a dance session. Need I say more? Lights, beats, action! If you ever went through an aerobics, jazz dance, or cheerleading phase, this fitness trend has your name all over it. With fun music to bring out your inner pop star, cardio dance classes will have your soul's feet tapping.
Les Mills also has a great BODYJAM™ class that always gets my endorphins flowing and leaves me feeling like dancing on the ceiling. It's basically the workout version of Pharrell's song "Happy." Trust me. Clap along…
Related reads: