Bad News For Seltzer Lovers
mbg Contributor
By Leah Vanderveldt
mbg Contributor
Leah Vanderveldt is an author living in Brooklyn, New York. She received her bachelor's in communications and media from Fordham University, and is certified in culinary nutrition from the Natural Gourmet Institute. She is the author of two cookbooks: The New Nourishing and The New Porridge.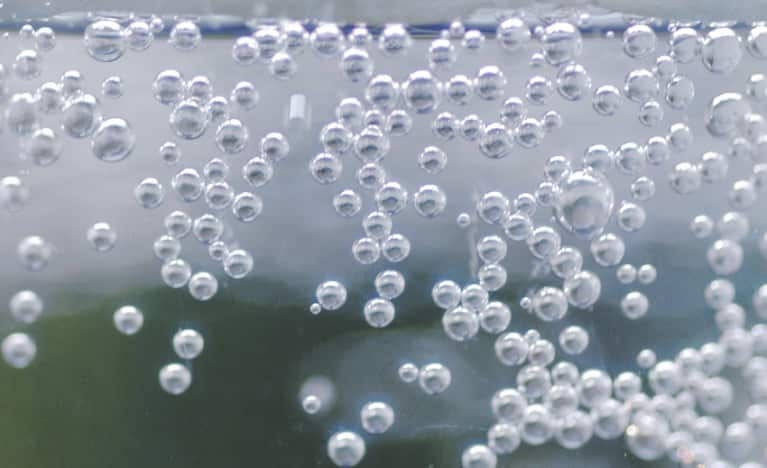 Beware pamplemousse La Croix enthusiasts, an article in the Atlantic explores why that pretty pink can or bottle of Perrier might not be your healthiest option.
You're probably thinking, Seriously? Don't tell me I have to give up the small joy of sparkling water, too.
It turns out that the citric acid in a lot of flavored seltzers can wear down tooth enamel. Unfortunately, unflavored seltzers aren't that great either, as the acid in the carbonation (carbonic acid), while weaker, can also take a toll on your pearly whites.
Here's what Damien Walmsley, a professor of dentistry at the University of Birmingham in England, told the Atlantic:
"There is a theoretical risk of tooth erosion, but the drinks would have to be consumed over a long period of time," he said. [How long are we talking here, Damien? I got through grad school on little else but Pellegrino and frozen yogurt.] "My advice is to keep acidic drinks to mealtimes, and if you have to sip drinks between meals, then plain water is the safest."
While flavored sparkling waters are still far better than both sugary and diet sodas, they're not ideal. But you'd have to drink a lot of bubbles for these drinks to make a serious negative impact.
One dentist recommends swishing with regular water after you're done sipping on the fizzy stuff. That we can do.