For The First Time, A Team Of Refugees Will Compete In This Year's Olympic Games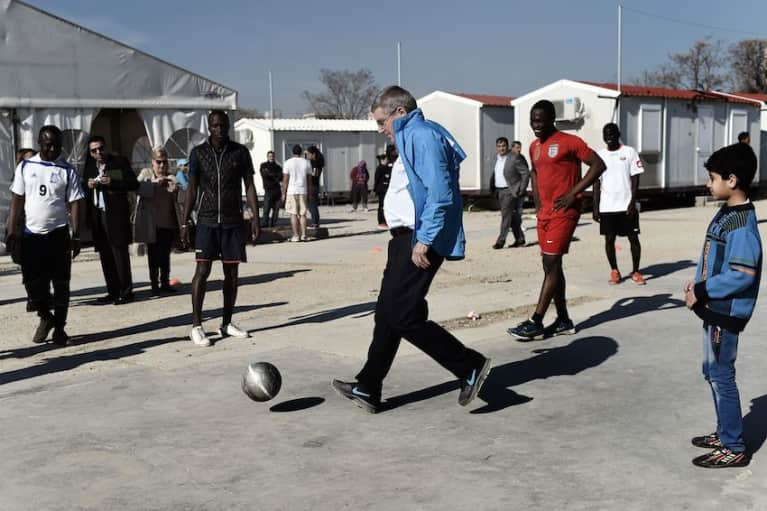 January 29, 2016 — 19:01 PM
A small, cross-nation team of refugees will participate in the Summer Olympic Games in Rio de Janeiro this year, Thomas Bach (pictured above), the president of the International Olympic Committee, announced on Thursday.
This year, worldwide displacement hit an all-time high as war and persecution increase. The number of people forced from their homes at the end of 2014 had risen to a staggering 59.5 million compared to 51.2 million a year earlier and 37.5 million a decade ago.
"We want to draw the attention of the world to the problems of the refugees," Bach told Reuters during a visit to the Eleonas camp for refugees and migrants in Athens. Greece has been major landing spot for hundreds of thousands of refugees from Syria, Iraq, Afghanistan and elsewhere over the past year.
He estimated that a small number — between five and 10 — refugees would qualify, and that they would all compete under the Olympic flag, and be lodged at the Olympic Village with the rest of the athletes.
"By providing these sports facilities we want to give some hope to these refugees," said Bach. "We want to give them at least a little joy of life in these difficult circumstances. We want to give them the opportunity to mix with each other."
In December, the IOC named three possible refugee competitors: a female Syrian swimmer now in Germany, a male Congolese judoka in Brazil, and a female Iranian taekwondo fighter in Belgium.
Athletes have marched behind the Olympic flag on a number of occasions before — usually because of geopolitical conflict — but there has never been a team of refugees at an Olympic Games.
Bach added that a refugee athlete would carry the Olympic torch though the Eleonas camp in Athens relay, beginning in ancient Olympia in April, will pass from the Eleonas camp and a refugee will carry the flame.
Bach said that, during the Olympic torch relay, which begins in ancient Olympia on April 21, a refugee athlete would carry the torch through the Eleonas camp in Athens. It will arrive in Brazil for the relay on May 3.