The Veggie Burger Joint That's Taking New York City By Storm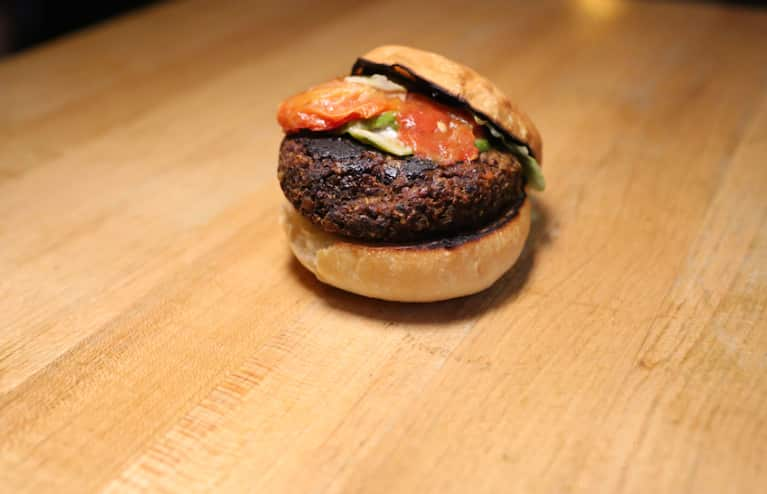 New York City may be the last place you'd expect to go wild for a veggie burger joint, given the popularity of steaming bowls of pork-filled ramen, sandwiches overflowing with pastrami, and just about anything with bacon on it. But a new restaurant in the East Village is winning over vegans, vegetarians, and carnivores alike.
Superiority Burger, a tiny East Village burger joint, was opened by Brooks Headley, the former pastry chef at the four-star-rated restaurant Del Posto, in June 2015. To call it a "restaurant" is a stretch; it's really more like a takeout operation.
But Headley isn't the first chef to bring New Yorkers groundbreaking vegetable-forward fare; he follows a path paved by Dirt Candy (which, coincidentally, used to occupy the space he's in now), Blossom, Blue Hill, and Pure Food and Wine (now closed). But those places are upscale, and at Superiority Burger, you can get a burger and a side for $13.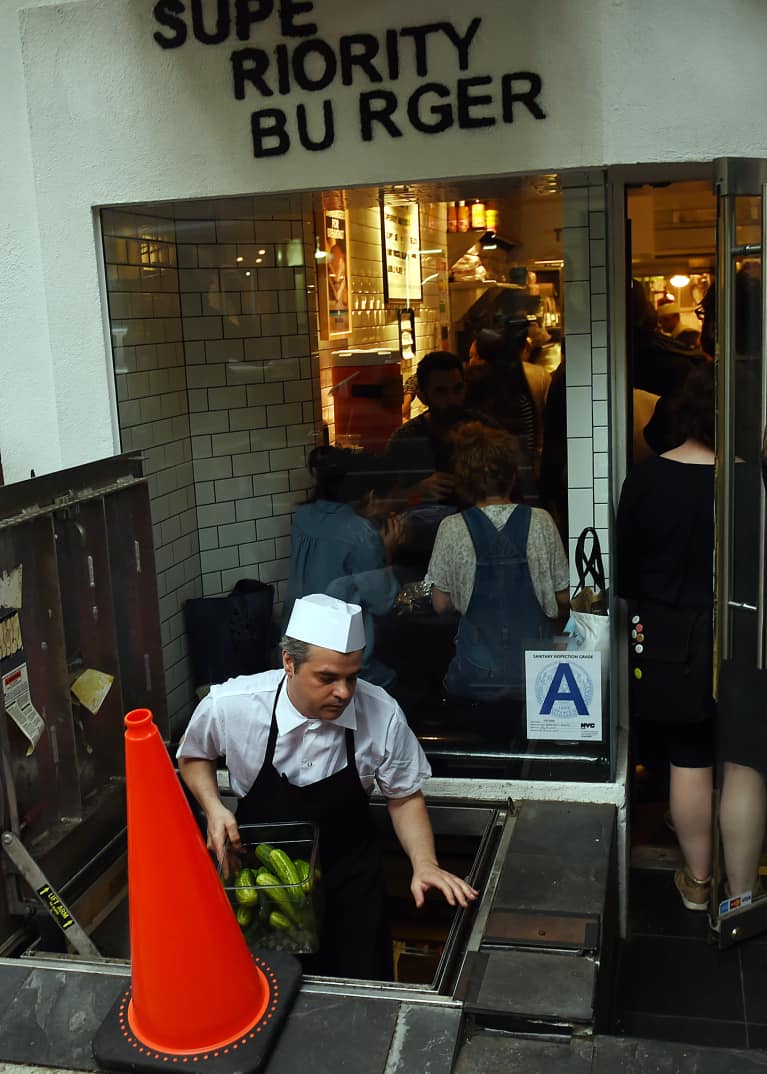 Like Amanda Cohen at Dirt Candy, Headley hasn't tried to market Superiority Burger as a vegetarian restaurant — or anything, really. I emailed the restaurant asking for a comment, and the response I got was "Brooks really just likes to let the food speak for itself."
And indeed it does.
I went on a recent Saturday at around 8 p.m. and waited in line for around 10 minutes before I got to order. Apparently I got lucky because friends of mine have waited 30 to 40 minutes. I didn't get a seat, but I didn't expect to. The place is tiny. Between the white-tiled walls and the swing-down desks (the only place you can sit, but you probably won't get a seat), it was comforting in its unadorned informality. It felt like any other fast-food takeout place, with the paper boats and plastic utensils — except it didn't smell like grease.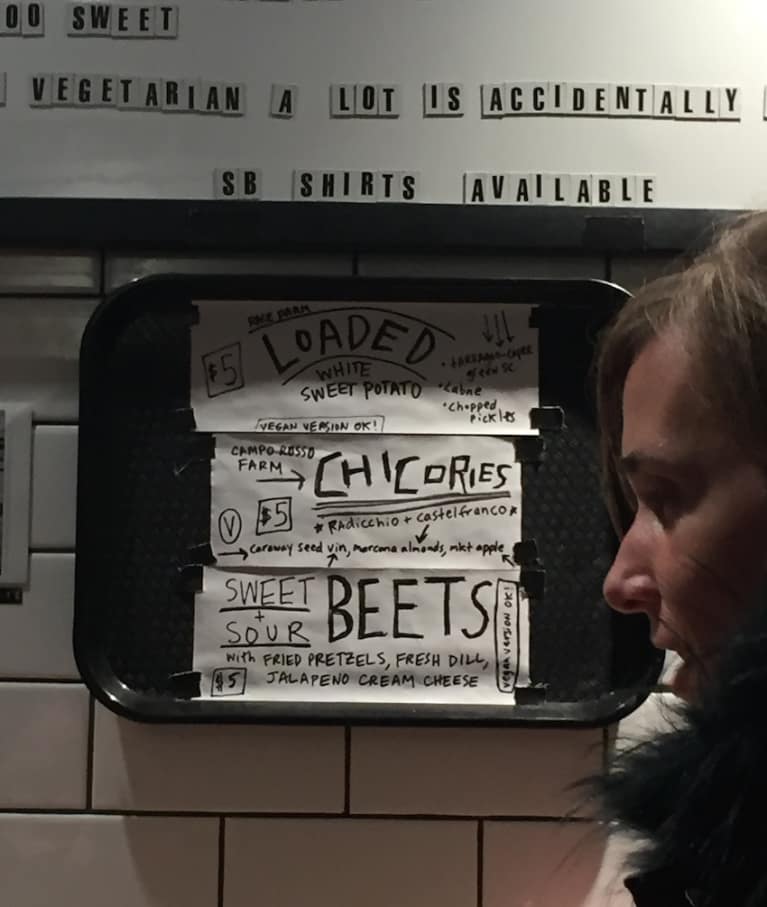 The constants of the menu are the Superiority Burger; the Superiority Wrap, a whole-wheat tortilla encasing tofu and brown rice; the Sloppy Dave, a meatless sloppy Joe made with tofu in a spicy tomato sauce and topped with fried onions; and the burnt broccoli salad. For dessert, they also serve a different two-scoop duo of gelati and sorbet (both made from scratch). The sides menu changes daily — sometimes even mid-service.
I opted for the Superiority Burger, and for my side, the loaded sweet white sweet potato with tarragon-caper green sauce, labne, and chopped pickles. The burger, though small, is only $6 — a delightfully reasonable price in this city — and the sides are $5 each. Obviously, there was no seat, but the cashier told me to go to HiFi Bar around the corner, order a drink, and they'd let me eat there.
The burger was unqualifiedly delicious. It had the same give between my teeth as rare ground meat — but it tasted nothing like ground meat. It was juicy and subtly spicy, with a grainy, nutty savor. Squished between two Martin's potato rolls, with a squirt of mustard, melted Muenster cheese, a slice of tomato, iceberg lettuce, and some pickles, it felt right. It felt like fast food — small and a little greasy — but way more interesting.
A couple of fries would have been nice, sure, but the sides were so much better. Imagine something just as warming as a fry but with a much more complex character and it doesn't get soggy. That's the loaded white sweet potato.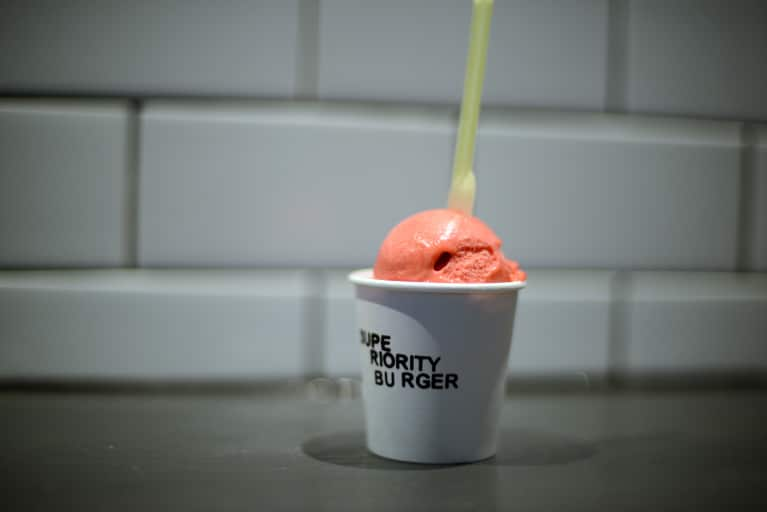 A guy sitting near me, a non-vegetarian, was having one of the other specials — the sweet-and-sour beets with fried pretzels, fresh dill, and jalapeño cream cheese. He said they were "unlike any vegetable dish" he'd ever had, and that the burger was "certainly the best veggie burger" he'd ever had.
"I personally think that this restaurant could be bigger than Shake Shack," he said. "A lot of people would opt to eat vegetarian food if it tasted like this."
Unlike other vegetarian restaurants that usually peddle books on the lifestyle, there's no preaching at Superiority Burger. So what else makes it special? There are plant-based, fast casual joints taking over the city, like Dig Inn, sweetgreen, and The Little Beet, but those feel more like "let's grab a healthy lunch to bring back to my desk" than "I've had a long day — let's stuff my face with something that'll make me feel better."
Headley doesn't need help attracting an audience. He debuted his now-famous quinoa-based burgers at the James Beard Awards gala in 2014 and many guests, including Momofuku's David Chang, deemed it the "best veggie burger" they'd ever tasted. From there, he hosted pop-ups for his "Superiority Burger" at various locations around the city, and people begged for more. So, in June, he gave them what they wanted: a permanent space.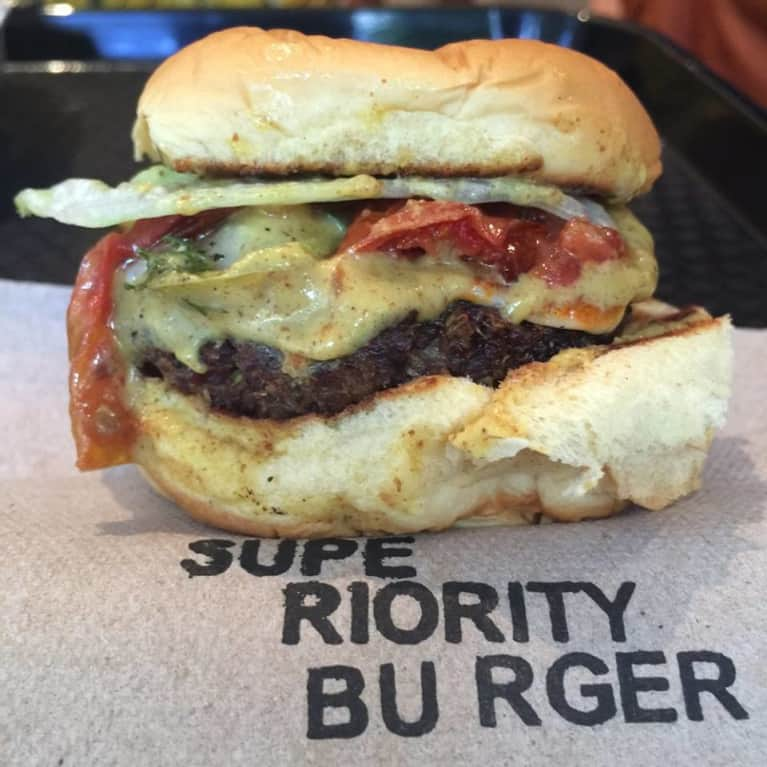 Since then, the lines have been pretty long every night, which is certainly due at least in part to its two-star rating from New York Times restaurant critic Pete Wells back in September. And the fact that it's only open from 6 to 10 p.m. and has an ever-changing menu gives it that limited-access, get-it-while-it's-hot feel. Like, if you don't haul ass from work, you might not get the burger you've had your heart set on all day.
Vegetarian and vegan food have already become mainstream, but Headley is pioneering vegetarian and vegan American comfort food. And clearly, New York is ready for it.
I asked Dustin Harder, the host and creator of the web series "The Vegan Roadie" and plant-based personal chef in New York City, why he thinks this concept is taking off now.
It's the "simple fact that vegan food has become both fun and accessible with familiar taste and texture that appeals to the masses," he said.
For burger lovers, there's really no substitute for a juicy slab of ground grass-fed meat seared to perfection. But the Superiority Burger is no beef burger substitute. It's a ridiculously tasty variation. New Yorkers are accepting of it because they've tried it. The proof is, quite literally, in the pudding.
It's a place that does very creative things with vegetables, but at the end of the day, it's just a place to get good, comforting food.
If you're in New York City this week, head to 430 East 9th Street. It's open every day except Tuesday, 6 to 10 p.m. Plan to spend $16-20, depending on your appetite, and 20 to 30 minutes in line. Enjoy!