6-Ingredient Raw Chocolate Hearts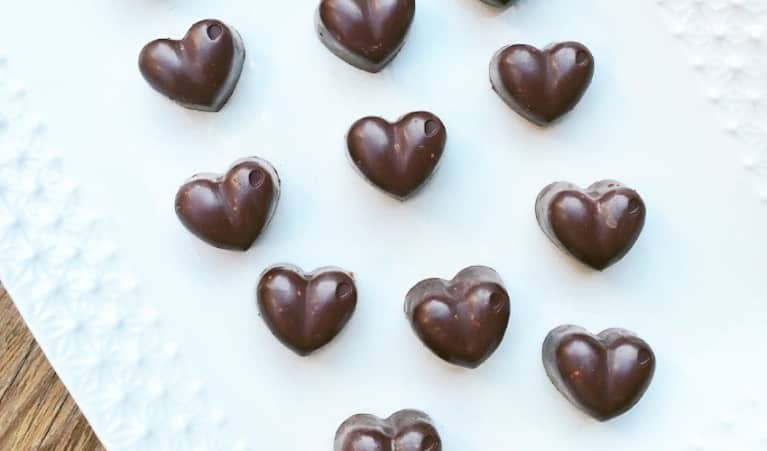 Valentine's Day is coming up soon, and what could be better than making your loved ones raw chocolate hearts?
This recipe is unbelievably simple and takes under 15 minutes to prepare! Once you make these, you'll never want to buy plain old prepackaged ones again.
I personally love dried figs and walnuts, so I've used this combo in my chocolates, but you can swap these with any dried fruit and nuts of your choice. (Just make sure you follow the same measurements when swapping them out.)
I love making these with goji berries, too!
Note: You'll need small heart-shaped chocolate molds (like these) to make this recipe.
Makes about 24 chocolates
Ingredients
2 ounces (60 grams) of cacao butter
¼ cup raw cacao powder
3 tablespoons pure maple syrup (if you like it bitter, add only 2 tablespoons)
1 tablespoon almond butter
¼ cup figs, chopped into small pieces
¼ cup walnuts chopped into small pieces
Optional: 1 teaspoon vanilla powder
Preparation
1. Place the cacao butter in a bowl over a saucepan of boiling water. Once it's melted, add the raw cacao powder, pure maple syrup, almond butter, and vanilla powder (if using), and stir for 2 minutes until well-combined.
2. Stir in the fig and walnut pieces.
3. Spoon the liquid chocolate mix into small heart-shaped chocolate molds and place in the freezer to set for at least 30 minutes.
4. Remove from freezer and make sure the chocolate is firm before taking it out of the mold. Store the chocolate hearts in an airtight container and keep in the fridge for a week or in the freezer for a month.
If you make these, I'd love to see them! Tag me in your creations on social media using #beyondthebowlbyriri.