We Tried Ben & Jerry's New Nondairy Flavors (And They're Amazing)
When Ben & Jerry's announced plans to release a line of nondairy flavors this summer, our jaws dropped.
Come November when the ice cream dream team declared the new vegan line would be made using a creamy almond milk base, our eyes lit up.
And early this month, when they revealed that the four new flavors would be filled with peanut butter, chocolate, and brownies galore, we started full-on drooling.
The nondairy lineup consists of old favorites Chunky Monkey and Chocolate Fudge Brownie, as well as new additions P.B. & Cookies and Coffee Caramel Fudge — all of which have ditched the cow but kept the brand's signature "chunks, swirls, and indulgences."
In keeping with Ben & Jerry's commitment to sustainability, the new flavors are vegan, non-GMO and Fair Trade Certified, not to mention, the sweet treats are made with natural ingredients like pea protein and coconut oil, so you can feel slightly better about devouring them during your next Netflix binge.
"Our fans have been asking for nondairy options for a while," Lindsay Bumps, a PR rep for Ben & Jerry's told mbg. "We wanted to expand the Ben & Jerry's euphoric experience to those who have previously been unable to enjoy it."
The vegans, lactose-intolerants, and unrestricted dieters alike in our office couldn't wait to try the new flavors. They officially hit freezer sections nationwide in three to six weeks, but a few sample cartons arrived in our office last week.
Needless to say, we swarmed, we scooped, we conquered. Here's what we thought.
Vanilla with chocolate sandwich cookies & crunchy peanut butter swirls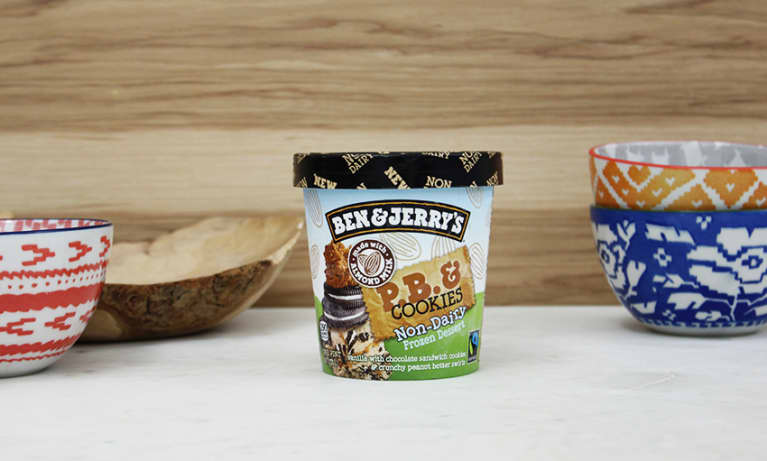 This flavor was the clear fan favorite. Many tasters were pleasantly surprised that it was dairy-free, noting its creamy, not-at-all-watery texture. Maybe it was its rich, peanut-buttery swirl or sizable chunks of Oreo-esque cookies, but we all agreed that this pint came closest to the real deal.
Banana with fudge chunks & walnuts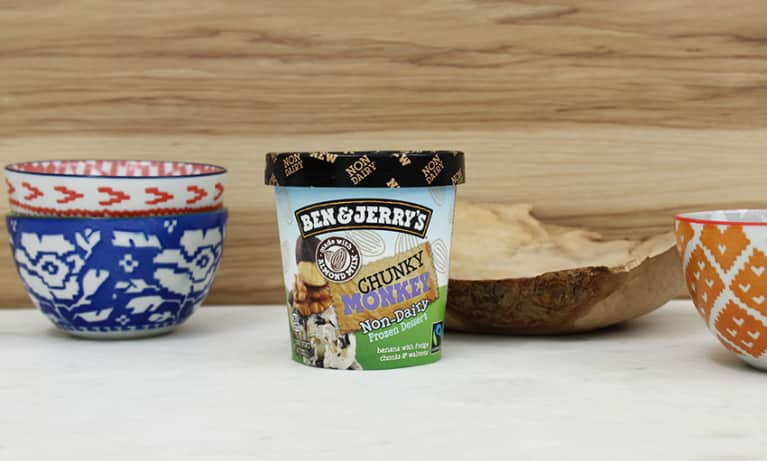 If you like that distinct banana flavor, this is the pint for you — it reminded us of a fruity sorbet with a kick of chocolaty, nutty goodness. One taster had the inspired idea to combine it with the P.B. & Cookies flavor for the ultimate nondairy mashup. Chunky Moncookies? P.B. & Cookmonkey? Either way, we all agreed it'd be a delicious pairing.
Coffee with fudge chunks & caramel swirl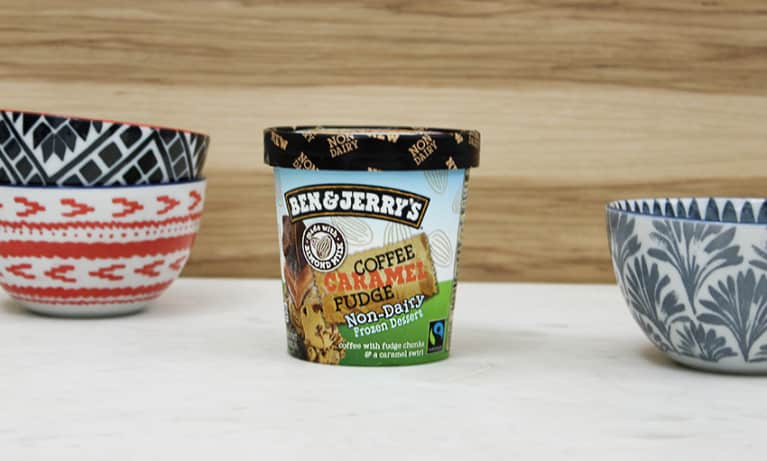 This one definitely nailed that strong coffee flavor, but it was a little bit too sweet for some palates. Its mix-ins really stole the show, and the caramel swirl and fudge chunks paired nicely with the almond milk.
Chocolate with fudge brownies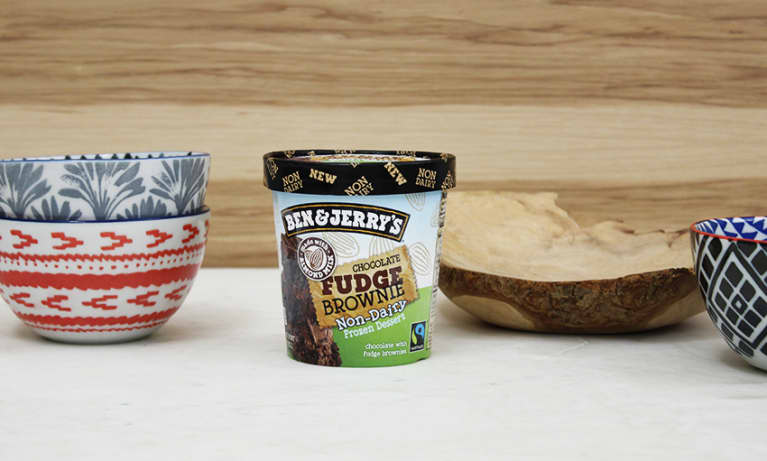 Most of us found this one to be most clearly dairy-free, though that wasn't necessarily a bad thing. It had more of a denseness than a creaminess, and tasted more like a rich piece of dark chocolate than a Hershey's bar. Those of us who eat vegan ice cream on a regular basis weren't put off by its drier texture, and it was a big hit with the team members who didn't have a strong sweet tooth.
So there you have it! There's only one question left ... Which one are you going to try first?