A Simple Mindful Eating Practice To Give You Energy + Balance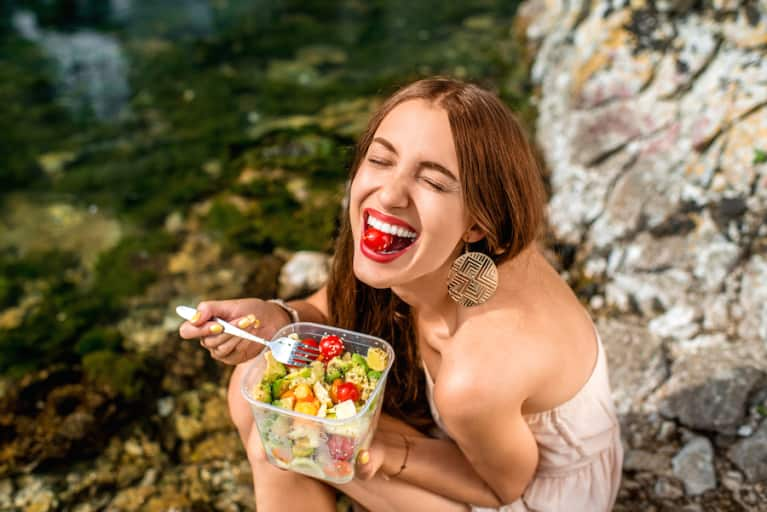 It should go without saying that today's world is full of distractions. Think about the last time you fell into your phone and out of the present moment.
We all do it, and this absent-minded behavior often carries over to mealtime as well. As a monk, my time around food has always been built around reverence, gratefulness, and thoughtfulness. The key to this conscious eating is to savor the food in front of you, appreciate where it comes from, and contemplate what exactly it's doing for your body.
We've been eating our whole lives, and the table has become a place to "fall asleep," so to speak. But the physical process of eating is a huge opportunity to bring some mindfulness into our daily routines. It's the perfect moment to hack into the software of our consciousness and live with more awareness.
I've found that my mindful eating leads to increased energy, an elevated mood, and less stress. Let's unpack the Urban Monk mindfulness diet a bit further.
Fresh, organic vegetables are the staple of my diet. I try to always ingest foods that were recently alive, and serve them alongside legumes and healthy proteins. I also love detoxing with some veggie-heavy soups once a week in order to give my digestion a break and heal my gut. Think about it: What do you do when you're sick? You eat soup. So why not eat it when you're healthy too and build up your vitality to get a step ahead?
If you're going to eat meat, do your research and make sure it was humanely raised on a pasture. The energy and love that goes into the food we ingest becomes who we are. The animals we eat have gone through sacrifices for us, and we need to understand that we're consuming another life in order to keep ours going. That's a heavy thought, and we should treat it as such.
The key is to make the act of eating a sort of meditation.
I tend to meditate while I eat. The key is to slow down and chew mindfully.
Look at your food. Notice the colors, shapes, and presentation of the meal in front of you.
Smell your food. Let the aroma fill your brain and inform it of the meal that's coming.
And then slow down enough to taste your food. Feel its texture and, again, take your time to chew it and breathe slowly and deeply down to your lower abdomen.
The key is to make the act of eating a sort of meditation. In doing so, you'll be able to better digest your meal and you'll recognize the exact moment when you've had enough, which will keep you from overeating.
I consider myself an Urban Monk: Though I live a busy live in a city, my lifestyle is enriching, restorative, and mindful. As an Urban Monk, my ability to control what I eat and how I eat it makes all the difference in my world in my ability to lead a healthy, whole lifestyle.
I'm also a Doctor of Oriental Medicine and as a physician, I've seen this way of life benefit countless patients. Once you start bringing more reverence into your mealtime, you start to connect up with life itself in a different way. I've watched as mindful eating helped people become more respectful, conscious, and content week after week. In fact, I've had patients with depression, anxiety, chronic fatigue, and severe allergies all see impressive improvements in their mood and energy levels within a week or two of slowing down and savoring their meals.
Conscious eating helps us extract more energy from our food. This energy is the body's equivalent of cash in the pocket — it aids in our immunity, cell repair, brain function, muscle build-up, and detoxification. It puts us in a better mood and leaves us with some gas left in the tank at the end of the day.
Just a few more minutes per meal can make a world of difference.