Seattle Just Built A Tiny Home Village For An Inspiring Reason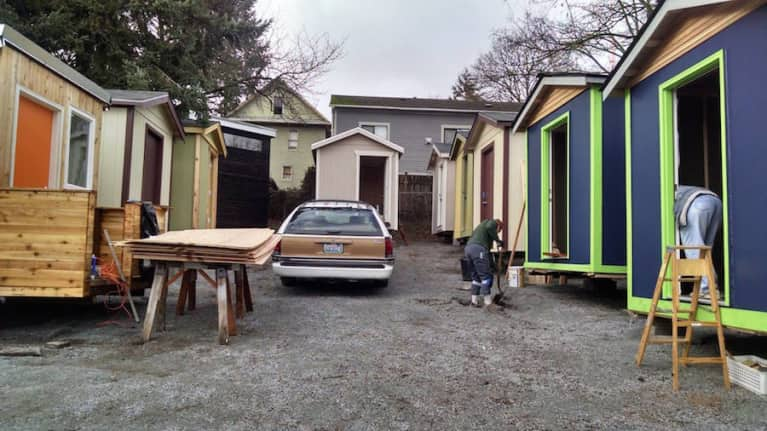 January 28, 2016 — 6:00 AM
Last year, 2,800 homeless people were found living on the streets of Seattle. That number is about to go down thanks to a new village of tiny homes in the city's center.
Earlier this month, a group of volunteers put the finishing touches on the community and 14 single-family units opened their doors to dozens of Seattle's homeless.
Installed for a little over $2,000 apiece, these tiny homes were relatively inexpensive to build, and their manageable scale made them easier to retrofit for basic amenities.
The village is meant to serve as a transitional space. A coalition of three local nonprofits will help its tenants find affordable housing they can eventually call home. The Low Income Housing Institute — the organization behind the village — hopes that the community will become a model that's replicated across the country.
"People look at it and think 'Yeah, why can't a person live in a tiny house?' It doesn't seem like it would be so bad to build thousands of them," Aaron Long, a communication specialist for the Institute, told Fast CoExist.
Over the last few years, tiny homes have become popular options for people looking to downsize, and it's encouraging to see that they can also serve as retreats for those who may not have had much in the first place. Count that as yet another reason to love this low-impact approach to living.