Matt Damon Says Michigan Governor Should Resign Over Flint Water Crisis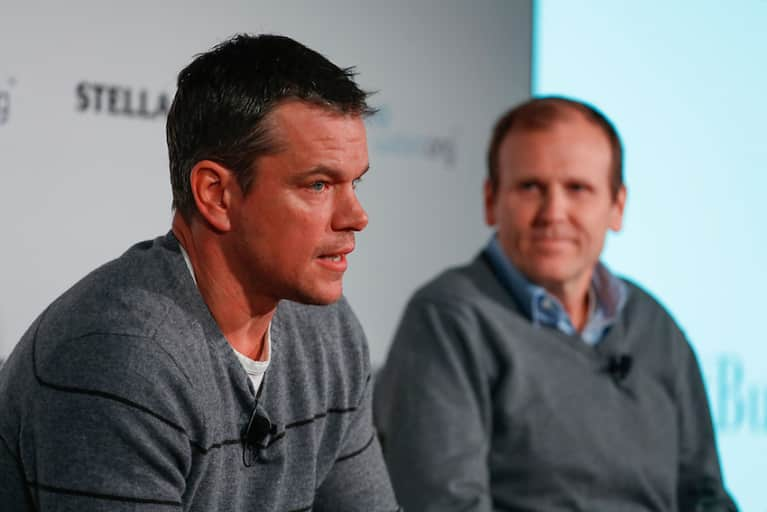 When the city of Flint, Michigan, switched its water source in 2014 as a cost-cutting measure, its water became contaminated with way too much lead (well, any lead is too much lead). Now, as I'm sure you've (finally) seen in the news, tens of thousands of its residents remain without drinkable tap water and are wondering whether their children will face lifelong damage from lead exposure. This ill-fated move is suspected in the outbreak of Legionnaires' disease, which has killed 10 people so far.
To add insult to injury, emails released last week revealed that Michigan's governor Rick Snyder and his administration knew about Flint's water-quality troubles as early as February 2015.
Gov. Snyder did not acknowledge the unsafe condition of the city's water until September 30.
In 2010, the U.N. designated access to clean, fresh water as a fundamental human right, so we've completely failed the citizens of Flint.
He apologized to the city in December. Since then, President Barack Obama has declared a state of emergency and is allocating $80 million in new funding to Michigan mostly to repair Flint's water infrastructure and make the drinking water safe.
But many people are calling on Gov. Snyder to step down from his post — like Bernie Sanders, Michael Moore, and now Matt Damon.
"At the very least he should resign! At the very least," the Oscar Award-winning actor and co-founder of the nonprofit Water.org told the Daily Beast at the Sundance Film Festival on Saturday. "Listen, everybody's entitled to a fair trial in the United States of America, but that man should get one. And soon. That's just my personal opinion."
The Martian star — along with his fellow Water.org co-founder Gary White — was at the Sundance Film Festival to discuss his charity's recent "Buy a Lady a Drink" campaign.
"In terms of the work that we do, to see it happening in Flint, every parent in America feels it on a visceral, deep level, because we ask the question, 'What if that was my child?'" said Damon, a father of four.
"It's unconscionable in Flint, and it's unconscionable that 663 million people around the world are dealing with that every day in the developing world," he added. "Those are the communities we interact with, and that's the mission of Water.org: to end that suffering for those children, and those parents."
In response to Damon's comments about Gov. Snyder, Christiana Z. Peppard, Ph.D., an assistant professor of theology, science, and ethics at Fordham University, where she writes and teaches about global water supply, told mindbodygreen in an email, "It's definitely morally blameworthy to ignore (or fail to acknowledge publicly) public issues of leaching, pollution, or contamination.
"There are bigger issues at play, too: who is responsible for providing safe, clean water? What are the frameworks of accountability and transparency? Failures to be transparent and accountable lead to mistrust in government and, clearly, very real damages."
She also points out that in 2010, the U.N. designated access to clean, fresh water as a fundamental human right, so we've completely failed the citizens of Flint, as well as those in developing countries. Environmental racism is, quite obviously at this point, a real thing.
"What Flint opens up for U.S. residents is, once again, the question of who deserves water, whose voices are ignored or marginalized, and who is at fault when provision fails," said Peppard. "Between Detroit and Flint, Michigan's seemingly abundant fresh water is laying bare real disparities in access and safety."
But it's helpful that people with audible voices like Matt Damon are making the public more aware of environmental racism's existence. Hopefully, as he told the Daily Beast, "this greater connectivity is going to lead to a greater empathy and an awakening to the plight of our fellow citizens."
"These are huge systemic injustices we're talking about that hopefully everybody is waking up to," he continued. "The question then is, what do we do about it? It will be interesting to see where we go from here."
(h/t The Daily Beast)