10 Things You Need To Know Today (January 27)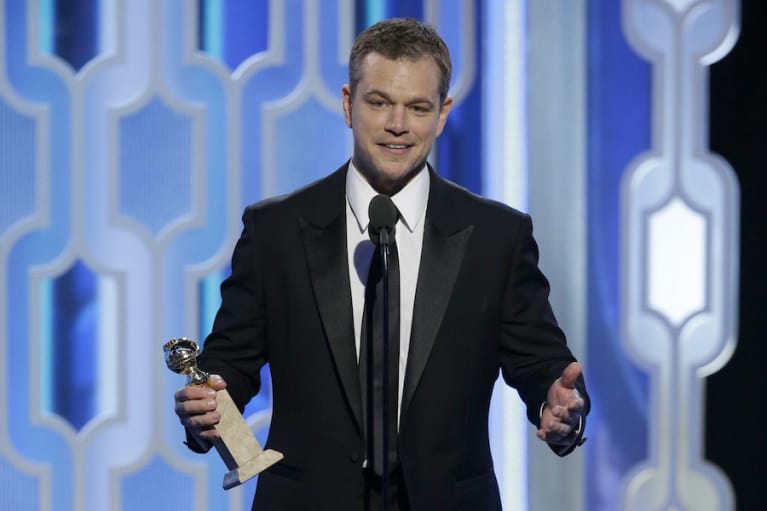 1. Matt Damon says Michigan governor should resign over Flint water crisis.
Despite knowing about Flint's water quality since as early as February 2015, Gov. Rick Snyder didn't acknowledge the unsafe condition of the water until September 30. So, Matt Damon told The Daily Beast, "At the very least he should resign! At the very least. Listen, everybody's entitled to a fair trial in the United States of America, but that man should get one. And soon. That's just my personal opinion." (mbg)
2. There's one more reason to live near Whole Foods (or Trader Joe's).
Living near a high-end grocery store — or even having one built near your apartment when you already live there — will drive up the value of real estate in your area much faster than other, surrounding areas, regardless of mitigating factors. (Zillow)
3. Transgender athletes now allowed to compete in the Olympics without undergoing surgery.
In the past, athletes were required to have gender reassignment surgery and hormone therapy (for at least two years) in order to be eligible for competition. Now, surgery is no longer required for female-to-male athletes, though male-to-female athletes will have their testosterone levels tested. (NY Times)
4. People love spending (a lot) of money to stay fit.
Here's another profile of New Yorkers who are spending a huge percentage of their income on boutique fitness classes. (NYPost)
5. It takes a lot to pull off a Noma Australian pop-up.
The revolutionary Danish restaurant successfully debuted in Sydney on Tuesday night. Check out this by-the-numbers intel on what it takes to successfully make it happen. (Eater)
6. This photo series documents what birthing "essentials" moms-to-be pack around the world.
From coconut oil in New York to a razor to cut the umbilical cord in Malawi, the differences are staggering. (Daily Mail)
7. Junk food advertising actually does make kids eat more.
A new meta-analysis finds that unhealthy food ads, both on TV and online, significantly increase junk food consumption in children. (ScienceDaily)
8. Meet the 11-year-old who just launched #1000BlackGirlBooks.
Sick of reading about "white boys and dogs," Marley Dias is on a mission to give herself and her peers more characters to look up by collecting 1,000 children's books with black female leads. (Jezebel)
9. This is what happens when you tell a teen she needs Spanx.
After a sales associate at a Wichita, Kansas, Dillard's suggested her teenage daughter needed shapewear under a dress, Megan Naramore Harris wrote an open letter to the associate, and it's going viral. (sheknows)
10. There's a new dark comedy … about bulimia.
L.A. comedian Jessie Kahnweiler is at the Sundance Film Festival this week to debut her web series, The Skinny, about a young comedian struggling with bulimia. Starting Wednesday, the 10-minute episodes will be available on Refinery29. Here's a trailer: