Shonda Rhimes Accepted Her PGA Award In The Best Way Possible: "I Deserve This"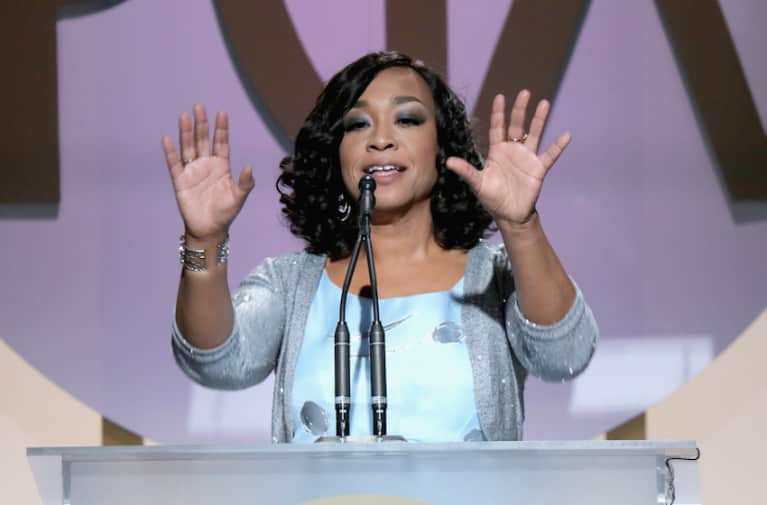 January 25, 2016 — 19:50 PM
When Shonda Rhimes accepted the Norman Lear Award for Achievement in Television at the Producer Guild Awards, she didn't just rattle off a list of names she owes her success to. She actually thanked herself. (But is that really a surprise coming from the Queen of television who lost over 100 pounds and turned her life around just by saying "yes"?)
"I'm going to be totally honest with you," Rhimes told the audience, "I completely deserve this."
In a society where women are taught to always be humble and never take compliments, it's refreshing to hear a woman take complete ownership of her success without apologizing for it:
I have against the odds, courageously pioneered the art of writing for people of color as if they were human beings. I've bravely gone around just casting parts for actors who were the best ones. I fearlessly faced down ABC when they completely agreed with me that Olivia Pope should be black. And I raised my sword heroically and then put it down again when Paul Lee never fought me about any of my storytelling choices.
One might interpret her tongue-in-cheek language as her downplaying her achievement, but that wasn't her point. Her point was that, as Vulture put it, "she had not created a new vision for television, but simply insisted on depicting the world as she sees it."
There was no blazing and no trails. It's not trailblazing to write the world as it actually is. Women are smart and strong. They are not sex toys or damsels in distress. People of color are not sassy or dangerous or wise. And, believe me, people of color are never anybody's sidekick in real life.
Rhimes also reminds the audience that it's deeply disappointing — disturbing, really — that in 2016, we still have to talk about diversity in television:
I created the content that I wanted to see and I created what I know is normal. So basically, you are giving me an award for being me, in which case I totally deserve it. Really, I am honored to receive it. The respect of this award does mean the world. It just makes me a little bit sad. First of all, strong women and three dimensional people of color is something Norman [Lear] was doing 40 something years ago. So how come it has to be done all over again? What are we waiting for? I mean, I know this is a room full of producers, so probably you're waiting for money.
Boom. There's really no place like ShondaLand.
(h/t Vulture)