5 Questions All Yoga Teachers Should Be Asking (But Aren't)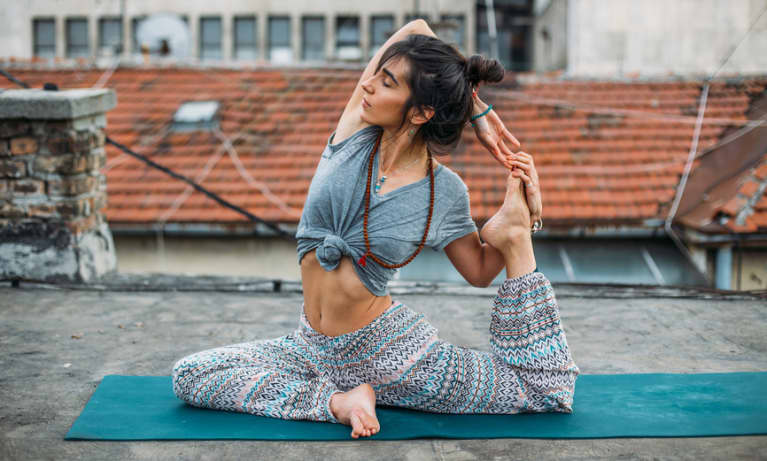 In this country, yoga is practiced more by women than men (26.4 million women practice yoga, compared to 10.3 million men). Yet yoga as we know it today was designed by men for male bodies.
Unless your yoga teacher is prenatal certified or womb yoga trained, they will more than likely have received little or no education in regard to the anatomy and physiology of a woman's pelvic organs and/or how to adapt yoga instruction for a woman's natural monthly cycle and life cycles.
If you are a woman, here are five questions you probably are not being asked at the beginning of a yoga class but should consider before partaking in the practice:
1. Are you pregnant or trying to conceive?
Yoga practice is often lauded for its benefits both preconception and throughout pregnancy. However, if a woman is actively trying to conceive or in the very early stages of pregnancy, it is important to avoid all types of hot yoga as well as vigorous styles such as Ashtanga or Vinyasa. Dehydration can cause a miscarriage, and yoga asana sequences that build heat as well as pranayama techniques such as Kapalabhati and other pumping breaths should be avoided.
Menstruation is a time in a woman's cycle when the apana or downward flow of energy is active. I look at this as a time to conserve energy and avoid depleting activities. Avoid inversions that reverse apana at this time and stop the kriyas (cleansing practices) of kapalabhati pranayama breathing and bhastrika breath.
If you have an IUD, practicing kapalabhati and pumping breaths should be avoided as well as uddiyana bandha, which can sometimes dislodge an IUD from its correct position.
It's easy to ask someone if they've recently given birth, yet we'll seldom know if a student has recently miscarried or terminated a pregnancy. As yoga teachers, we may not be aware that a woman in our class may be in a physically and emotionally vulnerable place and we need to have more sensitive awareness to this. It is advised to avoid full inversions during the postnatal period of six to eight weeks, or longer, depending on an individual's recovery, as this is a time when strength and vitality are low. Lots of rest and more yoga nidra practice is encouraged.
5. Are you breastfeeding?
In my experience, the hormones of pregnancy and birth continue to be in effect during lactation, and the ligaments and joints remain soft and loose. Care needs to be taken to not over extend at this vulnerable time, and practicing vigorous types of yoga and hot yoga can also adversely affect a mother's milk production.
Related reads: