Eat More Bone Broth: A 1-Day Meal Plan To Get More Of This Superfood
Bone broth is enjoying its time in the limelight as a hot "new" beverage. But the real power of broth is that it can be used for so much more than just sipping.
It's the professional chef's secret ingredient and can be used to infuse virtually any meal with extra flavor, nutrients, and pleasing texture.
We put together a sample meal plan showing you how you can incorporate this extraordinary savory superfood into your diet throughout the day.
Breakfast: Curried Scramble With Artichokes and Sun-Dried Tomatoes
Curry is a perfect match for eggs — it packs just enough heat and a load of anti-inflammatory power to start off your day. Artichoke hearts and sun-dried tomatoes add another layer of depth, while your choice of bone broth brings everything together.
Serves 2
Ingredients
1½ teaspoons olive oil
1 small sweet potato, peeled and diced
½ cup artichoke hearts, quartered after measuring
1 tablespoon chopped oil-packed sun-dried tomatoes
¼ cup bone broth, any flavor
4 large eggs
1½ teaspoons curry powder
1½ teaspoons ghee
Sea salt and freshly ground black pepper
1 tablespoon chopped fresh cilantro
Preparation
1. Heat the olive oil in a cast-iron skillet over medium heat. Add the diced sweet potato and sauté for about 4 minutes, until fork-tender. Stir in the artichokes and sun-dried tomatoes and cook for 2 minutes more.
2. Add the bone broth and increase the heat to medium-high. Cook, stirring occasionally, until the broth has reduced almost completely, about 4 minutes. Transfer the mixture to a plate and set aside. Wipe out the skillet.
3. In a bowl, beat the eggs with the curry powder. Add the ghee to the skillet and melt it. Add the egg mixture and cook, scrambling the eggs to your desired degree of doneness.
4. Combine the scrambled eggs and sweet potato mixture in a bowl and divide onto plates. Finish each serving with a pinch of sea salt, some black pepper, and cilantro.
Snack: Coconut and Lime Sipping Broth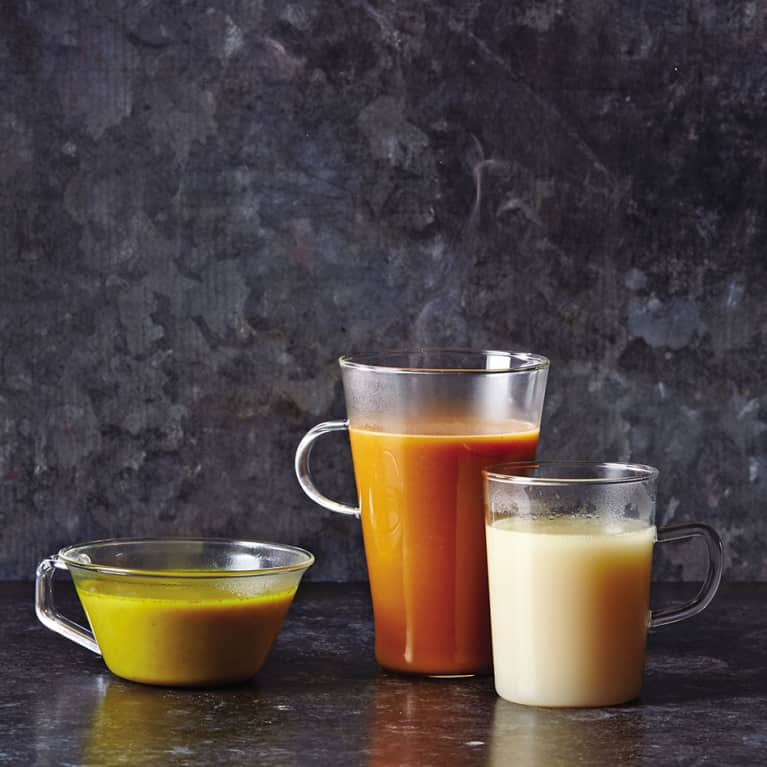 We love using coconut milk in our cooking. Not only is it flavorful, but it's also a great way to sneak healthy fat into your diet.
Makes 2 cups
Ingredients
2 cups chicken bone broth
¼ cup peeled and minced fresh ginger
1 cup coconut milk
Juice of 2 limes
1 teaspoon sea salt
Preparation
1. In a saucepan over medium-high heat, combine all the ingredients and bring to a simmer. Cook for 5 minutes, then transfer to a blender and blend until smooth.
Alternatively, you can blend the mixture using an immersion blender or a food processor.
2. Strain the broth through a fine-mesh strainer and serve, or cool, cover, and refrigerate it.
The broth will last for up to 1 week in the refrigerator, or 1 year in the freezer.
Lunch: Coconut, Beet, and Ginger Soup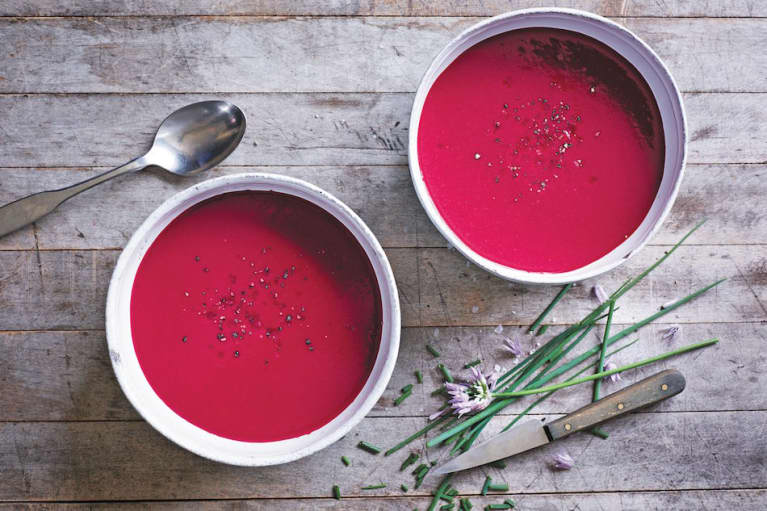 There are many ways to make beet soup, the most well-known of all being borscht, the hearty Russian classic that also contains veggies like potatoes and cabbage. Beet soup can be eaten cold, so we like to make it with more delicate flavors and puree it.
Here, the ginger beautifully balances the beet, and the coconut milk adds a nice fat component. We find citrus finishes this dish perfectly, so we garnish it with a bit of orange.
Serves 4 to 6
Ingredients
1 tablespoon ghee or olive oil
1 large thumb-size piece of fresh ginger, peeled and chopped
1 small shallot, peeled and chopped
3 sprigs fresh rosemary
3 garlic cloves, smashed
1 teaspoon sea salt, plus more as needed
½ cup white wine
2 pounds whole beets, greens removed
1 cup coconut milk
3 cups chicken bone broth
1 tablespoon white wine vinegar
1 small orange, segmented
Finely grated zest of 1 small orange
1. In a large pot over medium heat, heat the ghee or oil. Add the ginger, shallot, rosemary, garlic, and sea salt and sweat the mixture for 10 minutes, stirring occasionally.
2. Add the white wine and stir to deglaze the pan. Simmer for 5 minutes to cook off the alcohol.
3. Add the beets, coconut milk, bone broth, and white wine vinegar, cover, and let simmer for 45 minutes.
4. Prepare a bowl of ice water. Using a slotted spoon, remove the beets from the pot and transfer to the ice bath to cool. Once the beets are cool to the touch, use your hands or a paper towel to remove the skins. Discard the skins and roughly chop the beets. Return the beets to the pot and simmer the mixture for 10 minutes more.
5. Using an immersion blender, blend the mixture right in the pot until smooth. Alternatively, transfer the mixture to a blender or food processor and blend until smooth. Season with additional sea salt to taste if needed. Serve immediately, garnished with a couple of orange segments and a bit of the zest.
Alternatively, the soup can be refrigerated for up to 1 week, or frozen for up to 6 months.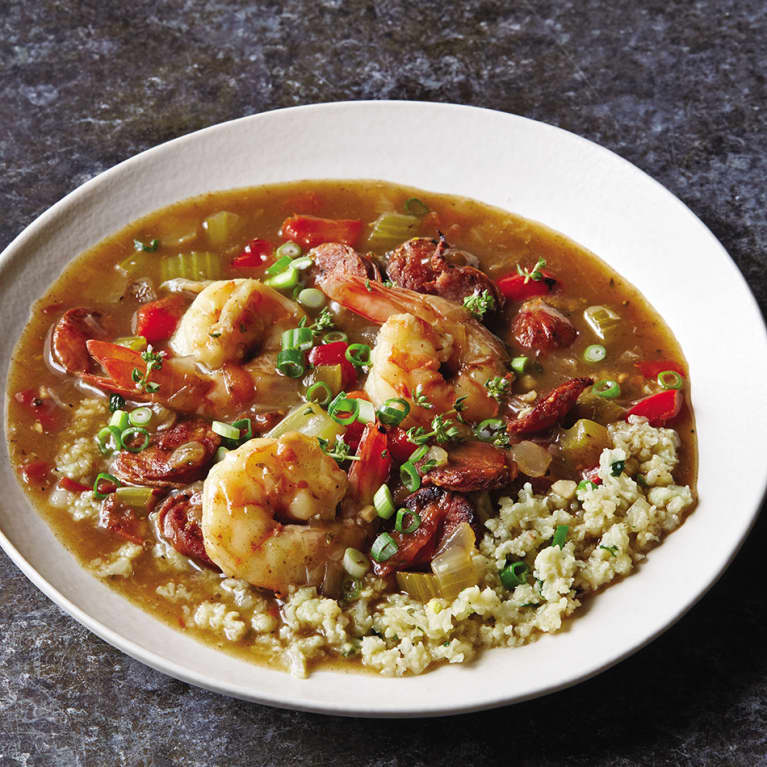 Gumbo's history runs deep in Louisiana, dating back to the 1800s. For home cooks across the South, making gumbo is practically an art form with as many different recipes as there are cooks.
We are by no means gumbo experts, but Kate grew up below the Mason-Dixon Line, so that should count for something. We hope our version is enough to elicit a nod of approval from a Louisianan.
Serves 4 to 6
Ingredients
4 tablespoons ghee or butter
1 cup peeled and diced onion
½ cup diced celery
½ cup seeded and diced bell pepper
2 garlic cloves, minced
1 cup seeded and diced tomatoes
¼ teaspoon cayenne pepper
1 teaspoon chopped fresh thyme
1 tablespoon sea salt
⅛ teaspoon freshly ground black pepper
1 tablespoon gumbo filé
1 bay leaf
4 cups shrimp stock
¼ cup arrowroot powder
1 pound large shrimp, shelled and deveined
½ pound andouille sausage, thinly sliced
Cauliflower rice, for serving (optional)
3 scallions, chopped
Preparation
1. In a large pot over medium-heat, add 1 tablespoon of the ghee or butter, the onion, celery, bell pepper, and garlic. Cook for 8 minutes, stirring occasionally. Add the tomatoes, cayenne, thyme, sea salt, black pepper, gumbo filé, and bay leaf. Stir and let cook for 5 minutes.
2. In a small saucepan over medium heat, add 2 tablespoons ghee or butter and ½ cup of the shrimp stock. Cook for 5 minutes, stirring frequently. Slowly whisk in the arrowroot powder to make a roux and cook, stirring constantly, for 5 minutes as it thickens. Slowly whisk in 1 cup of the shrimp stock and let simmer over medium heat, stirring frequently, and cook for 5 minutes more.
3. Add 2 cups of the shrimp stock to the large pot, increase the heat to medium-high, and slowly stir in the roux until fully incorporated. Bring to a boil, then reduce to a simmer.
4. Cook for 5 minutes, or until thickened, then remove from the heat and add the shrimp.
5. In a sauté pan over medium-high heat, cook the andouille sausage in the remaining 1 tablespoon ghee or butter until browned, about 5 minutes per side. Deglaze the pan with the remaining ½ cup shrimp stock, then transfer the sausage and drippings to the large pot and stir in. Remove and discard the bay leaf.
Serve the gumbo immediately as is, or spoon over cauliflower rice. Garnish with the chopped scallions.
Store leftovers in an airtight container, refrigerated, for up to 1 week.