The Surprising Reason Chris Martin Only Eats Six Days A Week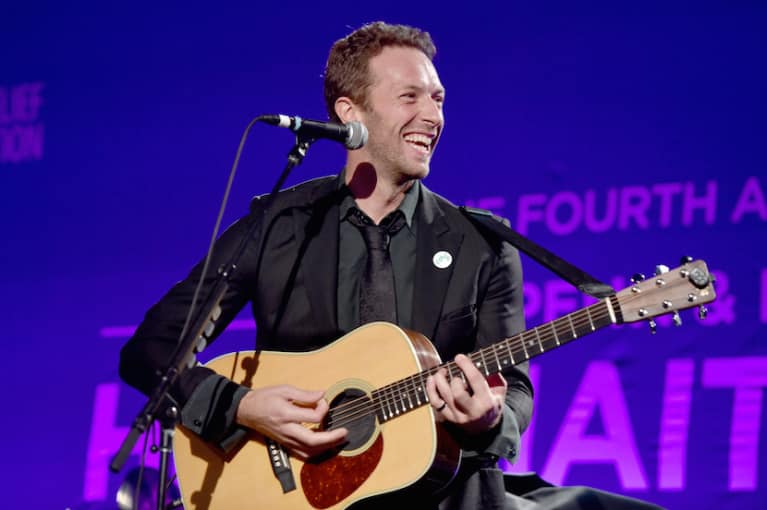 January 22, 2016 — 20:25 PM
Tom Brady and Gisele Bündchen aren't the only celebrities crediting strict eating plans for their success.
Chris Martin recently revealed that he feels better than ever since following the "6:1 diet," in which he consumes nothing but water for one day a week.
"I fast once a week," the Coldplay frontman explained during an interview with a U.S. radio station. "I started doing it because I was sick one time, and this guy said to me, 'Try not eating for a day, it will make your body feel healthier' ... I did it and then I found I could sing a bit better."
"I felt so grateful for food, and just grateful for everything in a way that I wasn't so much before."
Besides noticing that it helped his vocals, Martin says he discovered a feeling of gratitude that drives his creative process. "I felt so grateful for food, and just grateful for everything in a way that I wasn't so much before," he said. "I think that that feeling of gratitude and stuff just naturally brings out a joyous feeling. And also when you're hungry you are very focused, so both sides of it I think help creativity."
Though the idea of intermittent fasting has garnered more buzz lately, the diet isn't actually anything new. Many religious traditions include a component of occasional fasting, and 1950s British soccer star Stanley Matthews claimed not eating once a week helped him remain a top athlete into his 50s.
Plus, there's some scientific research to back up the benefits. A 2015 study found that intermittent fasting in mice was associated with improved cognitive performance, reduced risk of some diseases, lower body fat and even a longer life.
But Jennifer Glockner, a registered dietitian nutritionist and mindbodygreen contributor, stresses that fasting isn't for everyone, especially if you're easily bothered by low blood sugar symptoms like dizziness and headaches.
Martin himself acknowledged that the diet can make him irritable: "If you fast for a while, then you can get a little antsy, so you've got to be careful who you're talking to at that point."
So, if just the idea of a zero-calorie day makes you hangry, you're probably better off sticking to healthy eating throughout the week. "A balanced diet with lots of fruits and veggies, lean proteins, whole grains, and decreased processed foods may be just as beneficial," Glockner says.
Related reads: