Why This Photo Of A Woman 24 Hours After Giving Birth Is Going Viral
January 22, 2016 — 16:08 PM
Breaking news: when a woman gives birth, her stomach doesn't just magically deflate back to its pre-pregnancy state.
Okay, okay, so this might not be brand new information to you, but most people have no idea what it's like — mentally or physically — right after having a baby unless they've experienced it themselves.
So that's exactly what one mother named Erica Andrews is here to teach us.
Sakura Bloom, a fashion retailer that specializes in baby slings, recently shared a post from Andrews on Facebook that is going viral because of its unapologetic honesty.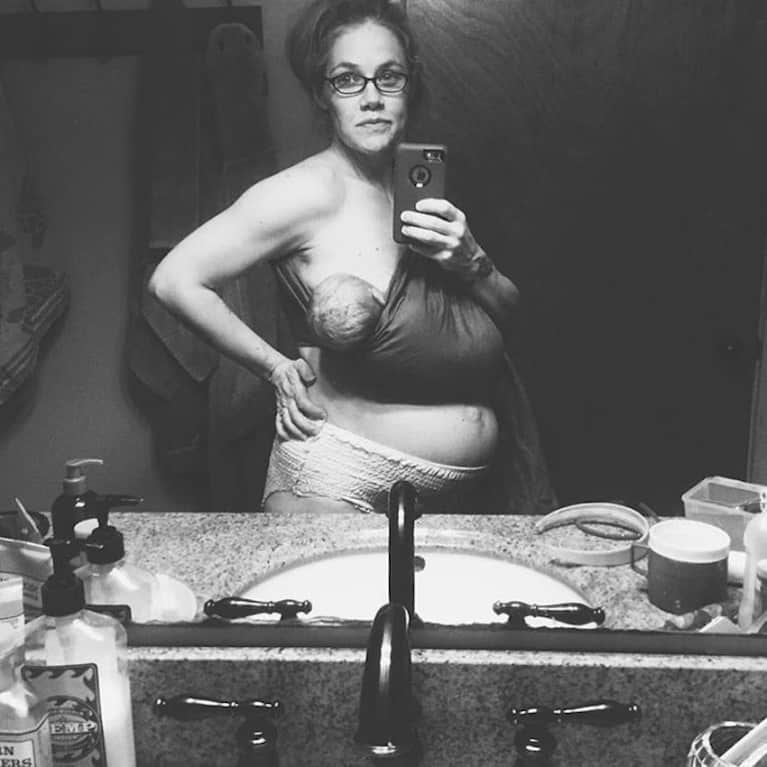 Alongside a photo she took of herself 24 hours after giving birth, wearing an adult diaper with her baby in a sling, Andrews wrote:
This is what 24 hours postpartum looks like. Baby in sling. Skin to skin. Adult diapers. And a rosy glow. My body feels like it ran a marathon and my heart is wide open from yesterday's travels. Birth opens us like an earthquake opens the earth and I am still in the intimate, fragile throes of that opening.
Her photo may show her physical state, but her words capture the mental and emotional toll of giving birth:
I feel like I'm on the undulating surface of the rippling ocean being tossed back and forth between happiness, gratitude, melancholy, and grief. The emptiness in my womb brings a heavy feeling crashing into reality but then this new little life whimpers, searching for the breast with soft rooting, and I feel whole again.
The post has garnered over 40,000 shares and 150,000 likes. Why? Because people appreciate honesty.
"I was never this brave," wrote one commenter. "To open myself up and show my post-partum body? Never. I felt hideous but I look at you and see how beautiful you look ... Wish I hadn't been so shallow. I created 2 miracles, I should've been proud of what my body did."
We're always hearing about how beautiful birth is (and it is!), but Andrews isn't afraid to address the less-than-glamorous parts, too. She's elated with the birth of her child, of course, but she refuses to mask the realities of new motherhood. All at once, the experience is life-changing, gratifying, exhausting, and, in Andrews's words, a time "simply unlike any other."
You can read the full post here.