11 Things You Need To Know Today (January 23)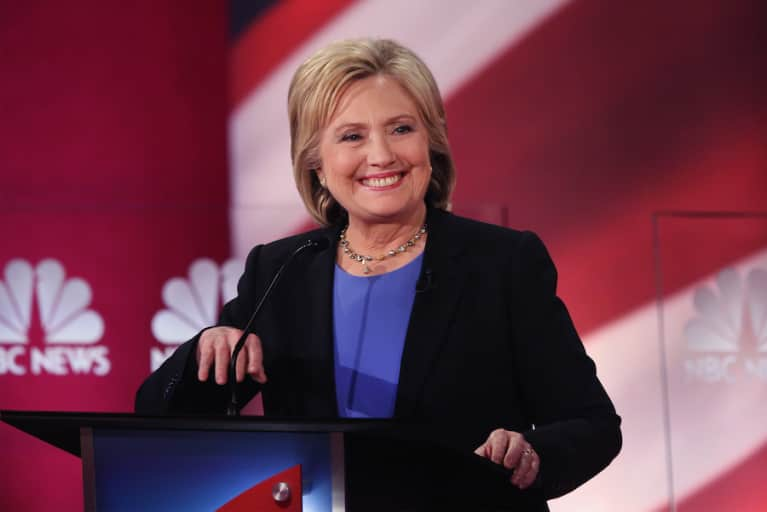 1. Hillary Clinton's immunity-boosting routine, revealed.
The presidential hopeful's trick for staying healthy on the campaign trail is to eat one hot pepper a day, a habit she started back in 1992, when her husband, Bill Clinton, was campaigning. (NPR)
2. A cult Japanese fitness app is now available in the U.S.
Burn Your Fat With Me! motivates the "player" to take up a fitness routine through a story-driven game that closely resembles a high-school romance. (Vogue)
3. Hermès is about to make your smartwatch more stylish.
The Apple Watch Hermès starts at $1,1000 and went on sale yesterday (Friday). (Fortune)
4. Living close to a grocery store can help obese children slim down.
A new study found that kids enrolled in a weight-loss program who had a supermarket nearby were more likely to lose weight as well as increase their intake of fruits and vegetables. (U.S. News & World Report)
5. High-intensity interval training might be the best exercise for weight loss.
A meta-analysis of exercise research finds that high-intensity interval training (HIIT) was more effective for weight loss, managing diabetes, and respiratory fitness than traditional forms of training, such as jogging. (Medical Daily)
6. Furniture giant IKEA joins team adult coloring book.
Decidedly easier than actually putting their furniture together, IKEA released a five-page adult coloring book you can print. (Gizmodo)
7. Bone broth is coming to a K-cup near you.
California-based company LonoLife just started selling bone broth pods for home use that "pack more protein per serving than anything you'd ever find in the grocery store" and are 100 percent recyclable. (Food Business News)
8. A rare planetary event is under way.
For the first time in more than a decade, the five brightest planets — Jupiter, Mars, Venus, Saturn, and Mercury — are aligned on the same side of the sun. The "fab five" will be visible to the naked eye 45 minutes before sunrise every morning for the next month. (New York Times)
9. El Niño is messing with produce prices.
The extreme weather pattern is causing flooding and colder-than-normal temperatures in the major farming areas of North America: California, Mexico, and Florida. This will increase the price of everything from cauliflower to grapefruit this winter. (Eater)
10. Your new favorite cookbook is here.
Vegan, sugar-free chef; author; restaurateur; Instagram sensation; and friend-of-mbg Ella Woodward just released her second cookbook, Deliciously Ella Every Day. It's only available in the UK right now, though. Those of us on the other side of the pond will have to wait until April. (mbg)
11. Drooling aside, working out with your baby looks like a lot of cute fun.
New York fitness guru Taryn Toomey, founder of the class, showed new moms a few moves they can do to get back in shape with the help of their babies. (Today Show)