5 Healthy Food Habits That Drastically Reduced My Anxiety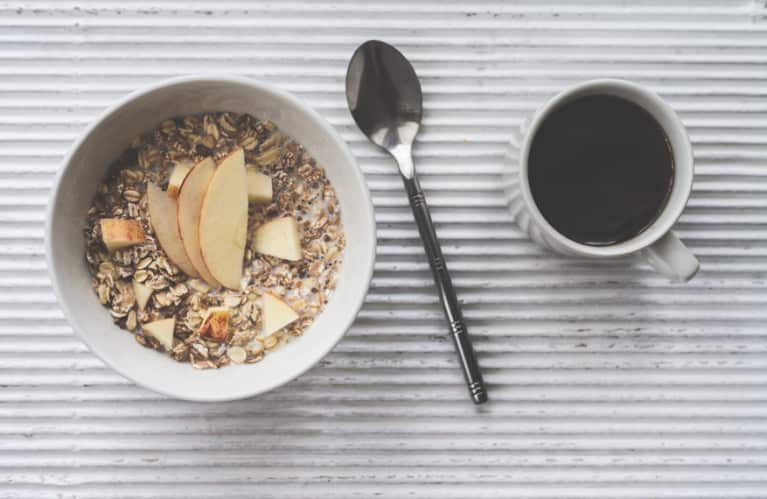 After living with anxiety for more than three years, it became clear that nutrition was going to play a pivotal role in my healing.
When I was four months into my training for applied holistic nutrition certification, I felt inspired by what I was learning. I realized I could change what was happening inside of my body with food.
In fact, the whole purpose of holistic nutrition is to help the body achieve its own balance. This meant that I wasn't powerless to my condition and that there was an alternative to the medication that had been prescribed to me.
To be clear, generalized anxiety disorder is complex and still not fully understood. There can be many underlying causes and triggers, and recovering from anxiety will look different for everyone.
Better nutrition was a huge piece of my recovery, and it still serves as the foundation for my healthy lifestyle. Through nourishing my body, I found freedom from my anxiety and began to reignite the mental clarity that I had lost.
The worry and anxiousness didn't disappear right away, but the panic attacks did. That alone was a huge boost to my momentum and confirmed that I was on the right path.
I emphasize the word habits because I don't follow a particular diet, and how I eat is something that's always evolving. Habits are much more accessible than a strict eating plan and allow the room for flexibility as you determine what works and what doesn't.
These are the five healthy eating habits that worked for me:
1. Reintroducing fish, chicken, eggs, dairy, and meat.
After being off animal foods for three years, I started having intense cravings for fish, specifically salmon.
I had been heavily invested in my commitment to eating only plant-based foods and so I resisted listening to my body. One day, with the encouragement of a good friend, I finally had some salmon sashimi and felt so good.
I slowly reintroduced chicken, eggs, cheese, and finally red meat. I made sure that everything I was eating was local, organic, and raised well. I felt so much better now that my body was getting the sustenance it needed.
My vitamin B12 levels soared after being extremely low, and consequently my energy and brain felt vibrant and fired up again.
2. Bulletproofing my coffee.
I was never a big coffee person until shortly after I started my healing journey. I was first introduced to Tibetan butter coffee by two girlfriends of mine in nutrition school and it was the best thing I had ever tasted.
Unfortunately, coffee isn't typically recommended for someone dealing with anxiety. It can have an overly stimulating effect and lead to more anxiety. Still, coffee became a serious interest of mine as I discovered The Bulletproof Executive and fell in love with Dave Asprey's butter coffee recipe.
Consuming quality beans and adding grass-fed butter to my coffee has allowed me to continue to indulge in this special morning ritual without feeling high strung and anxious afterward.
3. Focusing on healthy fats.
For so long I had thought of fats as a bad thing, and I didn't know that there were good fats that serve the body well. After learning how important these good fats are to our cells, they became the primary focus of what I was eating.
Avocados, chia seeds, tahini, olive oil, coconut oil, MCT oil, ghee, various nuts, and salmon all became dietary staples. I started feeling more satiated after meals and noticed several improvements to my cognitive function, such as a sharper memory and better focus.
4. Edging out sugar, gluten, and refined carbs.
I used to have crazy carb cravings from the moment I woke up until the moment I went to bed. The focus on healthy fats set the pace for a natural progression of removing the white stuff.
I finally felt like I had control over what I was putting into my body instead of blacking out and binge eating anything carb-rich. With this newfound stability, I felt so much calmer and less anxious throughout the day.
5. Staying away from alcohol.
I found that even just socially drinking alcohol would leave me feeling not myself for several days afterward. Alcohol had never brought out the best in me anyway, so I decided to take a long break from the substance.
It became so much easier to heal when I could rely on feeling like myself every single day.
My advice to anyone dealing with anxiety
Do everything in your power to become more connected and in tune with your body. The stronger you can build the physical foundation, the easier it becomes for you to tap into what's happening on the mental, emotional, and spiritual levels.
We cannot afford to keep creating a divide between our physical health and our mental health — they must be treated together for a complete healing of the human spirit.
For more help with anxiety, check out: