9 Energizing Rituals To Activate The Power Of The Leo Full Moon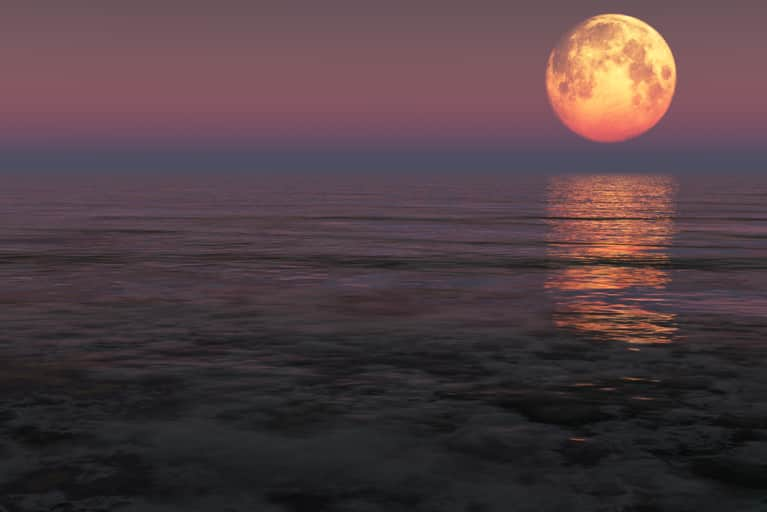 January 23, 2016 — 10:59 AM
Lights, camera, action! January 23, 2016, brings the full moon into theatrical Leo, sending out a cosmic casting call. This is a day to step out and let your talents shine ... but don't forget to be an appreciative audience member, too.
This lunar event is the culmination of any efforts started six months ago, at the Leo new moon. As Leo rules creativity, glamour, romance, and fertility, many of us will be "giving birth" this weekend, seeing our efforts come to light in a bold and attention-getting way. And romance could be off the charts. (Why wait for Valentine's Day?)
This year's Leo full moon could be a little bit dramatic, because communication planet Mercury is still retrograde until January 25. Strong emotions and frustrations you've suppressed since Mercury went rogue back on January 5 could all come out in a dramatic, diva-style showdown. Eek! Keep your lion's roar in check.
Here are a few energizing rituals to activate the power of the Leo full moon:
1. Celebrate the self and quiet the ego.
Proud Leo has a reputation for tooting its own horn without a second thought. There's nothing shameless about self-promotion under the light of this full moon. Sharing our gifts is an act of generosity, as long as our intention is to uplift others rather than serve our own egos. But that said, all ego-related matters fall under the rule of Leo.
Flip through Eckhart Tolle's A New Earth: Awakening to Your Life's Purpose for an enlightened perspective on overcoming the grips of the ego (which is the shadow side of the self). In Tolle's definition, ego is not about vanity and pride. Rather, it shows up as the destructive voice of self-hatred, limiting beliefs, and the protective shell we keep between ourselves and others. When we release the ego, we become present to the sense of oneness that we share with others.
Harness the power of the full moon in Leo to break through the confines of ego and reconnect with the universal human spirit. "I am you and you are me," could be our lunar mantra.
Ego aside (see Item #1), we all deserve some crowing from the rooftops, and the Leo full moon is the perfect day to do that. In our culture of self-deprecating cool, pumping ourselves up is frowned upon, but at what cost? According to "pleasure revolutionary" Regena (Mama Gena) Thomashauer, bragging is a vital antidote to the culture of shame that women have inherited as a legacy.
In her School of Womanly Arts, Thomashauer encourages participants to brag proudly, openly, and often as a confidence-boosting form of self-love. She suggests doing it as a structured exercise, where each participant takes a turn bragging and the listener cheers the brag on. As graduates of Mama Gena's Mastery program, we suggest adopting this revolutionary technique for a week (or an eternity). Yes, men, you can do it too!
Once the initial awkwardness passes, bragging puts us in touch with the wonder of our own divine gifts — and a deep gratitude for the lives we got to live — and that's something the full moon in Leo loves!
3. Perform an act of courage.
Brave Leo is the zodiac's hero, always willing to take a chance or speak up when nobody else dares. There's a difference between being courageous and being fearless. A fearless person might be out of touch with reality; a courageous person "feels the fear, but does it anyway." And did you know that courage can actually prevent certain health issues? After all, fear is linked to stress, and stress is a trigger for many diseases.
Never mind that fear also stops us from living our dreams, pursuing happiness, and feeling the unadulterated joy that Leo is all about. Check out The Fear Cure: Cultivating Courage as Medicine for the Mind, Body, and Soul by Dr. Lissa Rankin for a boost.
Leo is the sign of fertility and this full moon is ripe for creation. If you've been struck by baby fever, this is the week to take decisive action. Cut ties to the commitment-phobe (s/he'll never stop wavering), and find a Valentine who shares your desire to build a family, be it through natural birth or adoption. If IVF treatments are something you need to explore, set up a doctor's appointment, or just get to baby-makin' the natural way.
Figuratively speaking, this full moon may be signaling a time to give birth to a creative venture. Start that vegan food truck business, write the outline to your autobiography, begin painting the next masterpiece in your oeuvre. Taking the first step near this full moon puts the power of the cosmos behind your efforts.
5. Stretch your spine, open your heart.
Every zodiac sign is associated with an area of the body. For Leo, it's the heart, upper back, and spine. Unfurl that yoga mat and activate the Leo full moon by doing postures like wheel, bridge, and others that expand the heart area while simultaneously stretching the spine. Energizing these leonine body parts helps you connect to the Lion's promise of creativity, fertility, romance, and boundless self-expression.
Full-bodied expression is what this Leo lunar event is all about, so bailamos, people! This full moon was meant to be spent on the dance floor or even doing a more spiritual form of movement like Contact Improv or Ecstatic Dance. Get lost in the rhythm ... but don't stop there. Dance for a cause! Since February 14, 2012, V-Day creator Eve Ensler has spearheaded 1 Billing Rising, a worldwide movement to dance for the end of violence. It's like a global flash mob with a cause, so join the dance revolution and organize your own public drum and dance event, or join one near you.
We are all regal in our own individual ways. Where do YOU reign supreme? Lift the curtain: It's officially showtime, as the Leo full moon wants us to flaunt our talents like today was a cosmic cabaret. Burst onto the world's stage in the most glamorous way possible. Luxe Leo loves when we sparkle, flash, and drip in conflict-free diamonds. After all, this is the sign that rules pleasure, indulgence, and full-bodied self-expression.
Break out the sequins, top hats, and feather boas! Glamazon Leo adores bold color, bright prints and theatrical costumery. Like kids playing dress-up, this full moon encourages us to express ourselves through daring fashion choices. The Leo full moon adores originality. Rather than fade into the masses, wear something that stands out, be it a statement necklace or a burlesque dancer's headdress. Clothes like these are conversation pieces, after all, and the social Leo moon encourages us to break the ice and talk to strangers.
8. Celebrate love (and don't wait for Cupid).
Romance, passion and lust fall under the domain of Leo: that delicious moment when a spark of attraction becomes a burning flame of desire. If we're feeling a little lusty this week, it's no surprise. This full moon has us all wired on luscious life-force energy. Let it surge through your veins, bring it to the bedroom, or take it for a twirl on the dance floor. There's a wild, lovin' energy in the air, so let your hair down and enjoy.
Lovestruck Leo understands that romance allows us a direct connection to the divine. Whether single or spoken for, we can activate the spirit of amoré by making a vision-board/collage of our romantic ideal. Sit down with a stack of magazines, scissors, a glue stick, and a piece of poster board. Curate, cut out, and collect images that make your heart go pitter-patter. Paste them down on the board, then, examine and analyze the final collage. What do you see? You'll be delighted by your own subconscious cues. Who knew you wanted THAT?
9. Tell a story, wake up the brain.
Playful Leo is the zodiac's eternal child, forever filled with wonder. While Leo narratives can run long ("Get to the point already!"), here's a fun fact for anyone who needs to give a presentation — the time-honored art of storytelling is actually the most powerful way to activate the brain.
While a blasé speech might get our language processors in motion, stories awaken other regions. Describing, for example, a delicious meal lights up the listener's sensory cortex. And as YOU get lit up by a sensual metaphor (buttery parsnips, throaty voice), your audience has the exact same response. So storytelling connects us in a special way — much like the zodiac's tribal Lion, who spends life in a tight-knit community.
Related reads: