4 Tips For Your Healthiest, Shiniest & Softest Hair Ever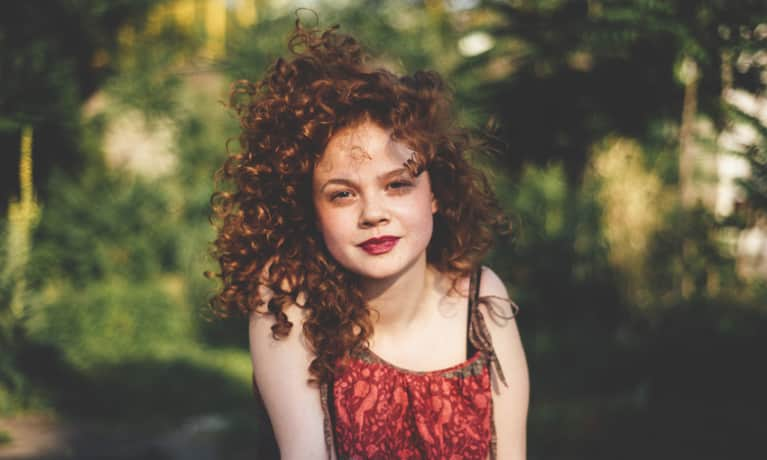 By the middle of winter, your hair might be more than a little dried out. With heat blasting indoors and cold air and wind whipping outside, static, frizz, and general brittleness seem to be the norm.
But it doesn't have to be! Just like your skin, your hair needs moisture to achieve its optimal shiny, healthy, soft state. And fortunately, it's not all that difficult to safely moisturize your hair (safety being the key word here).
While there are many moisturizing products available, not all are safe — or even effective. In fact, some ingredients like parabens, retinal palmitate, retinol, oxybenzone, and "fragrance" commonly found in shampoos and conditioners actually do more harm than good, disrupting hormones or wreaking toxic havoc on the reproductive system.
So how can you safely moisturize your hair? Try these four tips. Your healthy hair can thank me later.
1. Stop washing your hair so much.
The easiest way to safely, easily moisturize your hair is to not wash it as often. Your tresses don't need a daily washing, especially in the winter, so it's time to get over your hair-washing hang-ups. You may think you're getting your hair extra-clean with that daily shampoo, but what you're actually doing is stripping it and your scalp of the oils they need to stay healthy.
If you're used to washing your hair every day, try to space it out to every other day.
2. Make smarter product choices.
When you do wash your hair, make sure to choose your shampoo carefully. Look for products without sodium laurel sulfate or sodium laureth sulfate. Opt for something with natural ingredients; your hair will end up looking and feeling better once you've adjusted to the safer product.
After you've washed your hair, be sure to add a conditioner for extra moisture. If you're really fighting the frizzies, choose a leave-in conditioner. If you're going for the no 'poo method, the natural oils in your scalp will work as a moisturizer, so you don't need any extra conditioner.
If you know you have dry hair, try to naturally cut back on frizz by blotting or patting the water out of your hair with an old T-shirt. After your hair is blotted, air dry when possible. It may mean figuring in some extra time to get ready, but it's a fantastic way to avoid the seriously drying hot air of blow dryers.
Similarly, try to avoid using as many heat-styling products (flat irons, curling irons, etc.) as possible, as they'll instantly dry your hair out.
4. Let oil be your friend.
Aside from washing and drying your hair, you can add a lot of moisture by applying oil. Experiment with what works best for your hair type, and be prepared for a lot of trial and error.
Sometimes it's as easy as rubbing a dime-size amount of olive or coconut oil from your kitchen between your palms and applying it to the ends of your hair. (If you need deep moisturizing, massage it into your scalp as well.) I also like argan oil for hair, or anything that feels good to you, as long as it's free of unwanted ingredients.
In my experience, my hair looks too greasy if I apply oil to if after I shower, so I massage the oil into my roots and tips before I shower, letting it sink in for a bit, then washing it out. Another option is to use a little less on just your ends post-shower to tame frizz as your hair air dries.