7 Plant Oils You Should Add To Your Beauty Routine ASAP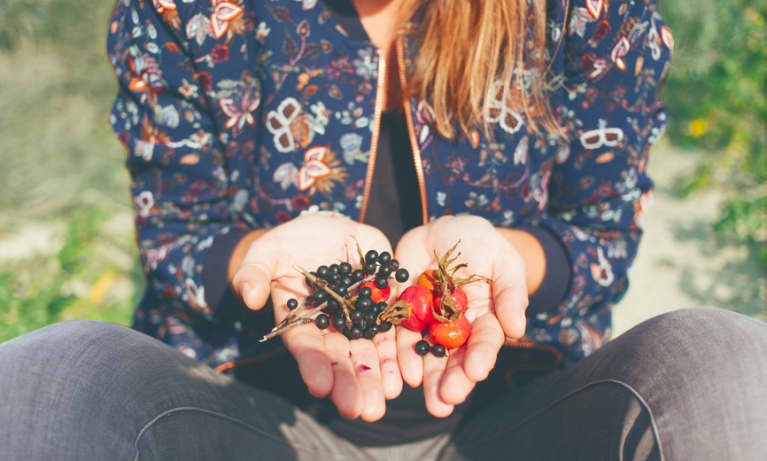 As the in-house beauty expert for a natural skin care brand, Corinne Morley has seen (and used!) her fair share of self-care oils. So when we had questions about what kind of plant oils to use for different purposes and on different types of skin, she was the obvious choice. Here's what she had to say.
Many women — and men, for that matter — are becoming more and more concerned about the chemical overload inherent in our modern world and are looking for simpler, more natural alternatives to their favorite products. These days, there's a huge (and growing) demand for skin care that's non-GMO and free from petrochemical derivatives and silicone oils.
Luckily, we have pure plant oils, a great way of delivering high concentrations of active ingredients to your skin, naturally. They're excellent for all skin types, delivering hydration and nourishment because they have a finer molecular structure that's similar to our own natural skin oil (sebum), which means pure plant oils are readily accepted and absorbed by the skin, won't clog or irritate pores, and help to promote normal, healthy skin cell function.
There are many oils to choose from, but these are some of my favorites:
Super-rich in essential fatty acids (omega-3 and -6) and fatty acids (omega-9), rosehip oil is intensely nourishing and hydrating, meaning it's great for repairing and rejuvenating skin and improving the appearance of scars, stretch marks, and wrinkles. Rosehip is a superfine oil that is highly effective at treating dry and dehydrated skin and suitable for all skin types, including sensitive and oily-combination.
Full of nutritional goodness, this silky smooth oil is revered for its skin-healing and preservative properties. It's nourishing and naturally rich in antioxidants, so it hydrates, softens, and revitalizes skin while helping to protect from free radical damage. It's especially rich in oleic acid, which is essential to the maintenance of healthy-looking skin.
A rich oil renowned for its intensely moisturizing, hydrating, and skin-healing properties, tamanu oil assists cell regeneration, promoting the formation of new skin and helping to smooth wrinkles. It also has anti-inflammatory properties, which can help with skin issues like eczema.
4. Black caraway seed oil
A real nutritional boost for the skin, this remarkable oil contains a unique combination of 15 amino acids, proteins, essential fatty acids, calcium, iron, sodium, and potassium. It helps condition and soothe skin while helping to restore moisture and elasticity.
Rich in skin-nourishing potassium, vitamins D and E, magnesium, and linoleic acid, this precious oil helps to support your skin's moisture balance, preventing it from drying out, while helping to strengthen the dermis. This is a nourishing oil that's great for dry skin and all-over hydration. (In fact, here are nine different ways to use avocado oil!)
Super-rich in lycopene, tomato seed oil is one of the most powerful antioxidants used in skin care. Not only does it help prevent environmental free radical damage from factors such as stress and pollution, it also helps defend against oxidative stress caused by aging, and it helps maintain skin's natural elasticity.
One of the hottest health and beauty ingredients last year, coconut oil is a multitasking plant wonder oil. Extracted from the dried inner flesh of the coconut, its natural antibacterial properties help to heal and repair skin and hair. Rich in essential fatty acids to hydrate and nourish, coconut oil creates a natural barrier against moisture loss.
——
In terms of use, I find it's best to apply the oil after cleansing to slightly damp skin (this will help trap extra moisture and provide a lighter feel on the skin). I recommend 2-3 drops of your oil of choice, warmed between the fingertips and massaged into the face, neck, and décolletage.
Because pure plant oils are so full of goodness, your skin needs only a small amount. If you have an oily residue on your skin, you're probably using too much!
Another important note: There's a difference between pure plant seed oils like those listed above and the essential oils many people are more familiar with.
Oil is termed "essential" in the sense that it contains the "essence of" the plant's fragrance — the characteristic fragrance of the plant from which it is derived. While essential oils in skin care do provide some therapeutic benefits, the main use is to provide beautiful natural fragrance, and they normally constitute a tiny fraction of the formulation.