Emmanuelle Chriqui On Her Favorite Holistic Treatments And #Wellth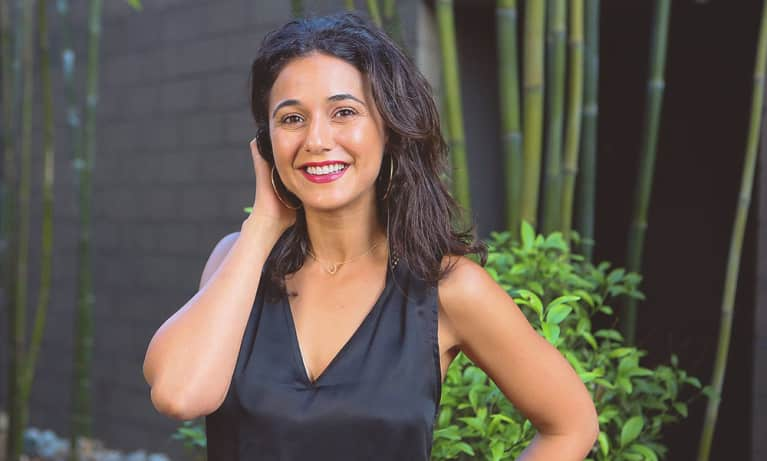 Our editors have independently chosen the products listed on this page. If you purchase something mentioned in this article, we may
earn a small commission
.
I've spent the past year thinking a lot about "wellth" — the idea that success is found in a lifestyle devoted to mental, physical, and emotional health. (I even wrote a book about it.) In this new series, we're celebrating visionaries who embody what it means to be wellthy.
You may know Emmanuelle Chriqui as Sloan from Entourage or Raffi from Murder in the First, but we know Emmanuelle as an inspiring wellness warrior who attended our revitalize event in 2014.
mbg: Favorite way to break a sweat?
EC: A good cardio dance class with amazing loud music. The music inspires me to push myself, go a little harder and get me out of my head.
Favorite healthy place to eat?
What do you love about your work?
It has been an endless love affair since I was 7 years old. I love the sense of community, I love the creative exchange with my fellow actors, directors and crew and I love transforming myself into someone else. I literally get to play for a living and I am constantly grateful for this.
I used to downplay what I did for a living, demean it and say "it's not like it's brain surgery." Well it's definitely not brain surgery, but I embrace that we as a collective creative community bring light and entertainment to a world that is often dark and complicated and uninspired.
Any favorite holistic treatments?
Panchakarma. It is a deep, restorative Ayurvedic cleanse. I aim to do a 7-day Panchakarma once a year, which includes a 5-day prep where you only eat cooked specific vegetables, fruits and certain grains (or not if you don't do grains), followed by 7 days of the most amazing treatments with herbed oils made specifically for you, and usually followed by a 5-day liver/gallbladder cleanse. I always feel renewed and invigorated for months to come.
It allows me to reset my body on a deep level, and really give it a break. You are not supposed to work out, just be gentle with yourself. My favorite place to do this is Surya Spa in Pacific Palisades. Martha, the Ayurvedic doctor, is simply an incredible, loving and deeply intuitive practitioner.
Favorite place to get some nature?
Lucky for me I live in California, so an easy and amazing escape to nature is a beautiful drive to the water. A dip in the salt water, a walk on the beach or taking in a sunset is just what I need.
What does wellth mean to you?
Having a healthy mind and body to do whatever it is you do. Achieving a balance of healthy eating, exercise, meditation, adventure and joy to feed all aspects of your life both personally and professionally is ultimately what wellth means to me.
Any advice for someone who wants to build a life they love?
It should be so easy: Just do what makes you happy ... but it's not so easy. Unfortunately we all fall prey to the things we should do according to family or friends or society in general. It takes a great act of courage to live your truth every single day. It takes mindfulness, quiet meditation and courage to look at when something is no longer serving you, and actively taking the steps to change it. Be courageous, surround yourself with other courageous people on the path and regularly ask yourself if what you are doing is bringing you joy or stress. Not so easy, but oh so powerful.
This interview was edited and condensed.