Watsu: What It Is + Why You Should Add It To Your Wellness Routine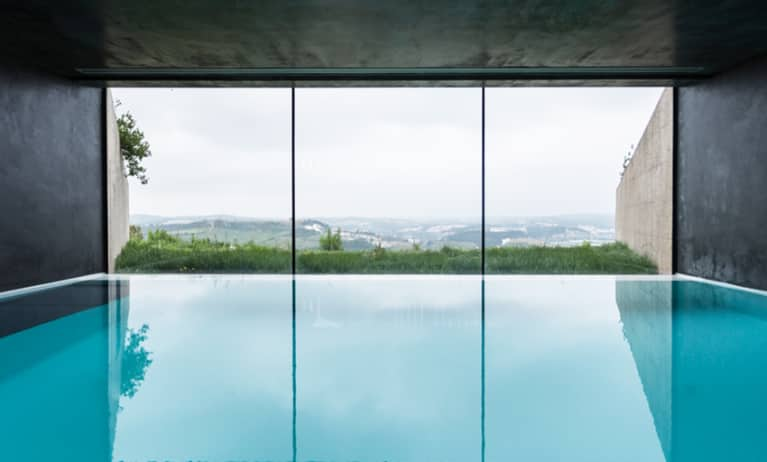 Let me start off by saying I'm a massage junkie. All of my friends know that a massage voucher is my number one choice of birthday gift.
I love feeling the hands of a skilled masseuse easing out all the kinks and dents in my body. But I've also had some less than pleasurable experiences on the massage table. I'll always remember a particular masseuse who ate a croissant with one hand while crumbs sprinkled on my back (don't laugh — it really happened). Apparently, he'd missed lunch.
In Watsu, your body feels more like an instrument of possibility.
After I shook myself off from that experience (literally), I got lucky. Really lucky. I found a practitioner who's a master at the art of massage — a straight-up guru.
I was at The Golden Door health spa in the Hunter Valley region of Australia when I heard people speaking over dinner about having a "Watsu" with the local guru, Michael Hallock. I assumed this was code for some kind of altercation, as if saying, "We didn't see eye-to-eye, so I gave him a piece of my mind and we had a real watsu."
But no, it turns out Watsu (water shiatsu) is a form of massage, a relatively new one that takes place in a pool of warm water.
In 1980, Harold Dull, the founder of Watsu, began to apply the principles of Japanese Zen Shiatsu to the water, since water supports the body and takes weight off the vertebrae.
The way of Watsu is gentle and gradual — the movements relieve pressure on nerves and free energy throughout the body. The water serves to facilitate the body's deepest states of conscious relaxation. Think warm bath.
People swooned when they spoke of Watsu, as if they weren't able to put the magical experience into words. Given that trying new things was a personal resolution of mine, I signed up for a session.
Don't you love it when you have absolutely no idea what to expect?
Dressed in my bathing suit, I met Michael for our Watsu session. He led me into a womb-like, dimly lit room in the spa where we both stepped into waist-deep water. He put floats around my legs so they would suspend effortlessly in the water, and took my neck in his hands.
That's when I closed my eyes and surrendered.
He gently moved my spine and pulled my body through the water so that my arms floated and swayed like I was in some kind of ecstatic aquatic dance. In the water, the body can make shapes and movements that are impossible to achieve on land. So in Watsu, your body feels more like an instrument of possibility — almost an extension of the imagination.
At times, I felt like I was falling or drifting through space. At other times during our 50-minute session, it was like I was flying.
With my ears underwater and my head against Michael's chest, I heard his heartbeat and immediately felt unborn — like I was in a womb again. In another movement, my head came to rest on his shoulder, like it used to on my father's when he carried me as a child.
Through our session, Michael worked with what's called "the water breath dance." He aligned his breath with mine and allowed the water to lift me as I inhaled. It was as intimate as breathing gets.
When Michael finally removed the floats from my legs and guided me into a standing position, it took some time for me to open my eyes and even longer to speak. "Wow," was all I managed to say at first.
I left the Watsu room with wrinkled fingers and a quiet, lingering bliss. I spent the afternoon resting in the softness of my body, scanning the exhilaration for words that did the experience justice.
Here's what I came up with: Watsu is the enactment of every experience of love you've ever had, and never had. It crosses through memory, fantasy, dream, and meditation. It sings your body awake.
It facilitates a recovery from both painful and pleasurable emotions and memories. It's no surprise that Watsu has been called Rebonding Therapy and used by psychologists, body workers, and therapists to heal the wounds of separation we all carry in our body's memory.
For me, massage will never be the same again. If you grant yourself just one act of lovingkindness in 2016, seek out a Watsu practitioner and get in the water.
Keep reading: