The Ways David Bowie Changed The World (That You Didn't Already Know About)
Written by
Leah Vanderveldt
Leah Vanderveldt is an author living in Brooklyn, New York. She received her Bachelor's in Communications and Media from Fordham University, and is certified in culinary nutrition from the Natural Gourmet Institute.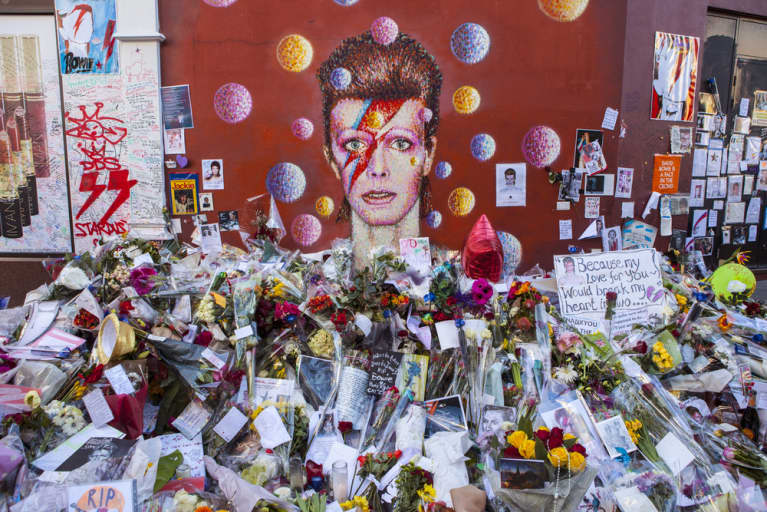 The world shifted last week when David Bowie passed away from cancer at the age of 69. For ardent fans, he signified revolution, rebellion, celebration, acceptance, and joy.
Since the news of his death broke, the internet's been abuzz about his life, in an effort to bring us all closer to this great force of creativity and life.
While he's known for his constant evolution — both musically and sartorially — he also evolved spiritually and holistically throughout his life.
I was within a month of having my head shaved, taking my vows, and becoming a monk.
When David Bowie was a teenager (and still known as David Jones), he studied with Tibetan Buddhist teacher Lama Chime Rinpoche in London.
Bowie remarked about this time in his life, "I was within a month of having my head shaved, taking my vows, and becoming a monk." He conintued to support Tibet House throughout his career.
An article on Lion's Roar examined this turning point in the artist's life:
Bowie's 1967 song "Silly Boy Blue," one of his first originals, was a tribute to Lama Chime Rinpoche. In the song's intro from the '01 Tibet House performance, Bowie recalls "stumbling into the Buddhist Society in London when I was about 17, and sitting in front of me at the desk was a Tibetan lama" who would become "my friend, and a teacher for quite some time. […] This was '65, '66. Right about that time, I wrote this next song."
Bowie also turned his health around in the early 80's after a drug and alcohol-fueled decade.
On his 1983 tour he was described by music journalist Simon Reynolds,
"He went from being cocaine-ravaged thin, with this totally gaunt, pallid face, to this new healthy look — blond hair, tanned looking, very exuberant."
Bowie has since reflected on his substance abuse many times, including his decision to finally get clean when he was given custody of his son.
In 2000, he said in an interview, "My relationships with my friends and family has been so good for so many years now, I wouldn't do anything to destroy that again. It's very hard to have relationships when you're doing drugs and drinking."
I love life very much indeed.
While Bowie has been a longterm philanthropist and donated to several charities, he's also become a hero to animal rights activists.
His song "Heros" is played at the end of the documentary, The Cove, which exposes the realities of whale and dolphin hunting in Taiji, Japan.
The filmmaker Louie Psihoyos was able to get special permission from Bowie himself to use the song in the documentary for a much smaller fee than typical copyrights allow.
The song is now an anthem for the global dolphin protection movement.
It's hard to sum up the ways in which David Bowie's music impacted people — let alone the man himself — but one quote sheds light on his spirit.
When Bowie was asked if he practiced any form of worship, he replied, "Life. I love life very much indeed."