A Wholesome Super Bowl Party Snack That Won't Disappoint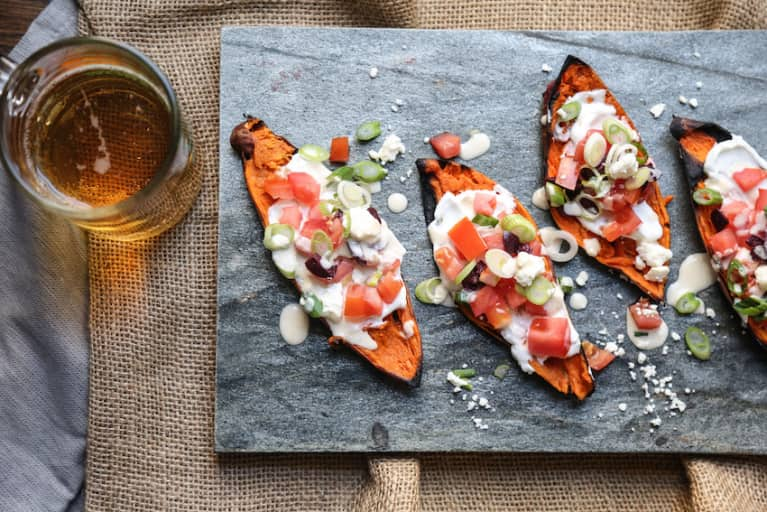 Potato skins and seven-layer dip are iconic game-day snacks—two of the many where deliciousness and over-the-top indulgence go hand in hand.
This recipe for Mediterranean 7-Layer Sweet Potato Skins lightens up these two classics and combines them into one irresistible mouthful that's sure to please the football fanatics around your table.
Instead of regular spuds, I use antioxidant-rich sweet potatoes. And while most recipes discard the skins, here the most fiber-rich part of the plant gets featured centerfield as a vehicle for Greek yogurt, kalamata olives, fresh tomatoes, scallions, feta cheese, and tahini sauce — all the healthy components of a Mediterranean diet.
Can we say touchdown?
Mediterranean 7-Layer Sweet Potato Skins
Makes 6-8 servings
Ingredients
4 medium sweet potatoes (about 3 pounds), halved lengthwise
Olive oil
1 cup plain Greek yogurt
2 plum tomatoes, seeded and finely diced
⅓ cup kalamata olives, thinly sliced
4 scallions, thinly sliced
¼ cup crumbled feta cheese
2 tablespoons tahini
2 tablespoons lemon juice
Preparation
1. Preheat the oven to 400°F. Arrange the potatoes on a parchment-paper-lined baking sheet greased with olive oil, cut-side down.
2. Roast the potatoes until fork tender, about 25 to 30 minutes. Allow to rest until cool enough to touch, then scoop out the potato flesh, leaving just a thin layer. (You can use the leftover potatoes to make this!)
3. Preheat the broiler.
4. Cut the skins in halve again lengthwise (you'll have 4 per potato now), and return to the parchment-lined baking sheet flesh-side down. Press the potatoes as flat as possible. Broil until crispy and firm, about 4 minutes. Flip the potatoes and broil for another 2 minutes.
5. Arrange the potato skins on a platter (flesh-side up) and slather each with a tablespoon of yogurt. Sprinkle the skins with the tomatoes, olives, scallions, and feta.
6. In a separate bowl, combine the tahini, lemon juice, ¼ teaspoon sea salt, and ¼ cup of water, and whisk until smooth. Season the skins with salt and drizzle with the lemon-tahini sauce. Serve immediately.
For more great ideas, check out my course, How To Make Healthy & Delicious Meals On A Budget & In A Time-Crunch.