A Wholesome Super Bowl Party Snack That Won't Disappoint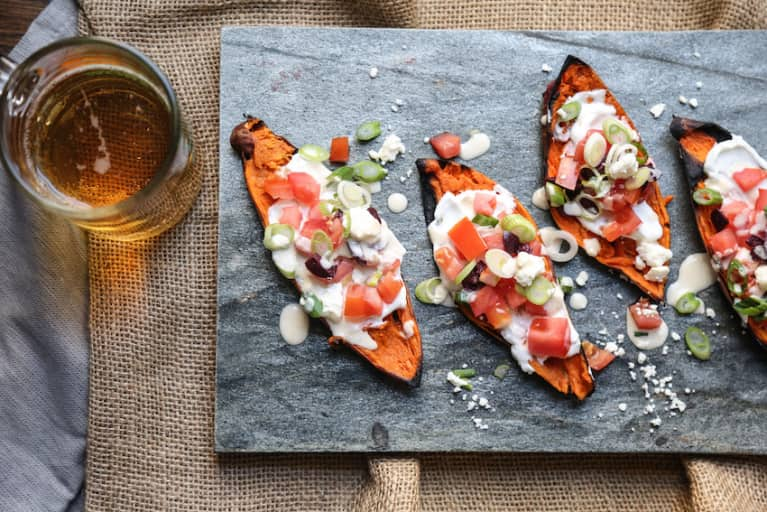 February 4, 2016 — 10:09 AM
Potato skins and seven-layer dip are iconic game-day snacks—two of the many where deliciousness and over-the-top indulgence go hand in hand.
This recipe for Mediterranean 7-Layer Sweet Potato Skins lightens up these two classics and combines them into one irresistible mouthful that's sure to please the football fanatics around your table.
Instead of regular spuds, I use antioxidant-rich sweet potatoes. And while most recipes discard the skins, here the most fiber-rich part of the plant gets featured centerfield as a vehicle for Greek yogurt, kalamata olives, fresh tomatoes, scallions, feta cheese, and tahini sauce — all the healthy components of a Mediterranean diet.
Can we say touchdown?
Mediterranean 7-Layer Sweet Potato Skins
Makes 6-8 servings
Ingredients
4 medium sweet potatoes (about 3 pounds), halved lengthwise
Olive oil
1 cup plain Greek yogurt
2 plum tomatoes, seeded and finely diced
⅓ cup kalamata olives, thinly sliced
4 scallions, thinly sliced
¼ cup crumbled feta cheese
2 tablespoons tahini
2 tablespoons lemon juice
Preparation
1. Preheat the oven to 400°F. Arrange the potatoes on a parchment-paper-lined baking sheet greased with olive oil, cut-side down.
2. Roast the potatoes until fork tender, about 25 to 30 minutes. Allow to rest until cool enough to touch, then scoop out the potato flesh, leaving just a thin layer. (You can use the leftover potatoes to make this!)
3. Preheat the broiler.
4. Cut the skins in halve again lengthwise (you'll have 4 per potato now), and return to the parchment-lined baking sheet flesh-side down. Press the potatoes as flat as possible. Broil until crispy and firm, about 4 minutes. Flip the potatoes and broil for another 2 minutes.
5. Arrange the potato skins on a platter (flesh-side up) and slather each with a tablespoon of yogurt. Sprinkle the skins with the tomatoes, olives, scallions, and feta.
6. In a separate bowl, combine the tahini, lemon juice, ¼ teaspoon sea salt, and ¼ cup of water, and whisk until smooth. Season the skins with salt and drizzle with the lemon-tahini sauce. Serve immediately.
For more great ideas, check out my course, How To Make Healthy & Delicious Meals On A Budget & In A Time-Crunch.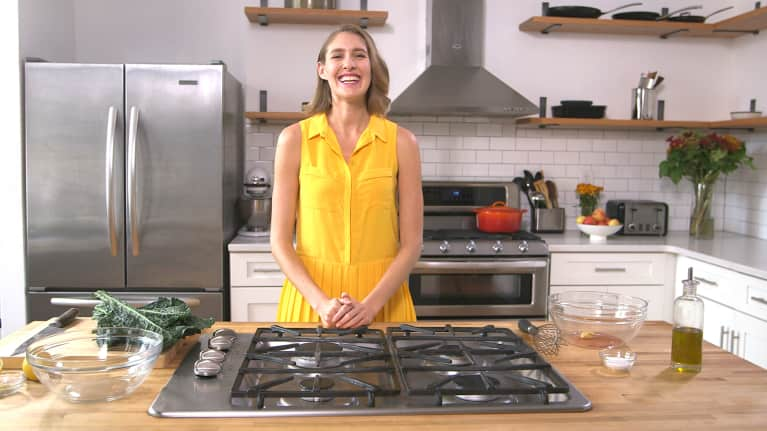 Phoebe Lapine
Food Writer
Phoebe Lapine is a food and health writer, gluten-free chef, wellness personality, culinary instructor, and speaker, born and raised in New York City, where she continues to live and eat. On her award-winning blog, Feed Me Phoebe, she shares recipes for healthy comfort food and insights about balanced lifestyle choices beyond what's on your plate. Her forthcoming memoir, The Wellness Project, chronicles her journey with Hashimoto's Thyroiditis and how she finally found the middle ground between health and hedonism by making one lifestyle change, one month at a time. Connect with Phoebe on Instagram and Facebook for more creative clean recipes and inspiration.
View the class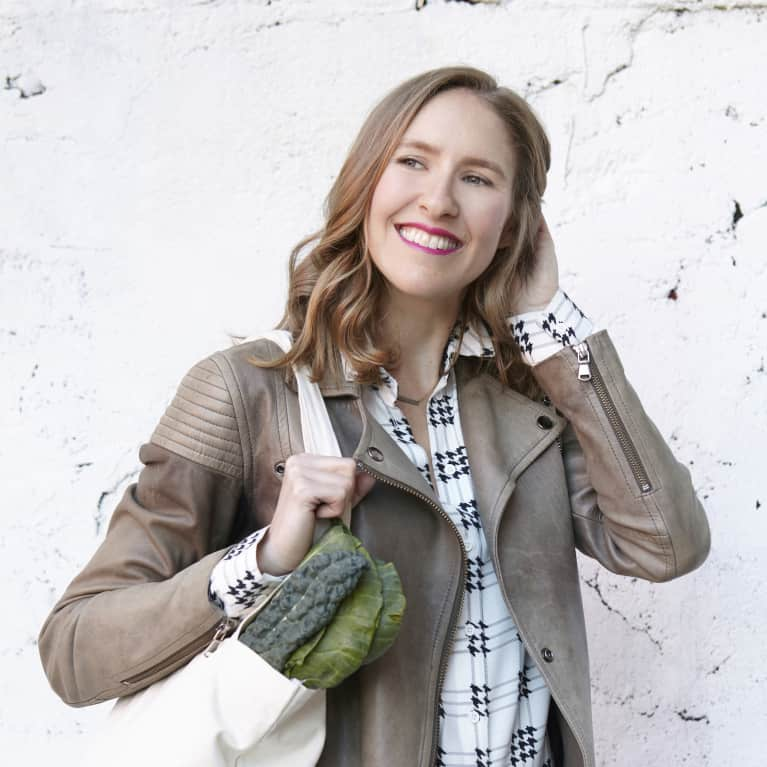 https://www.mindbodygreen.com/0-23449/a-wholesome-super-bowl-party-snack-that-wont-disappoint.html