The 5 Most Dangerous Household Toxins + How To Avoid Them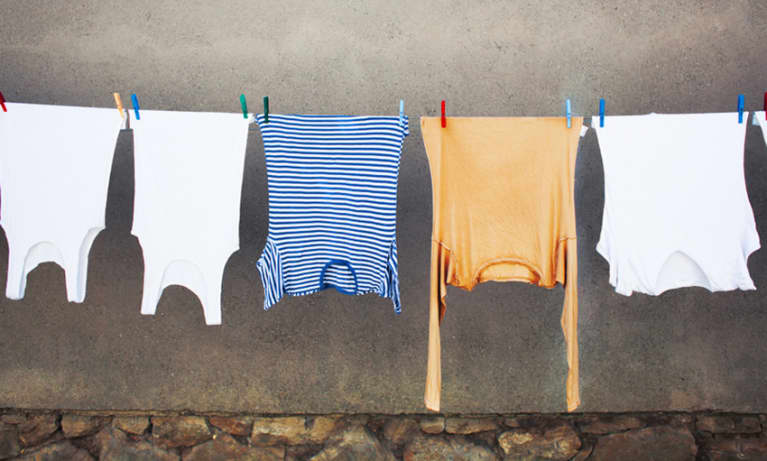 Our editors have independently chosen the products listed on this page. If you purchase something mentioned in this article, we may
earn a small commission
.
A few years ago, when I wanted to learn just how toxic the inside of my home had become, I called on Albert Donnay, a Johns Hopkins–trained toxicologist. Donnay is a master at revealing the invisible and the dangerous. To do this, he walks around your house with his nose in the air.
The first thing Donnay asks his clients to do is gather all of their cleaning products, laundry detergents, bug sprays, air fresheners, dryer sheets — in effect, anything they can smell — and dump it all in a big garbage bag. Then he has them tie the bag shut for a month. Once the month is up, he tells them to open the bag and … inhale.
Donnay calls the garbage bag "the most effective thing I have to convince you to improve air quality in your home."
Try this experiment in your own home sometime. Prepare to be shocked, for what you'll find is astonishing. All the scented candles, all the air fresheners, all the paints and cleaning products and detergents and dryer sheets — they really add up. What you'll smell is not natural, to say the least. And evidence is growing that much of it is actually pretty bad for us.
The numbers are daunting: American industries make everyday products from some 80,000 chemicals. Of these, fewer than 1 percent have ever been tested for their effects on human health.
This presents a daunting hurdle for consumers. No matter how careful you are, the scope of the problem can just seem unmanageable. So given the river of toxins we are all swimming in, here are five easy things to avoid, and why the effort is worth the trouble.
American industries make everyday products from some 80,000 chemicals.
Collectively, Americans spend some $40 billion a year to care for our 80 million lawns. On average, we spray a pound of chemical pesticides on every one of those acres. These numbers take on a whole new meaning when you consider the toxicity of various pesticides. Take, for example, an extremely popular compound called 2,4-D.
The National Cancer Institute has reported that dogs are twice as likely to contract lymphoma if their owners used 2,4-D on their lawns. Like flame retardants and countless other compounds, 2,4-D tends to accumulate inside our homes, even days after the lawn outside has been sprayed. One study found 2,4-D present in the indoor dust of 63 percent of homes sampled. Exposure levels for children were 10 times higher than before the lawns were treated — an indication of just how easily the chemical is tracked inside on the little feet of dogs, cats, and children
Dryer sheets contain harmful neurotoxins like alpha-terpineol and benzyl alcohol; carcinogens like chloroform; and chemicals that the EPA considers to be hazardous waste, like ethyl acetate and camphor. It's not just breathing these chemicals that causes distress — they also build up in the dust in your home.
These products don't "freshen" air — they just replace one smell with another. The trouble is, they often release hormone-disrupting phthalates into the air in the process. The Natural Resources Defense Council recently found phthalates in 12 out of 14 air fresheners, including those advertised as "all natural" or "unscented." More confounding, not a single one had phthalates on its ingredient list. Bottom line: If you want your home to smell like an apple pie, bake an apple pie!
Teflon — the nonstick coating people have been using in their kitchens for years — is made from compounds known as PFOAs, which have been linked to cancer and birth defects. PFOAs (along with compounds known as PFCs) are also used in the lining of microwave popcorn bags, grease-resistant pizza boxes, and even personal care products.
In 2005, DuPont chemical corporation agreed to pay the EPA $16.5 million for covering up the health effects of the chemicals used to make Teflon at its West Virginia plant. Four years earlier, the company paid $107 million to settle a class action lawsuit brought by residents claiming the harmful Teflon chemicals were found in the blood samples of both pregnant women and their fetuses.
Drinking water from plastic bottles is just plain wasteful. What you want from the bottles is the water, not the plastic. But when you drink one, you get both. The water in most bottles is less regulated than good old tap water, and plastic bottles are made with hormone-disrupting phthalates.
Not to mention, 17 million barrels of oil are used to manufacture plastic water bottles every year, and this number doesn't include the oil needed to ship them all over the country. Plus, only about 23% of the 50 billion water bottles we buy every year get recycled. You do the math.
Related reads: