Become A Breakfast Badass With These Simple Tips
mbg Contributor
By Lynda Griparic
mbg Contributor
Lynda Griparic is a naturopath, nutritionist, writer, and speaker living in New South Wales, Australia, with over 14 years of experience in the health industry. She specializes in gut health and weight loss, and has an advanced diploma in naturopathy, nutrition, and massage from Nature Care College.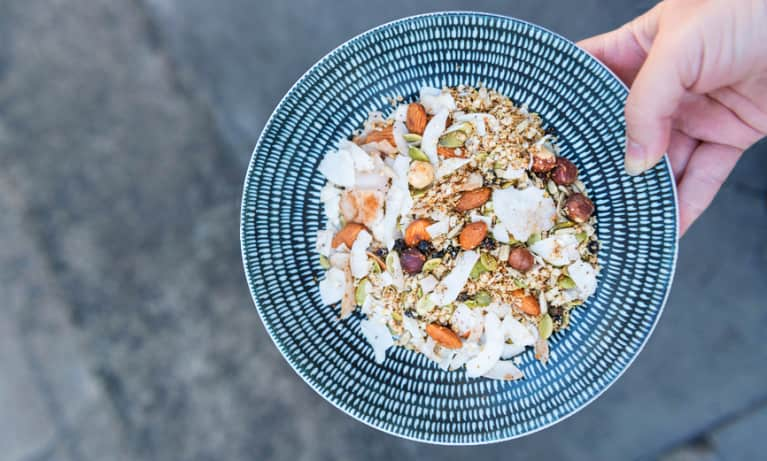 So, what does one eat to break the nighttime fast? Fast-paced morning routines of exercise, family antics, meditation, or early work starts often make us short on time.
This leads to many people eating the same things every day; grabbing poor-quality, processed convenience meals; or going without breakfast altogether and hitting 11 a.m. ravenous and ready to tear into a muffin and sugar-infused coffee or energy drink.
What we really need is a simple strategy to make eating a healthy breakfast easy, exciting, and good for you.
Here are my key principles to live by when planning my breakfast strategy:
There's no better way to get an injection of nutrients first thing in the morning than with a smoothie, especially on those busy days when fast and nutritious is what the body and mind are calling for.
Smoothies are also perfect for those who simply want to shed "those" extra pounds or are transitioning from an unhealthy diet to one that's cleaner and more rewarding. All one needs is a blender.
Give these a try:
Make double the amount for dinner and consume the leftovers for breakfast. This may seem unusual at first, but anything that combines protein, vegetables, and healthy fats is a good way to start the day.
Think about digging into these in the morning:
Soup with lots of good veggies (like the smoothie's warmer cousin)
Leftover crispy skin organic roast chicken or a poached egg thrown together with salad, avocado, and a lashing of olive or macadamia oil
Make your breakfasts a day or two before. Good examples of these are quiches, tarts, puddings, mousse, and homemade protein bars. My personal faves are:
4. Have at least three breakfast recipes that you can rotate.
Try some of the above, or check out more here.
5. Use a basic formula for making better choices when eating out.
I have the following formula in my head when eating breakfast out:
A palm portion of protein + vegetables + 1 to 2 tablespoons of healthy fats.
For example, your protein may be poached eggs, bacon, or a fillet of fish with vegetables like spinach, asparagus, sautéed cabbage, kale, and healthy fats such as avocado, seeds, nuts, and olive oil.
I avoid bread and often ask for an extra serving of olive oil if the vegetables look a little lacking. And, of course, while waiting for my meal, I indulge in an espresso.
I guarantee that if you commit two short weeks to thinking ahead and preparing for breakfast, you'll find yourself starting most days with vigor and enthusiasm, and darn it, you might just feel bloody great about yourself. Enticing, isn't it?
I believe you're worth this small commitment to yourself, don't you?