Why I'm Opening Up About Struggling With Depression While Pregnant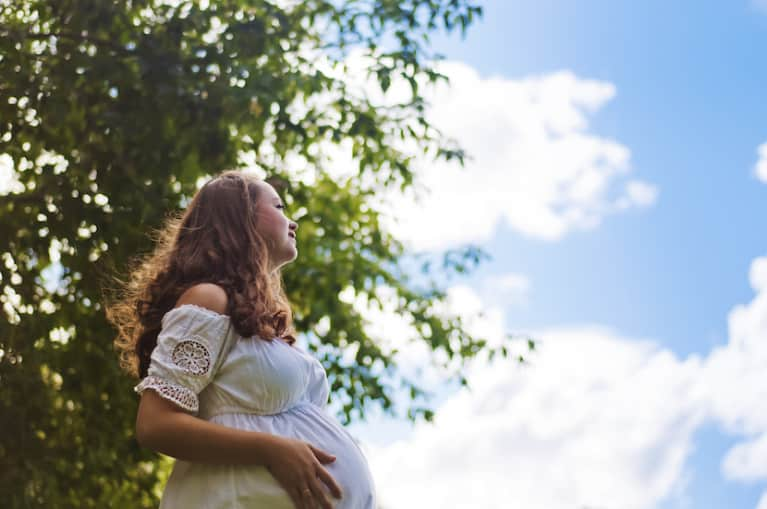 Change is one of the things I struggle with most. Losing my dad at a young age made me crave stability, sameness, don't-ever-leave-me-ness. In fact, my heart always leaps when I hear someone say, "Oh, I didn't recognize you. You look different." In my head, I react: Different?! I've changed? Then: panic.
I've gotten better. In fact, one of the things that's been both challenging and beautiful about being pregnant is change.
At 20 weeks, I am in awe and mostly having the best time ever. And yet, some change can be scary: I'm also weaning myself off antidepressants and I can feel my brain slipping a bit.
My doctor wants me off the medication by the third trimester. This morning, I looked in the mirror and took a deep breath: This change is good. This change is okay. This change is beautiful.
Why am I sharing this? A few years ago, it was a choice of mine — a deeply thought-out choice — to share about my journey with depression and anti-depressants.
When I started really sharing who I was — whether it was the fact that I was on anti-depressant medication, my profound hearing loss, struggles with an eating disorder or ectopic pregnancy a couple of years ago — I think it opened up a whole world for people waiting for someone to create a space where they, too, could share without any stigmas.
To be human, I do believe we have to be willing to be vulnerable and share our stories.
Last year, I made a video saying that I'd gone back on anti-depressants. I was terrified, but I received about 700 thank you emails. No joke. That many people feeling less ashamed about who they are, simply because someone talked about it.
Listening is one of the most powerful things we can do in our lives. I'm not suggesting that people over-share all the time, or tell everyone their secrets, or that to make a great essay or memoir you need to simply shock. I am talking about being comfortable in who we are — no matter what. Sharing what you want to share, but not hiding the parts of you that you feel ashamed of. Because frankly, those are usually the most interesting.
In my manifestation workshop, I emphasize the part that's called "On Being Human." Because that's what I'm most concerned with. Nothing else. And to experience that — within ourselves and with one another — I do believe we have to be willing to be vulnerable and share our stories. So many people are taught to stuff everything they feel inside or to swallow it. What I'm proposing is exactly the opposite. What I do isn't therapy. It's simply listening. And sharing. Which is what I am doing here — sharing my own story and struggles and feelings and triumphs.
So that's why, today, I chose to share that I'm going off anti-depressants while pregnant, and my fear around this change.
What I've come to realize is that change can be scary, but it doesn't have to be bad. It doesn't have to equal chaos or trauma or death or whatever our deepest fears are around changing. It doesn't have to equal being unlovable or not enough. Our bodies can do amazing and miraculous and weird-as-hell things. I mean, I have a person inside of me.
Now, tell me how you feel about change. Any kind of change. I'll read each comment and listen with love, just as I hope you did while reading this.